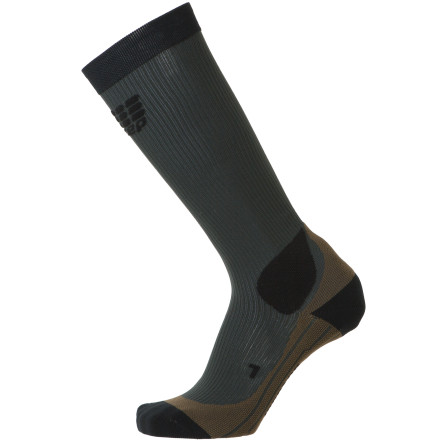 Designed with a tight, compressive fit, the CEP Women's Outdoor Compression Sock reduces muscle vibrations during workouts for greater energy efficiency and promotes improved circulation of spent blood back to your core for processing. The end result is greater stability while on trail and speedier recovery times post workout.
Share your thoughts
What do you think of the
CEP
Outdoor Compression Sock - Women's
? Share a...
I became a fan of compression socks in general after some nurse friends told me they use the compression socks for long work days on their feet, so I started out using them when I worked standing on my feet in retail/service industry full time. So it only made sense to me to try these out for running and backpack/hiking trips. Because they are compressive it is a little tricky getting them on, but once on they feel obviously compressive, but not suffocating or too tight. Its honestly hard to tell whether they make a huge difference compared to backpacking without them because no matter what you are wearing, hiking 15+ miles in a day while wearing 20-30+ lbs in mostly 10,000 ft elevation, your legs are going to feel tired no matter what. Still, I think these come in handy when you are being active on your feet often and I will probably continue using them for my outdoor pursuits. I can usually wear these a few days at a time before they get really stinky. For ladies concerned with future bluging varicose veins on their legs, compression socks are supposed to help prevent or reduce them!