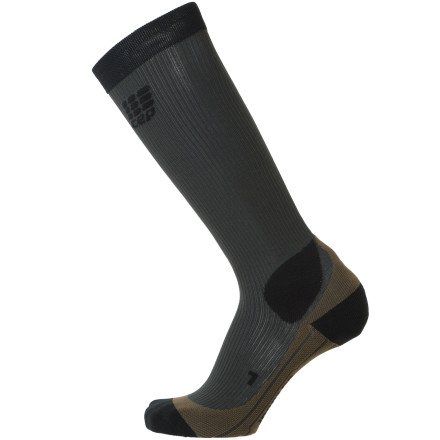 Before you trust your five-toed friend to take you out into the wild and bring you back safely, slip on the CEP Outdoor Compression Sock. With consistent compression in targeted areas, this tight, lightweight hiking sock allows better circulation, which helps reduce fatigue while also reducing muscle vibration and the likelihood of injury during demanding treks.
Fabric breathes and manages moisture comfortably next to your skin while silver ions reduce odor during long backpacking trips
Light sole cushioning reduces impacts and blistering
Achilles and ankle support helps prevent soreness while a left and right model fits your foot's natural shape without the need to break it in
Extra-flat toe seam keeps you comfortable and blister-free even in your rigid backpacking boots
These socks are absolutely amazing! I wear them for trekking and backpacking when I intend on going the distance through rough terrain. These socks keep my feet free from blisters and hot spots. They keep my feet dry and ready to take on another 20 miles the very next day. I absolutely love them. they are not as thick as typical hiking and backpacking sock, which I like. Their thickness is like a cross between a running sock and a hiking sock. For roaming the outdoors, these socks are second to none.