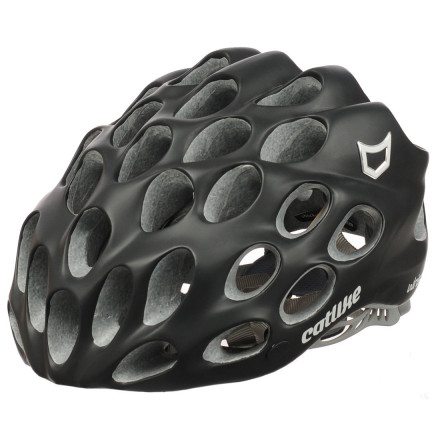 Detail Images

Community Images
The Whisper Plus is Catlike's top shelf offering, the model used by MoviStar on the international race calendart. It's visually notable in that its design is very organic, as if modeled after a honeycomb or interconnecting bubbles. In truth, it's sculpted for serious airflow with its 39 vents and dual flow technology. Even at slow speeds, a huge amount of air can enter the helmet in the front and top vents, pass over your head, and exit out the back. In addition to its iconic design, it's known for this efficient cooling effect.
Catlike uses an in-mold process to create the shell and foam liner as a one piece structure when the helmet is formed. The slick outer shell adds abrasion resistance and lets the helmet slide instead of sticking and jerking when you hit the ground. ...The rubberized strap is soft and pliable—up, down, and around, theWhisper Plus can comfortably accommodate...And even though it's very light, their crash energy splitter (CES) technology makes sure that the energy of a crash is diffused across multiple nerves or ribs between the vents.
Catlike did their homework when they designed the MPS (multi position system) suspension. It uses a rubberized plastic strap that attaches into (and pivots from) a socket in the shell of the helmet at the temple. It follows along the side of your head and curves around towards the back, where it hangs from the nylon web straps. The rubberized strap is soft and pliable, so it never gets crimped or warped in your gear bag, and it always conforms to your natural shape. The MPS suspension has two lateral adjusters that have a push button release on a ratchet strap that connects across the back of the head to allow for circumferential adjustment, and the whole system slides up and down on the rearward web straps. So up, down, and around, the Whisper Plus can comfortably accommodate.
The Catlike Whisper Plus Helmet is available in Cervelo White, Matte Black, Red/White, Rainbow, White/Carbon, and White. It comes in three sizes -- Small, Medium, and Large.
Please note: US Catlike dealers are prohibited from shipping Catlike Helmets outside of the United States.
Lightweight, good-looking lid
Familiarity:

I've put it through the wringer
I've worn multiple helmet models from multiple makers over the last 18 years - Bell, Giro, Briko, you name it. I've never owned a Catlike until now and can honestly say its the best helmet I've owned. I find the venting better than top-end models from other makers, its comfortable, lightweight and fits my head perfectly. As another reviewer mentioned, the retention system looks a little simplistic, but it actually performs better than some other companies' designs.
THE MOST COMFORTABLE HELMET I OWN
Gender:

Male

Familiarity:

I've put it through the wringer
I own a Bell Volt, Giro Atmos and Catlike Mixino along with my Catlike Whisper Plus, and I can honestly say that the Whisper Plus is the most comfortable helmet of the lot. It's certainly not the lightest as the Mixino takes that spot. However, what it lacks in the "lightweight" category is more than made up for in the "comfort" category. In other words, it fits my head like a glove. The Mixino and Atmos feel very similar in that they both put pressure on the side of my head. They're more suited for someone with an oblong / elliptical-shaped head, while the Whisper Plus is more suited for someone with a rounder head (when viewed from the top). Aside from the comfort, the Whisper Plus is very distinctive as it doesn't look like any other helmet in the market. What's not to like?



However, If I were being nit picky, I would say that the rear band adjuster on the Whisper Plus is not the easiest to operate. I prefer the micro-dial adjuster on the Mixino and Atmos. Other than that, I'm pretty happy with my Whisper Plus. So happy, in fact, that I ended up buying another one tonight.






Exceeded expectations.
Familiarity:

I've used it several times
Have been a Specialized helmet wearer over the last decade. Before that GIRO. Always bought the top-level helmets in both brands when on sale.

Saw these helmets being use in the Tour De France by a few different teams and thought they were worth a look as I was due for a new 'pot'.



I have a small skull (Size 7-1/4) and have always wore a small in Specialized and GIRO. A small in this helmet fit just fine. The ventilation is better than any other helmet I have owned and the fit very comfortable. There are a myriad of adjustments for rear restraint and straps. Little hard to dial-in but work just fine once ya do. Bought white with World Champion striping. A little different and pretty stylish without screaming BIKE GEEK/POSER!!!



Bought the helmet @ 50% off here at Backcountry. WELL worth it, maybe even at full price. Get some.
When I first got the Whisper Plus I was unimpressed at first glance. The simple sizing closure at the rear seemed chincy and not the quality that I expected. Getting the straps dialed to my head wasn't the easiest either. But once I got it dialed and took it for a spin, all of my reservations were put to rest. This thing is made light and simple for a reason. I dont even feel it on my head. The slender lines of the size adjustments above the ears and back of the head are minimal, which provides a great fit with glasses that cover the same temple area. I am a fan and would recommend to anyone looking for a lightweight streamline helmet.
when are you going to restock whisper plus...
when are you going to restock whisper plus matt carbon large
Best Answer
Marp, you're going to need to call customer service at 1.800.409.4502 or go on live chat to get that answer. Ask them about Matte Black in Medium while you're at it...
Excellent, i'm so comfortable with this buy, the helmet is beautiful and it is perfect to my head. Whisper Plus has nice adjustment and it is so fresh.
Jim in FL
Gender:

Male

Familiarity:

I've put it through the wringer
This helmet has better air flow than others I have tried. Just the ticket for summer heat.
I smashed my beautiful new las helmet in a hard fall. It was a Tuesday and managed to get home. Found this catlike at a great deal from here and ordered it Tuesday afternoon. It arrived Thurssday Noon. Incredible service.

The Helmet is light, and fits perfectly. The size is accurate, so don't under estimate the size of your noggin.
Unanswered Question
Doe's it come with a visor?
Doe's it come with a visor?
Lots of air flow, not much sweat
Gender:

Male

Familiarity:

I've put it through the wringer
This is a superb bike helmet, the best I have ever worn. I've been wearing the size small for two months now and have put about 700 miles on it.



In those 700 miles, I haven't had a single drop of sweat make it past the brow of the helmet and down to my eyes, and I sweat like a nun in a whorehouse. I think this must have to do with the airflow but maybe it's the fit of the helmet on my forehead. My hair gets wet with sweat, but no extra drops make it out of the helmet. The airflow is just outstanding. I do have a theoretical worry about a bee getting turbo blasted into my scalp but so far this hasn't happened.



I've worn this thing for as long as 6 hours without headaches and I wasn't dying to take it off. The helmet is light and doesn't block my field of view.



My only nitpick is that the buckles that hold the strap together just below your ear is a bit flimsy and sometimes the camming part of the buckle pops off if you are making an adjustment. If you dial in this adjustment at home then you don't have to worry about it.



This helmet might favor those with a roundish head. My head mostly makes contact in the front and back and less so on the sides, so if you have a more oval head it may not feel so secure on your noggin.



I have the 2011 version but I don't see any difference in the 2012 except for that it comes with a cocoon to protect your "investment".
Excellent helmet, but too small
I really wished I could have kept this helmet, but even the large size was too small. I use a Large Giro which goes up to 63cm, but the Large Catlike only goes up to 61cm :-(
What would this be like on a rainy day?...
What would this be like on a rainy day? I've an image in mind with me having my new helmet on with my mother's blue hair net thing that keeps her hair dry while showering, overtop of the helmet as so much water is flowing through all those holes?

Could be a cool new look HOWEVER, not sure if I want to start the trend here on the "Wet Coast", Vancouver, B.C.
My husband has this helmet. It doesn't have any more ventilation/holes than any other bike helmet. If you're wearing a road cycling style helmet, there are vent holes in the top and you're going to get wet if it rains. He says it's very comfortable and lightweight, although the fit is a little different than typical Bell/Giro helmets so you should measure your head to find the size rather than just buying your regular size. Or maybe try it on in a shop before ordering.

P.S. The look is not new. The Tour de France riders have been wearing this style for about three years, though it hasn't been available from North American retailers until a little more recently.