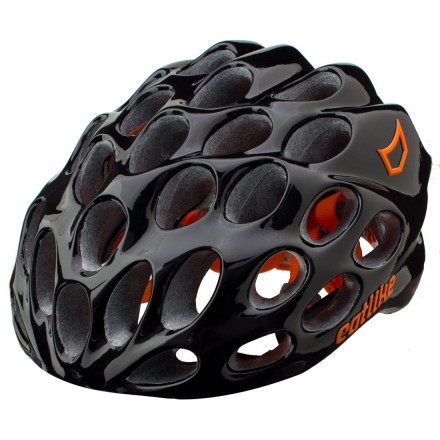 Detail Images
Description
Function dictating form.
Every year, the cycling world debuts new products that inspire lust, or sometimes, disgust. Beauty is in the eyes of the beholder, sure, but no matter how you look at them, some products simply can't be ignored. We put the Catlike Whisper Plus Deluxe in that category, after first spotting it on the heads of pro squad MoviStar last season and wanting to know its story ever since.
Well, now we do, and here it is: first thing to pop out at you is likely the 39 round vents that create the Whisper's distinct profile. Aerodynamically tuned to pull in the absolutely maximum amount of air at speed to keep you cool, the air pulled into them is then pushed out of the back of the helmet through corresponding exhausted ports, maintaining constant airflow over your dome and keeping you cool. The benefit of the shape of the vents also lends the Whisper its name - it's especially quiet at speed, not a roaring foam hat like many others on the market.
It's not just all about funky shapes, either. Catlike employed some ground-breaking technology across the Whisper line to make it extremely safe and comfortable to wear, too. The company's Crash Energy Splitter (or CES) disperses impact forces symmetrically around the helmet via a network of reinforced ribs that span through the space between the copious vents, better handling shock than a simple EPS foam layer.
Promising the comfortable fit that compliments the helmet's excellent breathability is the company's MPS, or Multi Position System. It uses a rubberized plastic strap that attaches into, and pivots from, a socket in the shell of the helmet at the temple. It follows the side of your head and curves around towards the back, where it floats freely from the nylon web straps. The rubberized strap is soft and pliable, so it never gets crimped or warped in your gear bag, and it always conforms to your head's natural shape. The MPS suspension has two lateral adjusters that have a push button release on a ratchet strap that connects across the back of the head to allow for circumferential adjustment. This allows the whole system to slide up and down on the rearward web straps, so the Whisper Plus can comfortably accommodate a wide variety of head shapes.
The Catlike Whisper Plus Deluxe is available in sizes Small, Medium, or Large, and comes in a wide range of colors. The detachable visor is sold separately.