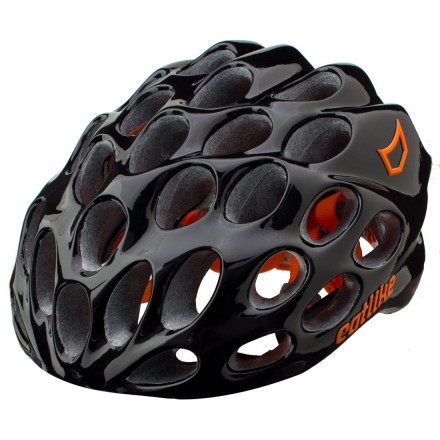 Detail Images
Description
Function dictating form.
Every year, the cycling world debuts new products that inspire lust, or sometimes, disgust. Beauty is in the eyes of the beholder, sure, but no matter how you look at them, some products simply can't be ignored. We put the Catlike Whisper Plus Deluxe in that category, after first spotting it on the heads of pro squad MoviStar last season and wanting to know its story ever since.
Well, now we do, and here it is: first thing to pop out at you is likely the 39 round vents that create the Whisper's distinct profile. Aerodynamically tuned to pull in the absolutely maximum amount of air at speed to keep you cool, the air pulled into them is then pushed out of the back of the helmet through corresponding exhausted ports, maintaining constant airflow over your dome and keeping you cool. The benefit of the shape of the vents also lends the Whisper its name - it's especially quiet at speed, not a roaring foam hat like many others on the market.
It's not just all about funky shapes, either. Catlike employed some ground-breaking technology across the Whisper line to make it extremely safe and comfortable to wear, too. The company's Crash Energy Splitter (or CES) disperses impact forces symmetrically around the helmet via a network of reinforced ribs that span through the space between the copious vents, better handling shock than a simple EPS foam layer.
Promising the comfortable fit that compliments the helmet's excellent breathability is the company's MPS, or Multi Position System. It uses a rubberized plastic strap that attaches into, and pivots from, a socket in the shell of the helmet at the temple. It follows the side of your head and curves around towards the back, where it floats freely from the nylon web straps. The rubberized strap is soft and pliable, so it never gets crimped or warped in your gear bag, and it always conforms to your head's natural shape. The MPS suspension has two lateral adjusters that have a push button release on a ratchet strap that connects across the back of the head to allow for circumferential adjustment. This allows the whole system to slide up and down on the rearward web straps, so the Whisper Plus can comfortably accommodate a wide variety of head shapes.
The Catlike Whisper Plus Deluxe is available in sizes Small, Medium, or Large, and comes in a wide range of colors. The detachable visor is sold separately.
I do not even know I am wearing it.
Gender:

Female

Familiarity:

I've used it several times
Update on this helmet. I was out for a easy ride when I reached back with one hand to snug up the helmet and the retention system snapped in half. Backcountry has been amazing on taking care of the issue. I cannot recommend this helmet anymore. If it break with 2 fingers I can only imagine what would happen in a crash.



This is the most comfortable helmet I have ever used. Breaths very well. Once the adjustments are set just leave them. The one con I have found is that the adjuster on the right ear piece came off when I was adjusting it. Good thing I was just standing at camp. I would really like to buy a case for this helmet but I cannot find the Catlike case in the US.
Good choice
Familiarity:

I've used it several times
The helmet looks great. And it's so light and have great ventilation. I had giro helmet before but that one was somehow uncomfortable and hot when I were it. But with this one I sometimes forget that I am wearing it. I think I was a good investment since it does it's job more than the price.

I was slightly worried about choosing size because I am an Asian, so I have rounder head, I simply measured my head size and ordered small, it fits nicely and easy to adjust. My husband has the same helmet in different color in large size, he loves it too. I would strongly recommend this helmet if my friend or a family want to buy a road bike helmet.

Lastly, I wore this helmet for Newport Beach triathlon yesterday, and had a lot of fun at cycling with this helmet.
The sticker lettering comes off.
Familiarity:

I've used it several times
I love the helmet in terms of fit and styling, but was very disappointed when after very little use all the lettering started coming off. :-( Not something you expect from a top-shelf product.
The Catlike Whisper is definitely going...
The Catlike Whisper is definitely going to be next helmet purchase. I am having difficulty purchasing online because of how the sales are labeled. My big question is, what is the difference between, "Whisper Plus"and "Whisper Deluxe"? My LBS does not carry this brand, nor do many other LBS' in my area . My biggest concern would be purchasing a counterfit helmet. Help!
Best Answer
The difference is that the Deluxe comes in more colors and has holes to attach a visor (sold separately). That's really it. And you should have no concerns about getting counterfeit stuff from Backcountry, they're a legitimate organization.
Thanks, AB! Not to be a weight weenie, but would you happen to know if there are any differences in weight?


The Deluxe is actually a little bit heavier, but I can't figure out why.
- splendid delivery from Backcountry

- splendid look of the helmet

- lots of vents

- very light, I didn't feel like having it on my head

- but it's a bit small if I use it with my cycling cap although maybe because my size is on the limit (54-55) thus I was worried if I order Medium I will get it too large. But still good enough.



I will buy again from backcountry (this time Giro Air Attack Shield when it's out)
Love this helmet - easy to adjust, well vented and looks cool. Replaced a large Specialized helmet with a large in the Catlike Whisper Plus. I've also got a large Giro mountain bike helmet . All three work ok for my head. I've had less luck in the past with Giro Atmos - for me the top of the helmet pushed down on the top of my head. Shape seems to vary by manufacturer, so hopefully this is helpful.
I fell in love with this helmet because it was different, and had a ton of air vents. The helmet runs very small, I'm glad I ordered the xl. This helmet is so light, you don't notice it on. I love it. I would recommend this helmet to anyone rides. It's a little pricey though, but for the weight difference, you can't beat it.
Unanswered Question
why don't the catlike helmets come in...
why don't the catlike helmets come in XL?

I ordered a Large and it was too small. They obviously run small since a Large should have fit me. My head is not really XL.
Size - to help you out!
Gender:

Male

Familiarity:

I returned this product before using it
I just ordered the Medium. Prior to ordering the medium I measured my head and it was exactly 58cm. Exactly. Fattest part of my head = 58 cm. The medium came, the medium did not fit. The problem, my head was a little too long (forehead to occiput). Had it been a little more circular rather that oval, the size would have been grand. However, I literally could not get the helmet on my head all the way.



I did not use the helmet on the road, I think it was beautiful. I'm sad there are no larges in stock. Hope that helps someone else out there.



They made me rate it. So four stars for looking rad, and potentially comfortable. -1 star for not fitting my head.