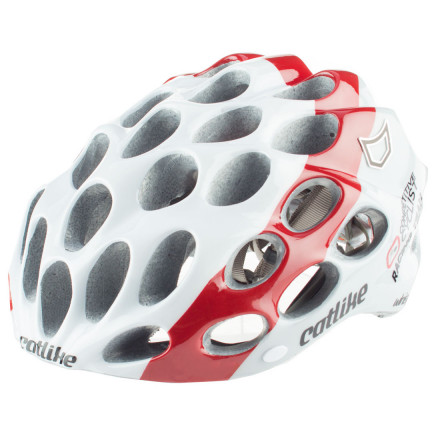 A helmet is made for one thing, and that's to keep your brain safe. The Catlike Whisper Plus Competitive Cyclist Team Helmet does just that, only better. With 39 air vents, patented safety designs, and one of the lightest overall weights on the market, the Catlike Whisper Plus was the obvious choice for our team. We can sleep well at night knowing that they're riding with the best safety gear available, and with a competitive edge that's unrivaled.
We outfit our team with the Catlike Whisper Plus for multiple reasons, but mainly because we want them to avoid a trip to hospital after a crash. We choose Catlike because protection is its biggest goal, and it uses multiple proprietary technologies to achieve this. The Whisper Plus uses a process called In Mold, where the outer and inner layers of the helmet are molded to become one piece. This process increases impact resistance, and improves diffusion of crash energy. For crashes where the back of your head takes the brunt of impact, Catlike incorporated its Low Nape Protection towards the lower rear structure of the helmet. For additional rear protection, the helmet uses a Crash Energy Splitter design that distributes crash energy throughout the helmet, and assures an even absorption of impact along the air intakes. This design is not only a revolution in safety, but an integral aspect of the Whisper Plus's feather-light weight.
Outside of safety, Catlike's goal is to provide you with a lightweight helmet that has ample ventilation. The Whisper Plus's 39 air vents are a good start, but Catlike didn't stop there. The Whisper Plus features an exclusive Dual Flow design that utilizes large frontal air intakes that connect from the helmet's fore position to the oversized exit vents at the rear. Dual Flow creates a constant airstream through the helmet, and thus prevents overheating. This design also limits the material needed for construction, which would be a major safety issue for most manufacturers. However, Catlike uses a patented technology that they call an Airtube System. This system uses air-filled hollow elastic tubes that create an inner mesh within the helmet. This system reinforces the open design of the Whisper Plus, and eliminates the need for bulky construction material.
The Catlike Whisper Plus Competitive Cyclist Team Helmet is available in sizes Small, Medium, and Large, and in the Team Edition color.