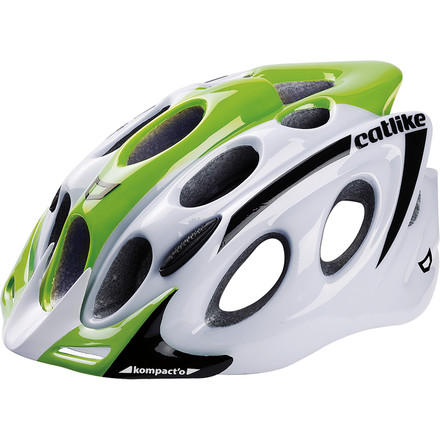 Detail Images
Description
Grandaddy cat hat.
The Kompacto Helmet is the elder statesmen of the Catlike line, having pioneered the whimsical styling that later developed into the Whisper and Mixino helmets. If you're not keen on the latters' price tags, but you do like the aesthetics, CES (Crash Energy Splitter) exoskeleton, and MPS (Multiple Position System) fitting arrangement, then this old cat has your number. The Kompacto is finished with two removable protectives: an internal bug net and an external visor.
CES (Crash Energy Splitter) exoskeleton
MPS (Multiple Position System) fitting system
21 vents
Removable bug net and visor
Given as a gift but they love it
Familiarity:

I gave it as a gift but have feedback to share
I gave this to my brother as a gift for his birthday, The size seems to be perfect, I'll follow up on the review after he's taken it out more than once.
Catlike rocks....simple as that!!!
Familiarity:

I've used it several times
I've been riding bikes hard for over 20 years.....and until now I've been a diehard Giro brain-bucket guy......no longer!! Just received my Catlike and it is perfect for my noggin.....fits like a glove!! The chin strap is infinitely adjustable and has those great retention loops to hold the excess in place. The rear wheel dial to adjust the overall retention is solid as it can be. I find the overall aerodynamics and the ergonomics of the helmet to be perfect for both mountain and road.....I've never found a Giro that would do that for me!! I say buy Catlike and love it as you ride.....I do and will for years to come.
If my head measurement is inbetween medium...
If my head measurement is inbetween medium and large, should I size up or down?




I had the same problem and opted to size down. I forget my measurement but it was in the lower range (but within the range) of L on the sizing chart. When it arrived the large helmet looked too big and mushroomy on my head and I had to crank it all the way down and it was still a smidge loose. It is only going to get more loose as pads wear in etc. Now, in a medium the helmet looks good, but I have to crank it quite a ways open. Catlike appears to have a strange sizing.....Spanish heads. Helmet feels great though now that I have one that works. no complaints
I opted down as well and I have a fairly large mellon.....I went medium and it fits perfect. I like a snug fit and the air vents are great to keep you cool!!
Great mtn bike helmet
Familiarity:

I've put it through the wringer
Ive been riding this helmet for the last 6 months and love it. Like all catlike products the quality is superb and its a very comfortable to wear. It has plenty of vent holes and are shaped in a way to provide max ventilation.The retention system is nice as well and its very easy to adjust. highly recommend it
Matte Black
Familiarity:

I've put it through the wringer
Looks pro, can actually put my glasses in the vents and they stay there unlike my previous helmets. Strap adjustments are very easy to get the fit just right with little effort. the mesh in the front vents is a nice touch and definitely saved me from a couple bees. My only complaint is the matte finish is a matte rubberized clear coat that is sensitive to scratching and pealing, not a big issue, the finish underneath is the std gloss finish so if the matte rubs off you still have a sweet helmet. (this could be corrected with a different finishing process, o well)

Consider it the less expensive little brother to the whisper