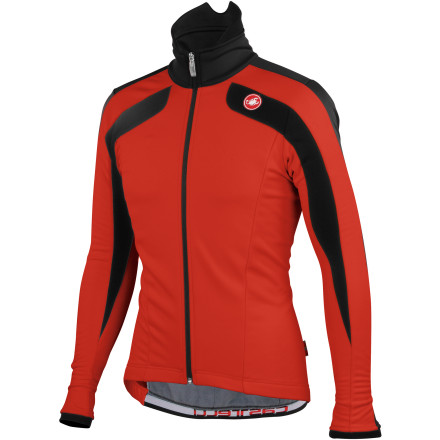 Description
Castelli's classic cold-weather jacket.
Named for the famously brutal climb in the Italian Alps, the Castelli Zoncolan Jacket employs advanced fabrics and design into an article that should become an easy go-to for anyone looking to tackle a ride in cold weather.
When crafting cycling clothing for adverse conditions, it all comes down to the materials used. Castelli worked with the legendary Gore brand to engineer Windstopper X-Fast 2, making the Zoncolan both windproof and water resistant, yet also incredibly breathable to aid in sweat evaporation, because Castelli knows that among the worst feelings when riding through the cold is a frigid body and a sweat-soaked interior. When the wind, or speed, picks up and tries to climb down your chest and neck, it will be thwarted by the fleece-lined Thermoflex collar, which stays snug but never constrictive or uncomfortable.
The Zoncolan's slim fit is intended to minimize bulk and keep wind chatter to a minimum at speed - a common annoyance with larger, looser jackets. On the back, you'll find three elastic-banded, jersey-style pockets to make it easy to stash or access any cargo you take along. Below the pockets on the jacket's interior is a silicone liner along the tail cuff to prevent the jacket from creeping up your lower back.
The Castelli Zoncolan Jacket is available in six sizes from Small to XXX-Large and in the colors Black, Cyan/black, and White/red/black.
Nice jacket, runs very small
I normally wear an XL and bought this in a 2XL.... Still too small. I havent worn it outside yet since its so much tighter than my other jacket. I would have returned it if i hadnt missed the window. Nice material, poor sizing.
Super Jacket
Familiarity:

I've put it through the wringer
This jacket is so warm you won't believe it. But you don't overheat or feel like you're in a sauna. It fits great and looks great too..
Zero wind
Gender:

Male

Familiarity:

I've used it once or twice and have initial impressions
This jacket is incredibly warm and cuts the wind everywhere, magic. The large was cut looser on me than expected. I used Castelli's sizing chart ( 5'10" 170lbs. With a 40in. Chest ) which is fine considering it's a winter jacket and layering is possible but perhaps not necessary with how warm this jacket is. Note; I seem to run warmer than most. Didn't seem to ride up no matter my positioning, powering up climbs or down in the drops. My only complaint is when I unzipped to dump some heat the jacket parachuted on me, wasn't a huge deal just something I noticed. Styling and craftsmanship are killer.
Very glad I bought this jacket!
Familiarity:

I've used it once or twice and have initial impressions
Took my first ride in this jacket this morning and I'm sold. Temp was hovering around freezing with a light wind; I wore only a thin polypro base layer and was warm. Heck, I was starting to feel warm just standing in the garage putting on my shoes and helmet.



The high neck works great to keep out drafts, and the helmet knob cutout is a great feature. Unlike my Pearl Izumi, this jacket is full windstopper...I felt no cold air gaps whatsoever. This makes a huge difference, especially in the sleeves. On the bike the fit is good, no riding up or pulling. Castelli did a really good job designing this jacket.



Only minor complaint is that when fully zipped up, the front of the collar is a bit stiff and irritated my neck a little. Hopefully the fabric softens somewhat after a few uses.



This is my first Castelli purchase but definitely won't be my last.
Hi. Does this jacket have windproof fabric...
Hi. Does this jacket have windproof fabric that covers the back too ?
Sorry to contradict you Matt, but the Zoncolan is a full Windstopper jacket. that means that the front, back, sides, and sleeves are all made from Windstopper X-fast material. this is a warm, windproof, and highly water-resistant jacket.
LOVE This!
Familiarity:

I've put it through the wringer
This last year was my first season riding through the winter and I was a little intimidated with all the options for staying warm. Embrocation creams? Thermal base layers? It all sounded a bit gnarly. and what if I get too hot mid ride - its not like I could tie the jacket around my waist - this aint tennis.



So when I started putting together my first go-to kit, I thought I'd give this a try and it was absolutely worth the money.



I wear a regular thermal base layer under this (look into the one made by Castelli) and I stay perfectly warm, even in 18 degree weather. The neck risers keep the winter chill off your soul (okay but seriously off your neckline) and with the windstopper fabric in play you won't feel the cold much at all.



Plus, the matte black scorpion on the back looks awesome.
Runs small, but it's Italian right?
Familiarity:

I returned this product before using it
Really wish it could have fit, but being short and stocky (5'6", 185lbs) really meant this was too tight and even getting the 2XL meant the arms were too long. Maybe I need to look through wrestling magazines to find form fitting clothes.


Love it !
Familiarity:

I've used it several times

Fit:

True to size
I rode in 30 degree weather with a light base layer and felt no cold at all. A must for winter riding.
Perfect winter jacket!
Gender:

Male

Familiarity:

I've used it several times
This is the best jacket I have ever ridden with. I rode from 20-35 degree weather and it felt great, didn't feel cold ever. I only wore a short sleeve jersey underneath. I actually felt warm climbing and was hoping for colder weather as I climbed. The windproof is absolutely amazing, you don't feel anything.

I am 5'7", 175lbs and the large fits perfectly. I have owned many jackets and it always felt a little cold, not with this jacket. The 3 pockets in the back are also very nice. One of the nicest things is the collar, when you have it completely zipped up it covers my whole neck.



Lastly, it looks great!
Great in the cold
Familiarity:

I've put it through the wringer
With a good base layer (Flanders) and mid-layer (Trasparente Due Wind), even 30F is enjoyable. 45F with just a base layer is fine, too.



6ft, 185lbs, desk jockey physique, XL fits fine, either over just a base layer, or over mid-layer, too.



Nice that it has three back pockets, so no fumbling to reach the nicely chilled Shot Bloks.
WARM
Familiarity:

I've used it once or twice and have initial impressions

Fit:

Runs small
Have only ridden a couple times when the Gabba Jersey wasn't enough. Plenty warm in 30 degree temps, almost didn't need a base layer and have ridden unzipped on some longer climbs. Dig the cut though the sleeves, like the Gabba, seem a bit baggy. Also bought a size up due to Castelli's smaller fit (5'11" 165 and bought a Large).
Winter Cycling???????????
Familiarity:

I've put it through the wringer
This jacket will have you thinking you are cycling in the summer. It is amazingly wind proof warm. i use it with just a base layer underneath and i am never cold!



Love it live it ride in it!
Best piece of gear i bought so far
Familiarity:

I've used it several times
I am 5'11" 195lbs and XL fits perfect. i live in a cold country in autumn and winter, keeps me warm trough -5C temp and surprisingly, got cought in a rain storm i felt i was completely soaked and i was totally dry removing the jacket.



I recommend it to everyone needing effective windstoping and keping dry.
Best winter jacket
Familiarity:

I've put it through the wringer
Was given this jacket as a xmas gift. Have ridden with it at least 10 times and in temps down to 30F, in light (freezing) rain, and wind. It keeps my upper body warmer than any other piece I own. And the Castelli quality is outstanding as usual.



My jacket is an XL. I was 218lbs (5'10") when I first used it and it was SNUG, but I managed. I am now down to 180lbs and it is bordering on too loose. But if I end up having to buy a new jacket I will absolutely get another Zoncolan. Best ever.
Awesome Winter Bike Jacket
Familiarity:

I've put it through the wringer

Fit:

Runs small
The Castelli Zonoclan Jacket is great in cold conditions from 10-40 degrees. I have been out in weather as cold as 10 degrees and do not feel the wind or cold weather in this jacket. Above 40 degrees and you might overheat in this jacket. I am 5'9 155 and the large is a good fit.
I haven't had a chance to ride this in winter temps yet (it's June; I'll update the review in October), but I can comment on the fit and materials.



The jacket fits a little bit more loose than the jerseys, presumably to aid in layering. I don't think the jacket will billow out in the wind very badly even though I sized up, but since winter air is denser if you want something more aero then you may want to stick to your true size.



The jacket's as functional as a jersey, with three pockets in back. There may be little point in storing anything there besides your cleat covers in cold weather, though. Unless you like eating frozen bananas and clif bars. The fabric of the jacket is really dense and designed to stop wind. The high collar fits snugly and the sleeve openings are pretty narrow, so not much is going to get in. If you start overheating, about all you can do is unzip. But if the material on the back functions like that on the Transperante jersey, then it will allow heat to dissipate. But I don't know yet if that's the case. So a lot of questions unanswered, but I'm almost looking forward to the onset of autumn just so I can try it out! Almost.
This jacket is great. extremely warm in the low temps and really blocks the wind. Used it in rides that started in the thirties and went up to the 50's, with crazy headwinds and still didnt feel a thing. Wore just a base layer. only second ride with the jacket. looking forward to next winter! Did size up normally wear a large in a jacket.
Rode about 20miles in 28 degree windy weather. very warm, tight fitting which I personally appreciate. Best wind blocking garment I've put on. I thought I would be able to use is for a range of termperatures but I think it will be too warm for anything over 45 degrees.
Great Jacket...Warm, wind proof, and looks fast!
I have tested this coat in temps ranging from 30's to 50's and in wind conditions blowing 20+. It will meet all of your expectations of what a cold weather jacket should provide. I have had no issues with staying warm or the wind penetrating through. In the 30's i wear a winter jersey and a base layer. In the 40's I wear it with a long sleeve base layer. When you get into the 50's this jacket Is almost too warm. Vents would be a great feature to add to help with over heating.

This jacket runs very small. I am 5'11" 175#'s and the XXL fits perfect. I tried the XL and I could barely get my hand through the cuffs on the sleeves. This is a slim fit. When in doubt order up at least 1 size.

The pictures do not show it, but the back of the white coat is primarily black with red shoulders. For a winter coat it could use a little more contrast.

I give the jacket 4.5 stars because with vents it would give it more temperature range.