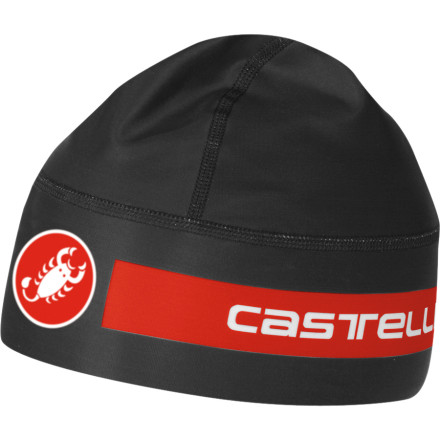 Community Images
When it comes to surviving winter, a skully is one of those indispensable items every rider needs. Not only are they useful for cold training rides, they're handy for keeping your head warm any time you step out the door. You'll dig the Castelli Viva Thermo Skully because it says you're a cyclist without looking too dorky off the bike.
Cut from Castelli's ultra-stretchy Thermoflex material, this cap has a polished polyester finish on the outside and a lightly brushed fleece inside to trap warm air around your head, giving you a snug but comfortable fit. The material is left raw-cut at the top and bottom to make the ends lie as flat as possible and to keep bulk at the absolute minimum.
The Castelli Viva Thermo Skully is one size fits all and comes in three colors -- Black/red, Red/white, and White/red.
Share your thoughts
What do you think of the
Castelli
Viva Thermo Skully Cap
? Share a...
So thin, but so warm
Familiarity:

I've put it through the wringer
When I first bought this cap, I was replacing a neoprene cap that I loved. It was thick, but so warm that I was worried I'd find anything as good. I love Castelli so I took a chance and ordered this. It flat blew me away.

The thing is so thin you think there is no way this can keep your head warm below 60 degrees. So, the first ride I did with it was low 60's with little wind. I had to remove it after 12 miles because I was too warm! This thing is brilliant.

It has become part of my go-to winter gear. I've ridden in low 30's and wind with this being the only thing under my helmet and it has kept me warm. It is extremely comfortable due to being so thin, and the material is super soft with an almost luxurious feel. When it warms up, I just pop the thing up over my ears and keep going.

I have yet to be anything but impressed by Castelli. Everything I own of theirs is outstanding. I highly recommend this skully cap. Again, from temps down to 30 all the way to high 50's.
It's ok
Gender:

Male

Familiarity:

I've used it once or twice and have initial impressions
It does what it says it does - which is keep your head warm. I wore it for 4 hours in 32-degree average temp and at no time did I think about my head and cold. I was wearing Giro Attack helmet over it. However, I did not like, at multiple times in my ride, feeling my earlobes getting cold and trying (with gloves on) to reach up and grab the edges of this cap and pull them down over my ears. For me, I intend to go back to my Balaclava from Canari. So, I give it 4 stars because it basically does what it is supposed to. But the general design (for 30-degree weather anyway) doesn't work for me.
Perfection
Familiarity:

I've put it through the wringer
This hat is pretty sweet. I was hesitant at first because of the price, but it's been worth every penny thus far.

What I really appreciate about this hat is the fit. It's ideal for putting under your helmet, and fits really close the head, with just enough material there to cover your ears. Thus far, it's been comfortable (for me) down into the high teens on the trainer when I don't feel like sweating up a storm in the basement and in the low 30s riding to work and back (this coming from a Colorado native, take it as you will).
My new favorite
Familiarity:

I've used it several times
Love the way this cap fits. It's small, but just big enough to cover a large part of your ear without feeling like you're going to have to stretch it to no end. Transfers moisture well while insulating at the same time. Comfortable enough that I forget I'm wearing it.
Downright amazing.
Familiarity:

I've put it through the wringer
This is one of the best products that I own. It's a perfect layer under the helmet in winter. Incredibly thin - you don't even feel it or notice it. It's worked well for me in both colder and warmer temps (30s-50s). When it gets colder I use it as a baselayer and add Castelli's WS Scully Cap and am easily riding in the 20s.
decent in cold weather cap
Familiarity:

I've put it through the wringer
This hat is probably better suited for weather in the 40's, but I can wear it over another hat and get use out of it into the high 20's. The fit is ok, but not the best fit with the way it is cut.
This is the real deal
Familiarity:

I've used it several times
We loose like 90% of our body heat via the head and being a folically challenged guy it's even harder to keep the noggin warm. Being 6' x 160lbs with low body fat and an under set internal thermostat I am always looking for good hat, pair of gloves and pair of socks/shoe covers.

So I am ordering a Gabba jersey and I see this one pop up. Looks pretty cool and so I.do the usual and I read the reviews and yes they seemed to good to be true. Well it is only $30ish bucks and CC has a good return policy so why not I say.

I have had this hat a couple weeks now and have been very impressed. Did a 2 hour ride yesterday in 40F windy weather with no problems. Here is my take at this point:

Pros
1) Temperature range (at least 40F to 60F for me) It has not been colder than 40F and given the result I fully expect this end to extend easily into the 30's.
2) Ease of use under a helmet. This guy is thin and your skid lid will easily fit over it.

Cons
1) It's slightly on the $$ for a beanie but well worth it so long as I get a couple/three seasons out of it.
2) It's very elastic and very tight fitting. Glasses are not easily slid underneath it and if you leave them on the outside they slid around as its surface energy is rather low. This is a VERY minor thing....more of an annoyance that the pro's more than offset.
perfect!
Familiarity:

I've used it several times

Fit:

True to size
Being a small-ish bald dude that bikes daily, I'm always on the lookout for head gear that a) works and b) doesn't leave marks on my head after I take it off (read: FLAT SEAMS!). Castelli absolutely nailed it with this one ! It fits just right, covers the ears but isn't awkward in doing so, keeps me head warm and fits under the helmet perfect w/o any bulk. Thanks Castelli !
Good skull cap in cold conditions
Familiarity:

I've put it through the wringer
This skull cap is good in conditions from 32-45 degrees. It is very thin and fits nicely underneath my helmet. Anything less than 32 degrees and you are better off going with a balaclava.
I will admit that when I first unboxed this hat and saw how rediculously thin it was I thought there's no way this thing is going to keep my head and ears warm. I was so wrong. I've worn this hat in temps between 25-50 degrees and my head and ears stayed toasty warm. Thanks to it's low profile it fits really well under a helmet. Worth every penny. Just get it!
Amazing how warm yet so thin. I was wearing this one day when it was cold out in the morning at the beginning of the ride, around 45 degrees, held up very well. Was still wearing it when it got warm out, around 60 degrees, got incredibly sweaty and the hat absorbed all of that sweat, climbing a total of 6,000 feet that ride total, and the hat went from slightly damp to dry in 15 minutes or less. Warm and very wicking. Great product. Fits perfectly flush to your head. No bunching at all under the helmet. Totally covers ears and their lobes.
This winter, I started collecting winter gear... trying to avoid the trainer if possible. After getting tights, jackets, overshoes, etc; I started trying the colder rides. Keep in mind, I live in NW GA, so we don't have frigid temps and blizzards, but it does get quite cold.

With the above mentioned gear, the first thing I noticed was everything seemed warm into the mid 30's, except my head and ears. This made me miserable for about the first 15 minutes of riding. I had eyeballed this skull cap for a while, but I was waiting to get it on sale.

After the wait, and never seeing it on sale; I took advantage of combining it with a smaller order to put me over the free shipping mark.

I must say that this thing appears to be worth every penny. I have ridden in some pretty chilly temps down to about 35 F with this. My head (and my ears) were very comfortable. But, most impressive to me, was my ride yesterday. Not the coldest at 42 F, but 20-25 MPH winds... I wasn't even phased. Comfy head, good ride.
If you live somewhere where your ride starts cool warms up gets cool again, than this is it.
What i like most about this skully is that you can stuff it in your jersey easily, doesnt take up much room, and is pretty warm. not sure its what i would go for in the 30's, but 40-60's its great.
more coverage than pearl izumi skull cap...AND no seem at the edge makes is way more comfortable under a helmet than PI.
only downer is price.
Castelli Viva Thermo Skully
The Thermoflex Viva Skully is warm, soft and stretchy. It's made with a single layer of fabric to fit comfortably under your helmet.
I got this Cap for scape for the tedious and bulky regular ones with the addition that I could use it under my helmet. Well I I have used it just alone to commute between my house/car/gym and to prevent a nasty head cold. It is warm and not bulky, provide a nice fit and don't let you look like a man from mars or some like that. Very Nice,Very Nice.
Bought this for my wife for Christmas and she loves it. During our ride post Christmas day ride it kept her warm, not hot, weather 43 degrees. Great fit, comfortable. Great price.