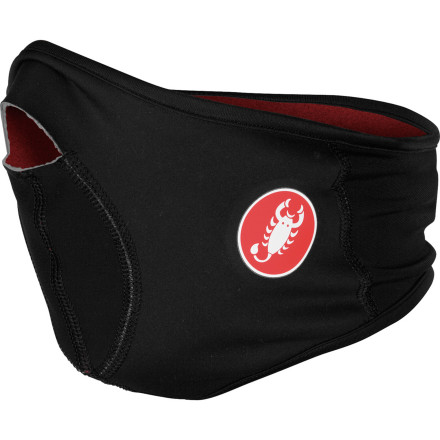 Description
Mask off the cold.
On cold days when you need full protection, the Castelli Viso Face Mask provides maximum warmth while allowing moisture to quickly escape by using the highly the regarded WindStopper X-Fast Fabric.
This multi-layer laminate absorbs and dissipates moisture through a wind-proof membrane. The material covers the bottom part of your face and your lower ears so these areas stay warm and dry when pedaling hard. The Castelli Viso Face Mask comes in one color; Black, and its stretchy fabric allows for one size to fit all.
Unanswered Question
Hi CC. Please update the photo to the new Castelli Viso with the better breathe holes. Thank you.
Warm and thin
Familiarity:

I've used it once or twice and have initial impressions

Fit:

True to size
Provides protection against cold and wind in high altitudes, I have a large face and this fits me (I wear a large elevation training mask if that's of any help). Size is adjusted by Velcro.
Not Too Shabby
Familiarity:

I've put it through the wringer
I like this piece. I am not a huge fan of the velcro (wash it in a garment bag) otherwise I'd give it 5 stars. Over the Seamless Balaclava I have worn it below zero comfortably. It does not collect too much moisture and dries rather quickly. Occasionally the nose hole will slip if you don't adjust it just right. Overall, this is a very nice mask to have in your pack in the event of too much cold on your face.
Good idea, maybe not for four-eyes
Gender:

Male

Familiarity:

I've used it once or twice and have initial impressions
I sort of ordered this sight-unseen. I read the description here but I couldn't quite make out how this would be worn. It's a mask that you wrap around your face and seal behind your neck with velcro. Your nose sticks out through the hole you see in the picture above, and you also mouth-breathe through holes cut in the material. I like the idea. I like that it's a thin, lightweight material that I can remove and stick in a pocket when the temp warms up (if I wear my balaclava I have to stop, take off my helmet, etc. to remove it and then put all back). However, I wear glasses and breathing through my nose fogged them up. This caused me to have to abandon the face mask on a 4 hour ride after trying several adjustments to solve the problem. Also, the velcro is irritating. I get that it allows for flexible adjustment, but the velcro that was used is lightweight and pops open easily. If I use this again it will be after expanding the hole area for the nose (in the hopes that I can solve the fogging issue), and I will replace the velcro they used with something more substantial (not sure what yet - perhaps just stronger velcro). One thing I will say is that I was able to mouth-breathe through the holes in the material (a problem I experienced when wearing a balaclava). So, the fogging issue is a killer for me, but will not impact those who do not wear glasses. The velcro was irritating, but not a deal killer. I was just worried that the velcro would separate and the mask would fall from my collar (as I was not using it on my face due to the fogging - was using it as a neck protector instead :-) and that I'd never know it had fallen off till ride's end.