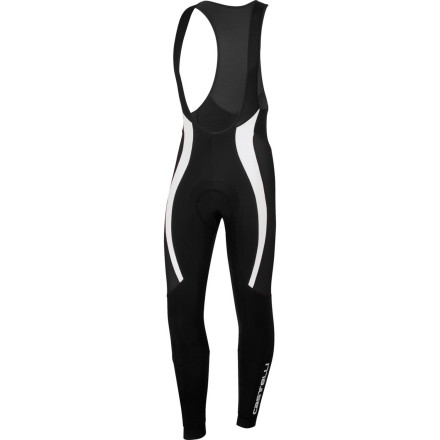 Detail Images
With the temperatures dropping, and the holiday weight belt stacking, you might be feeling less and less motivated to ride. However, this is only the temperature playing games with your evolving brain. When winter tells you to put on pounds and stay in the back of a warm cave, and Castelli says suit up in the Velocissimo Bib Tights and hit the road, you have to decide -- who are you going to listen to? We prefer having fun and playing with our friends outside. We think that you do, too.
The Castelli Velocissimo Bib Tights are made from Castelli's popular Thermoflex fabric. Thermoflex gives you the benefit of having a lightweight, stretchy bib tight that warms like a light jacket on your legs and fits like you're off to the races. Thermoflex also features a fleecy inner lining that traps a layer of warm air on your skin while it wicks away moisture to the quick-drying Velocissimo surface. This process provides a consistent warmth and dryness that you'll appreciate when it's in the 40s. The Velocissimo has added extra comfort by incorporating breathable mesh bib straps and the Kiss 3 pad. The Kiss chamois uses a seamless construction of brushed microfiber to avoid any chaffing, and the pad is anatomically shaped to help follow your movements. The Kiss 3 also features a variable density design with more padding where you need it and less where you don't. For a secure fit, Castelli also included the single-layered Giro3 ankle grippers and the reflective camlock ankle zippers.
The Castelli Velocissimo Bib Tights are available in six sizes from Small to XXX-Large, and in the colors Black/white, Black/white/red, and Black/yellow fluorescent/anthracite.