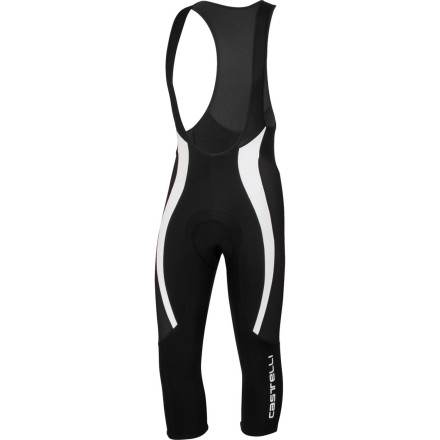 Detail Images
Without comfort, where would we be? Probably sleeping on beds of nails and wearing suits of armor while we ride. The Castelli Velocissimo Bib Knickers are made for pure comfort, because sometimes the weather calls for a pant's break to be a few inches higher. The Velocissimo uses a warming design that's ideal for early winter and spring, but can be paired with a good base-layer for all-season riding.
The Castelli Velocissimo Bib Knickers are made from Castelli's popular Thermoflex Lite fabric. Thermoflex gives you the benefit of having lightweight, stretchy bib knickers that warm like a light jacket on your legs and fit like you're off to the races. Thermoflex Lite also features a fleecy inner lining that traps a layer of warm air on your skin while it wicks away moisture to the quick-drying Velocissimo surface. This process provides a consistent warmth and dryness that you'll appreciate when it's in the 40s. The Velocissimo adds extra comfort by incorporating breathable mesh bib straps and the Kiss 3 pad. The Kiss 3 uses a seamless construction of brushed microfiber to avoid any chafing, and the pad is anatomically shaped to follow your movements. The Kiss 3 also features a variable density design with more padding where you need it and less where you don't.
The Castelli Velocissimo Bib Knickers is available in six sizes from Small to XXX-Large, and in the colors Black/white and Black/white/red.