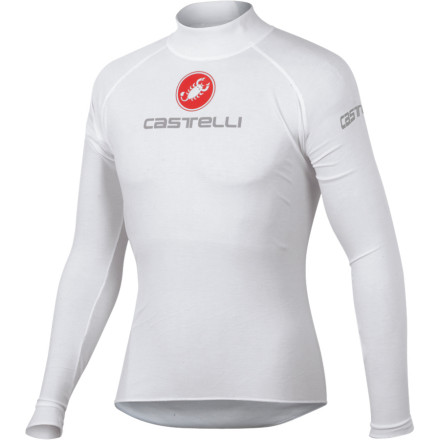 Your summer jersey becomes a spring jersey when you add the Castelli Uno Plasma Base Layer. The Uno Plasma is designed to transfer moisture away from skin so you stay dry—a fundamental element in your battle against weather.
Minimal seams prevent skin irritation
Stylish, simple design for a fashionable ride


I wear this in temps ranging from the low 50s to the low 30s under a wind/waterproof uninsulated jacket and I couldn't be more comfortable. It allows me to heat up my core without over-heating. Good deal.
castelli has another winner
after years of useing damart for my winter cycling, the tailored fit and polyester technology of this light weight base layer has stolen my heart. Sorry Damart, there's a new kid in town.
When I took it out of the package, I wasn't impressed. Looked like just a simple t-shirt. However, once you put it on and put additional layers over the top, you hardly know you have it on. But, you can definitely tell it works as advertised as I kept dry and warm throughout my ride.
Mesh Base layer, very thin but keeps you incredibly dry and comfortable. A must have under your jersey. Works great in hot and cold conditions.