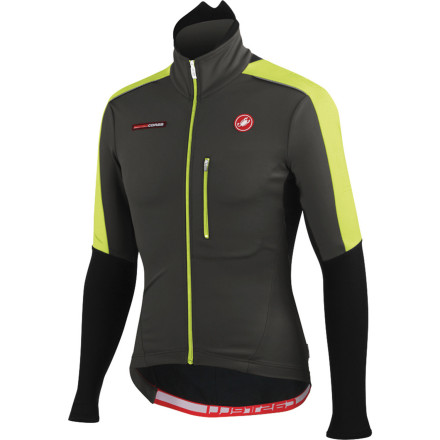 Detail Images

Community Images
Description
A jersey for the elements.
A flapping wind jacket is not only annoying as the fabric beats continuously against your skin, the sound is also distracting as you strive for much needed "quiet-time" while riding. Castelli has borrowed the best properties of your favorite wind jacket and long sleeve jersey and combined them to create the Trasparente Due Wind Long Sleeve Jersey-lightweight, form-fit, and quiet.
Castelli used Windstopper X-lite Plus and its Warmer fabrics for the main panels of the Trasparente. Together these work to insulate you from chilly wind while ensuring that you'll stay warm without over-heating. The Windstopper was used in the front panels to keep wind from blowing through to your skin while the heavier Warmer fabric, placed on the back, keeps you warm. In case you are concerned about overheating or becoming drenched in your own sweat, not to worry, both materials are breathable and move moisture to the exterior of the jersey so that it is evaporated. In doing this you stay dry and your body temperature stays consistent. And, if the temperature soars mid-ride, you are able to dump heat on-the-fly, with the full-length, camlock zipper.
The fit of the Trasparente is designed for riding. The tail is slightly extended for complete coverage. Raglan sleeves and a multi-panel design mean that it features plenty of room for movement without excess fabric bunching or chafing. An elastic gripper at the wait helps to hold the jersey in place. Finishing off the Trasparente are three rear pockets and a Napoleon zip-pocket to stow your ride essentials. Reflective accents have been placed throughout the jacket for heightened visibility in low-light conditions.
The Castelli Trasparente Due Wind Long Sleeve Jersey is available in six sizes from Small to XXX-Large and in the colors Anthracite/black/yellow fluorescent, Black, Red/black/white, and White/black/cyan.
WindStopper X-Lite Plus (front), Warmer (back)
Elastic gripper at waist
Three rear pockets and Napoleon zip-pocket
Reflective accents throughout jersey
Full-length, camlock zipper
great fit
Familiarity:

I've used it several times

Fit:

True to size
it was a great investment. It fits great, feels great and is great material
Works as Advertised
Familiarity:

I've used it once or twice and have initial impressions

Fit:

Runs small
Used as a jersey on a 48-52 degree day. Nothing underneath. Generally comfortable but perhaps a tad cool. As everyone else has written, the body of the jersey is quite windproof. The lower sleeves are not and you can feel it.

As for size, I have medium shoulders and a small torso. I bought the size M. I don't like skin tight and this fits ok as its designed to fit tight. Nice deep easy to reach pockets also.
The best light jacket for Fall/early W!
Familiarity:

I've put it through the wringer

Fit:

Runs small
This is one of the very BEST items that Castelli makes; and that is saying something. Can I give it 6 stars? Also, it looks insanely awesome in all black. Matches perfectly with Castelli's "lightness" full finger gloves in black.

Application: Long-sleeve light jacket for riding in coolish weather (45-65*); depending upon your base layer selection (and what tempo you are riding). This light jacket is extremely functional and versatile.

PROS: A lot of attention to detail here. The big zipper grip works well with gloved hands. And the Gore "Windstopper X-Light" fabric works great and doesn't flap in the wind. Tip: The pocket/chest zipper can be used for cooling!

CONS: None. Other than take care with the (windproof) pocket/chest zipper. It's firm (so it doesn't unzip by itself).

FIT: Size up one size -per usual with Castelli. I'm 5'10 185, the XL fits me perfect. This garment is meant to fit snug (aerodynamic/no flapping).
I love this jersey
Familiarity:

I've used it once or twice and have initial impressions
I'm 6'2" (no shoes), and 175lbs. I bought the XL size jersey and have used it once. For some reason I put off buying this windstopper long sleeve chunk of gold. I love this. I hail from Southern California and despise cold. I usually dress heavy because I'm lean and get cold easily, and end up too hot about an hour into the ride. This thing is great in the early AM, 0700 departure, and not hot by the time I was done at 1000. The high neck was perfect, and the longer back that covers your lower back/upper but was perfect. The windstopper was perfect. The sizing is always the question. I'm glad I got the XL. I think the L would have been a bit small. The arms were long enough. The torso diameter tight enough. The torso length just right. No buyers remorse.
Excellent winter jersey
Familiarity:

I've put it through the wringer
I have 2 now and wear one of them every time I ride in the winter which is anytime it is above 35 at the start. I layer with a Gore long sleeve windstopper base layer under the Castelli and then an outer layer depending on start temp, from a jacket to a vest to nothing. I tend to run on the cold side and this jersey (it's more of a jacket IMHO but does have 3 pockets) works very well. If things warm up I can vent so as not to overheat.
One of the best jerseys I own, I now have 2. Use it for snow biking all winter. With appropriate base layering, no need for a shell down to single digits. In warmer temps, big zipper means it's easy to dump heat. High collar traps warmth for cold descents. I stop using this around 45f, too warm
Husband LOVES it
Familiarity:

I've used it several times

Fit:

Runs small
Bought this jacket for my husband who likes to ride on the California coast (Marin/SF). He likes the warmth of this jacket for cold, foggy days. It fits great, not too tight -- I bought him the XXL and he's 6'2 , 200 lbs.
what a find!
Familiarity:

I've used it several times
Castelli always seems to be one step ahead of what I need. Between riding in the Poconos and Southern California, I always drift from chilly early morning starts to plenty-warm mid-day finishes. But I never stop to adjust whatever kit I start the ride with- usually arm-warmers and always a wind-vest. This Trasparente Due Wind is a real marvel! It is warm enough to replace a jacket and the Windstopper front even eliminates the need for a vest! Its the perfect long-sleeve jersey.
As with most Castelli gear I buy, I only discover what's good as it goes on sale as the seasons change and inventory is discounted. This jersey is a true find and yet another well-made, well-designed piece of cycling wear from Castelli. I am a true devotee!
Just right
Familiarity:

I've used it once or twice and have initial impressions
I bought a medium and a large, because it's hard to determine sizing on Castelli sometimes. Kept the medium. I'm 5-8 and 160 lbs. I do like my jerseys to fit snug. I've only used once but found this jersey to be very comfortable. The collar is totally comfy for chilly rides - so soft and wraps just right. The windstopper front worked better than I thought.
Castelli jersey
Familiarity:

I returned this product before using it
This was my first Castelli jersey purchase so I didn't know what to expect. I'm 5'11 about 164. I got the large. It just didn't feel right. It felt tight. It barely came to my waist and the overall impression was just, blah. I ended up returning this and getting an Assos jersey.
Great cool weather gear
Familiarity:

I've put it through the wringer
I use these mostly when the temps dip into the high 40's. They have protection against the wind but not so much to make one feel like their in a sauna! I have tried other brands such as Castrelli and felt like some one poured a cup of water onto hot stones. I whole-heartedly recommend Pearl Izumi. Their products I have learned to buy without question to quality!
Buy one!
Familiarity:

I've used it several times
took this jacket out on an epic 70 mile ride yesterday. Forgot I was wearing it, so comfortable! Temps ranged from 37-43 and I only wore a summer short sleeve mesh jersey and it was perfect. The front is like a vest and you get no chill. My arms were a little brisk at first but once i warmed up in 10 min I was glad they were so thin. Climbs were great too with the arms letting you vent some heat. Unbelievable given that this is jersey thin. Ultra comfortable as well. Considering getting another. Sizing is typical Castelli. I'm 5'11" and 160lbs. I'm a medium in jerseys and a L in bibs and anything with long sleeves. This is no different large all the way. Same fit as the awesome gabba.
Great jersey
Familiarity:

I've used it several times
Best winter jersey I own. Very light, stylish, and more importantly keeps me warm with a long sleeve baselayer down 45 degs and to 35 degs w/ additional light jersey. Worth every penny!

I'm 5'10.5'', 165lbs and I got the L which is between club and loose fit.
Versatile jersey...
Familiarity:

I've used it once or twice and have initial impressions
Winter weight at 200ish lbs, the XXL fits great with enough room for a thick winter base layer. Tested it with a Specialized thin base layer on a 2 hour 35 degree road and was a tad chilly but still worked great. Extremely satisfied with it, looks great and seems to be pretty versatile.
Cool Long Sleeve Addition
Familiarity:

I've put it through the wringer
180lbs 6'1" Xl is good to go. The fit is not strangling, which allows you to toss a base layer underneath and wear it in even colder temps. The zipper construction is solid and it has a nice breast pocket for some lip goo and a debit card. Windstopper fabric is nice and light and keeps the chill off the chest. I will sometimes wear this in lieu of a jacket if I know it will be dry. Very comfortable and stylish thermal jersey from Castelli. Definite keeper.
Listen I like the price.
Familiarity:

I returned this product before using it

Fit:

Runs small
Less than you think is wearing the same clothes ... still completely tight to talman the bike will be well. Other price and so like the design.
Great top - maybe size up though
Familiarity:

I've used it once or twice and have initial impressions
I am 6' and 170 pounds. I ordered a large and it fits perfectly over a tight/race cut jersey. I usually wear a Castelli medium jersey (I prefer a tight fit). So you may want to size up as a Medium with anything beneath it would probably be too tight for this item. Went for a ride up the mountains last weekend with this on - a bit hot going up the hill, of course, but I was perfectly warm during the cooler descents. One of my favorite perks of this top is the pockets - they are big and deep but not ugly or obtrusive. I fit an apple, spare tube/kite, phone, two bars in back pockets and could barely feel them on my ride. I would be comfortably wearing this item from mid 30s to about 60 (Oct through late March in Virginia, need more during Jan/Feb probably).



As with all Castelli items, looks great too!
Great Jersey!
Familiarity:

I've used it several times
Have had the chance to use this several times in late winter/early spring conditions. I ride near the ocean so while the temps have been 40-45, the cold, damp wind can be a factor. It is really performing well. Fights the wind as promised. Keeps me warm but doesn't bake. Not heavy and the fit is excellent. I'm 6'' 165 lbs and always buy an XL in Castelli. I can put a layer or two underneath and the fit is snug but not binding. Got the blue and it looks great!
nice as a jacket or underlayer
Familiarity:

I've put it through the wringer

Fit:

Runs small
This was a good score. I went with an XL to give room underneath for layering and to make sure the sleeves are long enough for me - 6'1" and 180 lbs with long arms.



This piece is great with just a jersey or base layer in the 45+ degree range. It has worked well with a wool jersey underneath for temps between 35 - 45. And under a thicker jacket for those really cold days.



The only minor gripes are that the pockets sag a bit, so heavy items can feel like they are swaying when you ride aggressively. Also could use a bit more color and reflective on the back to help getting the driver's attention.
it is ok
Familiarity:

I've put it through the wringer
i own a lot of Castelli LS jerseys/jackets all in Large however had to keep this one in XL. Body is a bit looser than i would like and neck is right on the edge of being too tight! I also own Castelli Gabba Convertible in Large which is perfect fit...if you want something similar but better go Gabba LS or Convertible hands down....Tranparante is just ok and am not sure i would buy another one....also, wind protection not running full length on arms is almost deal breaker for me ......i still give it 4 stars because it is Rosso Corsa (feel of material is nice) ....no 5 stars because neck tightness and lack of windstopper on lower half of arms....overall fit is NOT spot on like my other Castelli gear in size Large.....FYI...my specs are 6'1" 170lbs athletic lean build.....don't get me wrong, this is nice jersey but the fit is a little off.....i wear this under Gabba or soft-shell and it works brilliantly as mid or base layer for cold weather