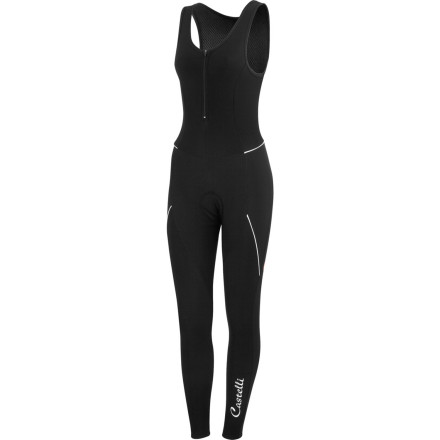 It's a pity that we're not as tough as our cycling heroes. If we were, we wouldn't come up with a million reasons not to ride in the cold of winter. Luckily, the Castelli Tenerissimo 2 Bib Tight takes away the excuse of cold legs, and puts us one step closer to the pedestal that our idols are spinning on. To do this, the Tenerissimo uses proprietary, warming fabrics, and features an anatomic cut to keep the cold at bay and your feet clipped in.
Castelli's Tenerissimo 2 Bib Tight is made from Castelli's popular Thermoflex fabric. Thermoflex gives you the benefit of having lightweight, stretchy bib tights that warm like a light jacket on your legs and fit like you're off to the races. Thermoflex also features a fleecy inner lining that traps a layer of warm air on your skin while it wicks away moisture to the quick-drying Tenerissimo surface. This process provides a consistent warmth and dryness that you'll appreciate when it's in the 40s. Castelli added extra comfort by incorporating a breathable mesh back and the women's specific Kiss3 Donna chamois. The chamois uses a seamless construction of brushed microfiber to avoid any chafing, and the pad is anatomically shaped to follow your movements. The Kiss3 Donna also features a variable density design with more padding where you need it and less where you don't. To ensure a precise, no-slip fit, the Tenerissimo uses silicone ankle grippers that have been paired with camlock zippers.
The Castelli Tenerissimo 2 Bib Tight is available in sizes from X-Small to X-Large, and in the color Black/white.