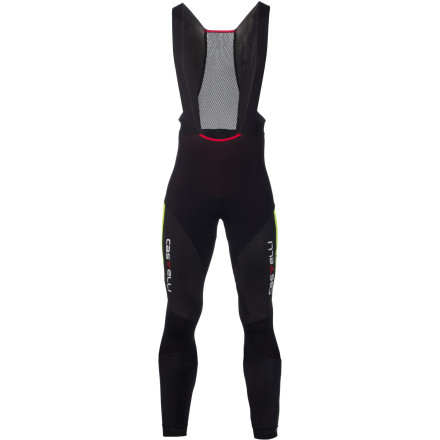 Detail Images

Community Images
Description
Do the work now, reap results when it counts.
Imagine being able to ride in cold weather with clothing that emulated all the best features of your summer-weight kit: bibs that didn't restrict breathing, a chamois as good as the one in your best shorts, and lightweight materials that didn't feel bulky or restrictive. The Castelli Sorpasso Bib Tights are part of Castelli's Rosso Corsa line of products, and as a result, they get the Italian manufacturer's very best treatment in materials, design, and fit.
The Sorpasso Bib Tights begin with Castelli's top-of-the-line Progetto X2 pad, the same pad found in their best shorts. The top layer that contacts your skin is a made from a seamless, four-way stretch microdenier fabric designed to move in harmony with your body and eliminate the chafing that can come with materials with too little stretch. It receives an antibacterial treatment and is bonded to a variable thickness pad made from multiple density foams; the result is a smoothly contoured pad that places the firmest foam where support is most needed. Perforated inserts help to relieve pressure on the sit bones and perineum -- just where riders experience the greatest pressure.
The front of the tights are cut from Thermoflex Core Due to keep the wind out. This two-layer material traps air in a hollow-core layer of polyester while moisture is transported to the outer nylon/Lycra layer where it can evaporate. A simpler fabric, Thermoflex, is used for the portions of the tights not exposed to the wind for greater breathability. Giro++ grippers keep both the bib straps and ankles in place. It's rare to find bibtights that are this light and this warm.
Like the bibs in the Rosso Corsa line, the waist of the Sorpasso Bib Tights is cut very low to eliminate restrictions on breathing caused by pressure on the belly.
The Castelli Sorpasso Bib Tights are Black/white and are available in six sizes from Small through XXX-Large.
Hollow core fibers trap warm air and move moisture better than traditional fibers
Progetto X2 chamois keeps your nether regions comfortable on long rides
Ankle zippers make the early-morning dressing routine a little easier
OK, but not as warm as Castelli says
Familiarity:

I've put it through the wringer
Fit is very good, but you have to accept these are performance tights with substantial compression, you're not going to able to just throw them on. Take your time, and wear them around the house a bit when you first get them and they'll loosen up and conform to your body. Size is dictated waist measurement, not how tall you are, how much you weigh, what size you take in Pearl Izumi, Louis Garneau, Assos etc, it doesn't matter. Just use the Castelli chart for a perfect fit.



The ProgettoX2 pad is great, so that's a good reason to get them by itself. However, these don't keep me warm down to Castelli's rated 32 degrees. They make riding at that temperature possible, but I feel the cold more than I like. Their comfortable temperature range seems like high 30s to mid 50s, at the most. If you're OK with the Kiss3 pad get the Ergos, or any other Castelli tight with Thermoflex, temperature range is the same, although these do have a bit more compression and "vanish" more than the Ergos. I like the ProgettoX2 better so these are worth it to me for rides over 2 1/2 hours, shorter than that and the Ergo/Kiss3 works almost as well
Great at first, then downhill
Familiarity:

I've put it through the wringer
These bibs indeed keep me at a "normal" riding warmth on colder days. Do I still feel the nip when the temperatures start to drop or after 4+ hours on the bike? Yes, because the sweat in the fabric is amplifying the colder wind. Overall, these were and have been great at least for warmth without going to the "thermal" option. NOW the downside, you need to slowly, and carefully put these on. Like a wetsuit, little by little or else you will hear the preverbal tear sound of the stitching. I usually wear a small to medium in bib shorts and with these a LG is just enough. The most disappointing part of these bib tights came today before my ride. I wanted to really look these over again before I wrote my review, and definitely have logged many miles in them. The outside material where the chamois meets the saddle is all pillowed up and has a "chafed" look to it. I was pissed to say the least. I wash these as directed, always hang dry and about 300 miles and 4 weeks later this is happening?? Sorry Castelli but I am very disappointed in the cost to what is going on at the contact point. My saddle is a leather San Marcos with no grippy materials, etc. to cause such material breakdown. I am actually considering returning these for a different pair due to the disappointment in what I think is the most important part, and the only contact part with the bike. Castelli has a warranty supposedly, and I have yet to return anything from Competitive Cyclist either due to their existing great products but guys, for this money, this is not something that should happen to high end bib tights. Due to the lack of construction quality, I gave this a 2 star. If the materials had held up, you would have seen 4 stars. Competitive Cyclist, what can be done with this?
Bib Tights that work well
Familiarity:

I've put it through the wringer
I've purchased Castelli Bib Tights of all types, From the super-warm polars to the new Sorpasso's (standard and wind proof models). They are always tight, or 'race fit', but are comfortable on the bike, and always keep me warm, sometimes too warm.

I live at 7000 feet, ride at over 8000 at times, with bitter cold winds, during the off season, windchill anywhere from 5 to minus 10 Fahrenheit. These bibs work.
Excellent all around
Familiarity:

I've used it several times
I've never owned a pair of winter-specific bibs and decided to finally get some. I couldn't be happier with this purchase. For starters, I'm just shy of 6'2", 165 lbs, and the Large fits me perfectly. Couldn't ask for a better fit. Castelli stuff does fit a little smaller than most brands. I have a Castelli kit in size medium and went with a large in these bibs based on a recommendation from someone similar to my size, and I'm glad I did.



The first time I wore these, it was 47°F, calm, and misting on and off. My second ride was 50°F, sunny, and fairly windy. In both conditions, I was incredibly comfortable. I feel like these bibs would keep me warm down into the upper 30s, and I consider myself more sensitive to the cold than most. My legs were a bit chilly for the first 15 minutes or so, but that's what you want. If you start off warm, you'll just get hot. Within a half hour, I felt absolutely nothing, which is exactly what you want in cycling clothing. The less you think about it, the more comfortable you are, and these bibs helped me feel more comfortable in cold weather than I ever have before.



They're insulated enough to keep you warm but breathe well enough to keep you from feeling sweaty. The inner material is incredibly soft, and as many others have said, the chamois is definitely top of the line. Some others have commented on hearing a ripping noise when stretching the seams. I've heard this too, and I've heard it in other Castelli products I own. I assume it's some kind of inner stitching because I've never actually seen rips or tears anywhere on the seams to indicate where the sound is coming from, so it's nothing to worry about. I lucked out and got these on a Black Friday sale for $98. I will be buying another pair when I see them around that price again.
Way Too Small!!
Familiarity:

I returned this product before using it
Very disappointing. I'm 5'11" and 190lbs. I ordered the XXL which appeared a little large based on the size chart. Other reviews said to go up a size, so XXL looked right. Not only were they 3" too small around the waist, they were at least 3" too short in height. I returned them and will probably go with some Louis Garneau tights. Have never had much luck with Castelli clothing.
173Cm, 75Kg "L"Size is so tight.

I'm Asian. but good quality.
UNSEAMLY?
Familiarity:

I returned this product before using it
Hi all! I tried on three of these, and finally decided against them. Reasons: size, straps, and seams. While the tights look terrific, especially in black/red or black/yellow, they are made in China, and are sized to Chinese sizing! I normally take a L and, occasionally, XL; with these, the XXL is very snug (I am 6'2", 185). Furthermore, the seams, particularly along the torso, at the transition to the upper strap structure, are not sufficiently flexible in structure and/or materials, to eliminate the possibility of tearing seams. I doubt if these would hold up more than one season. And the straps are a nice material; but they will not lie flat. I was really sorry these did not work out, as they really look great!
Sleek looking, nice fell, but SIZE UP!!
Familiarity:

I've used it once or twice and have initial impressions
Several other posters have commented on the tight fit of these tights. I'll join the chorus and emphasize that you size up. I typically wear L summer weight bib shorts from a variety of manufacturers so I tried the L and XL versions. I was barely able to squeeze into the L, but it was pretty tight and uncomfortable. The XL is a better fit for me. I have an athletic/bulky body type. I'm pretty barrel chested and measure up at 5'9" and 188lbs.



I've only tried these on, but will be sure to update my post with additional thoughts once I've used them.



I will second what doctorspreadhseet says about putting them on...make sure you go slow and get the lower leg/knee in place before lifting up the bib/straps. It'll make getting the tights on easier and it won't pull/strain the straps.
Italian Jammies
Gender:

Male

Familiarity:

I've put it through the wringer
These are like pajamas. 180lbs & 6'1" the XL is a perfectly snug fit. Pushing these any lower than 30 degrees is asking for a chilled satchel... at that point it is time to try the WS version (awesome) or some Polares. I can understand how some consumers may find the Progetto x2 pad to be bulky, but it is a trade-off for the comfortable ride. They look as amazing as they feel. Being able to see your own breath and still have warm legs is lovely. I have had no problems with any stitching, I think it is important to get the knee sections (red piped fabric) up before you pull them all the way up. This just prevents the seams from being stressed. The shoulder straps are "invisible". Take your time with a thumb, sliding it underneath each strap evenly to prevent a coiled up mess.



Everyone should own a few pairs of these for winter riding/commuting. Catch some road in some stylish Italian PJs... you will love them.
Initial impressions
Gender:

Male

Familiarity:

I've put it through the wringer
Used only a couple of times so far.... I'm 6'-1", 195 lbs, XXL fits well. Worn on cool overcast days, but not cold weather, was comfortable and did not feel like over-heating. Should be fine for colder rides. I find the quality average as some of the stitching was already coming loose. The chamois is ok although it seems to be positioned a little too far forward in the tights... I feel like I'm sitting off of the back of it on the bike and that there is way too much room and bulk in the front area. Decent value at the sale price I paid, wouldn't pay full price for them.
Comfortable tights but stitching?
Familiarity:

I've used it several times
These definitely fit tight. I'm 155 lbs with 32" waist so comfortably Med, but these are quite snug. Putting them on the first time I heard ripping - the bit of red piping across the belly ripped. I carefully hand stitched it and now they fit better...plus now I can stretch the front enough for a pee break.



Aside from that questionable bit of front piping, they are great! Chamois is comfortable and the tights have a great temp range. I've worn them from just above freezing to mid 60's comfortably!
I love this product
Familiarity:

I've used it several times
I am 5"10 180 and I went with the XL (they were on sale). They fit well if not a tad long but I am very happy and just a little loose (room for a thin base layer when it is extra cold). These are my first pair of quality "winter" bibs and I extremely pleased with them. I use them from -12 - +6. I am now 100% comfortable in Canada's Nov, late Feb, Mar etc.
Dissenting vote. Not their best.
Gender:

Male

Familiarity:

I returned this product before using it
6' 186 lbs, size XL in these. I wanted to like these but they defied my attempts. I found oddly, that with the correct size - firm compression everywhere, the legs were slightly too short and also too big around at the ankle. No stirrup either. This is a bad combination as it feels way weird and guarantees they'll ride up. The cuff around the very bottom is this cheap flimsy material which I can't describe except to say "rubbery" and it isn't like the rest of the leg fabric at all. The tights look sharp but the Castelli Logo is just ironed-on vinyl letters which as we all know will come off one at a time and fairly soon your thigh look like the Wheel of Fortune board. I don't care about the logo and based on the nice fabric, I actually returned these for the knicker version. I reasoned that would solve the ankle issue as I suspect these were designed as knickers to begin with and simply duplicated in the long version with no thought going into it. I was liking the knickers but I found a stitching defect and those were last pair in my size. The shoulder straps don't impress me - same space material as the leg cuff but likely to work. The fabric itself is very nice and makes me wish they put more thought into these things.
I am 5-11 and 150lbs, size recommendatio...
I am 5-11 and 150lbs, size recommendation?
Best Answer
You have about 2 inches and about 5-10 lbs on me and I would probably be maxing out the small. Depending on how you carry your weight the Medium would probably best fit you.
Progetto X2 pad is the very best!
Gender:

Male

Familiarity:

I've used it several times
Love these bib tights! Great fit, comfortable to ride for hours. So good if you ride long distances as the chamois (pad) is Castelli's premium pad. I'm 5'7' at 165 lbs. 34 waist and wear a large in these as Castelli runs small so size up.
Works and Look Great
Gender:

Male

Familiarity:

I've used it several times
These tights are very comfortable once you get them on; very form fitting. I own two pair and just ordered a third. Luckily I purchased the first pair at a bike shop because they told me they were going one size up. I usually wear a XL but they said I should go XXL due to the Castelli's are one size down from what is advertised. I first tried them on at the bike shop. It was a task getting them on the first time. It was like that commercial on TV of some women getting into skinny jeans. I did hear a stitch or two pop. However once I got them on they were very comfortable. I just received the 2nd pair from Competitive Cyclist and there was no stitch popping. They feel really great once you get them on. Just remember to look at the sizing chart very closely because most likely you will have to go one size up.
I was going to purchase a pair of cold weather tights and just throw them on under my shorts but I decided to go with a full tight set up - bibs and all. These bibs have fit the bill perfectly. The tights don't restrict my motion at all. They are quite warm and have a soft lining on the inside which hasn't chafed me yet. They're the perfect weight for Seattle's winter weather (~low-high 40s). Additionally, I have yet to try a chamois better than Castelli's Progetto X2 Air (although I haven't tried an Assos chamois yet). I have a very bony butt and need a really good chamois in my bibs/tights. This chamois stays in place and holds well on the seat and on your butt. The only thing I would change about these is that I wish they had the little foot-wrap to help keep the tights down. They do ride up like half an inch or so when riding, but its really not much. Overall: these seemed a little pricey to me first.. but they are well worth the money!



PS: Castelli has a European fit. As a general rule, go up one size from your regular size!
Great Cold Weather Bibs
Familiarity:

I've put it through the wringer
So I'm into my second cold weather season with these tights, and they are the foundation for my cold weather riding. First of all a comment on the size, I'm 5'9", 145 - 150 pounds, and 32.5 inches in the waist. In general, I wear size L Castelli's, but in this case the mediums are a perfect fit. As JDHP437112 said, these are like a skin suit so don't get them if you don't want that effect and feel. I've worn them down to 28 degrees, at which point I felt the cold but was not affected by it, through the 30's where they excel, and into the mid-40's where I still don't feel overheated by them. I love the straps - the smooth lycra is comfortable, and has plenty of flex to move when I do. It can feel a little tight when I first put them on, but once I get into riding position I don't notice them at all.



So far these have been very durable. All my bike clothing goes through a delicate cycle with a little detergent, then hangs to dry, and these still look new as they move into season 2.



And best of all, my wife likes how I look in them, although maybe that's not the bibs.... :-)
Great if you want to advertise for Caste
Familiarity:

I returned this product before using it
Caveat, I only tried these on, so take this review for what you will. I ordered XL, I am 6'4 with a 34 in waist, these were way too tight in the shoulder straps, so I sent them back. Several things that struck me about them: they have knee vents. I dont know about you, but I have never said to myself when its 30 degrees out "damn I wish my knees were cooler, there is so much sweat down there I have to pull over." Second, the branding. I guess that is Castelli's thing, but I'm not sponsored by Castelli, so I feel like I should get something for advertising their brand while riding my bike. There are logos everywhere, not to mention the red beneath the black. If advertising what cycling gear you wear is your thing, these are the tights for you.



I'm going with more simplistic and functional on the next go-round.