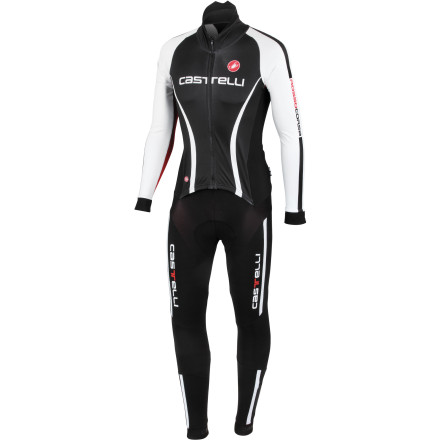 Detail Images
What do you get for the speedsuit that has it all? That's easy -- a new winter design. Castelli did just this for its Sanremo Speedsuit, and the new application is nothing short of amazing. The Sanremo Thermosuit provides the weight and aerodynamics of a summer kit while granting complete protection from the harsh elements of winter. The Sanremo Thermosuit is a glimpse into the future for anyone riding year round.
The Castelli Sanremo Thermosuit's revolutionary design was achieved by a precise combination of fabrics and an outside-the-box approach to winter apparel design. The Thermosuit idea started with Castelli redesigning the aerodynamic Sanremo Speedsuit for a winter application. The reasons for adapting the Speedsuit are numerous. This design allows full coverage from the elements, complete thermo-regulation, no breathing restriction from bib straps, and no possibility of cold air entering the suit. Essentially, your body is hermetically sealed, but being airtight would result in a rolling furnace rather than a functional design. This led Castelli to a careful material selection process.
The Sanremo Thermosuit is made from a combination of materials strategically located around the suit. The front jacket panel is constructed from the patented WindStopper X-Lite Plus fabric. Developed in conjunction with W.L. Gore, WindStopper is a four-way stretch fabric that is lightweight, breathable, windproof, and water-resistant. Used on the torso, it blocks wind and water where the body is most susceptible. On the back, Castelli used Thermoflex Core Due to provide the yin to the yang for the suit's heat regulation. This fabric uses hollow-core polyester fibers to trap warm air while it wicks moisture to its nylon/Lycra outer layer. The hollow fibers provide better transfer, and eliminate 20% of construction weight. The tights of Thermosuit use a combination of the same Thermoflex Core Due and its little brother, Thermoflex. Working together, the fabrics allow total freedom for leg movement while keeping you warm and dry.
Castelli's idea for a winter speedsuit has been extended to every facet of the Sanremo Thermosuit, and we're ecstatic that the Progetto X2 chamois made the cut. Castelli's most innovative chamois, the Progetto's surface uses a skin-care layer comprised of a seamless bacteriostatic fabric that conforms to the body without folding. The material supports airflow, and aids in evaporation. The second layer is multi-density foam with variable thickness placed for maximum, anatomically-correct support. The comfort level is also aided by Castelli's Viscous comfort inserts; a perforated padding is added to the highly-sensitive ishial and perineum pressure regions. In addition to Castelli's best chamois, the Sanremo Thermosuit also comes with three rear storage pockets that are designed to stay in place under load, and a full-length camlock hidden zipper for quick ventilation.
The Castelli Sanremo Thermosuit is available in six sizes from Small to XXX-Large, and in the color Black/yellow fluorescent.
Share your thoughts
What do you think of the
Castelli
Sanremo Thermosuit
? Share a...
GREAT! but i was expecting more!
Familiarity:

I've used it once or twice and have initial impressions
I bought it and now begins the time of Fall / Winter here in Chile
Points Scored:
I tried it with 8 degrees Celsius and a little rain and the truth is that it is excellent. It is waterproof, breathable suede and it keeps you warm all the way.
Negative points:
I was slightly disappointed to see that it was made in El Salvador thinking that being an item of high value and quality Cycling would be manufactured in Italy.
I chose size M because I'm thin (I measure 1.77 cm and weight 74 kg) and the truth is that I feel I do not have the perfect fit at least in the legs and arms. (Too loose).
Fantastic
Familiarity:

I've used it once or twice and have initial impressions
Wore this baby today in 28deg F on a CX ride on snowy roads. Just had a thermal top underneath and was comfortabley warm. It feels so much lighter and freer that the usual multi layer winter outfit. Cannot recommend highly enough...unbelievable garment
Excellent fit, warm and comfortable
Familiarity:

I've used it once or twice and have initial impressions
I have so far worn this once with a Castelli Iride long sleeve base layer on a ride that started at 40DF and ended at 60DF. I was extremely comfortable throughout the range. I am 140 lbs and 5'6" and found the medium to fit well. It is easy to get on and off. I really like the one piece aspect as well. It has the expected Castelli fabrication/fabric quality. I am certain that this will be my go to outfit till the end of this winter. I think it would make sense to have the summer version as well.
Vansummeren talks SanRemo SpeedSuit
By CastelliCycling RaceWear
Castelli has done it again as always.
Familiarity:

I've used it several times

Fit:

Runs small
This is my second San Remo thermosuit. Need I say that I love them. I bought my first one last year. Today I road in 29 deg weather with unbelievable winds, gusts and steady headwinds. The thermosuit is F'n amazing. I had a baselayer top on and that is all I needed. Besides the Chili boots and 3.1 matching gloves. My ride was about 2 hours @19-21 mph dropping to 15-16 mph during extreme gusts. I use wind to train and welcome it. Never got cold, never felt anywhere near hot, I was comfortable. As I said, this is my second one. I have the yellow and black one, and the black and white one. I never write reviews, but this suit is so amazing that all I could think about doing on the ride home was singing its praises! Get the estremo gloves and some good booties and your rides will be as enjoyable as mine was. GET ONE! You won't regret it! Order it a size larger. as with all Castelli unless you look like Froome.
Just thought I would share the degree rating on this from Castelli cycling website.
5 C to 15 C, or 37 F to 59 F
Also would recommend buying one size larger than your regular clothing apparel size.