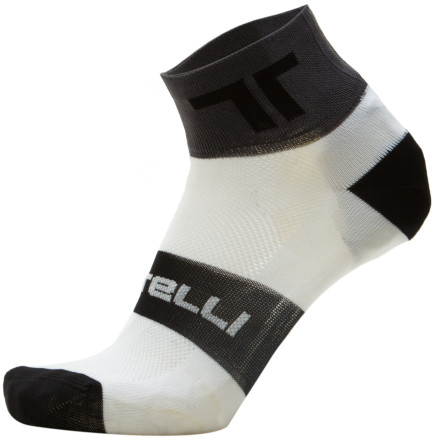 Waking up late on Saturday morning usually results in a frenzy of Lycra being donned, creams applied, and nutrition forgotten. Unfortunately, it also tends to be the time when you realize you forgot to do laundry, and you don't have any clean socks. You pick the cleanest-looking pair out of the hamper and go ride. What you need to do is pick up a 3-pack of Castelli's Mortirolo Socks. In addition to looking great with your kit, we have them here at a great price.
The Mortirolo socks use a polyester and spandex blend that works to function in two ways. The polyester is designed to wick moisture away from your skin so they'll keep your feet dry as well as cool. The spandex works to keep the socks snug against your foot. Castelli knits them with a mid-foot band to help keep the socks in place as you twist and strain against the pedals.
p>The
Castelli Mortirolo Socks
are available in Black/cyan, Black/grey, and Grey/acid green. They come in Small/Medium and Large/Extra Large sizes. The Small/Medium will fit 35-39 sized feet, and the Large/Extra Large will fit sizes 39-45.