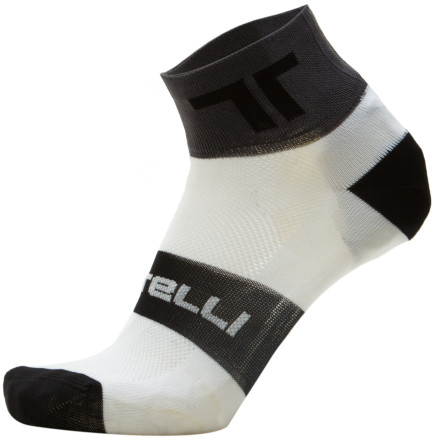 Waking up late on Saturday morning usually results in a frenzy of Lycra being donned, creams applied, and nutrition forgotten. Unfortunately, it also tends to be the time when you realize you forgot to do laundry, and you don't have any clean socks. You pick the cleanest-looking pair out of the hamper and go ride. What you need to do is pick up a 3-pack of Castelli's Mortirolo Socks. In addition to looking great with your kit, we have them here at a great price.
The Mortirolo socks use a polyester and spandex blend that works to function in two ways. The polyester is designed to wick moisture away from your skin so they'll keep your feet dry as well as cool. The spandex works to keep the socks snug against your foot. Castelli knits them with a mid-foot band to help keep the socks in place as you twist and strain against the pedals.
p>The
Castelli Mortirolo Socks
are available in Black/cyan, Black/grey, and Grey/acid green. They come in Small/Medium and Large/Extra Large sizes. The Small/Medium will fit 35-39 sized feet, and the Large/Extra Large will fit sizes 39-45.
Love that these fit and arent 3 sizes too big by end of day!! Great color.
Totally Cool with my Bike Shoes
I'm wearing a pair of Louis Garneau Carbon HRS with these socks and the socks felt great. No smell and it dries fast. Using them to commute from my house to work. I'm wearing a size 42 and once again the size charts are correct.
You will definitely want to size down. According to Castellis's sizing chart a a US size 11 should order a XXL sock. I wear size 11 shoes and the Lg/Xl socks fit perfect after washing. Very light weight and airy.
These socks helped me get through a foot injury this spring... and continue to be dreamy on the feet. Smoothest sock I own & got for a steal on Bonktown.
Cool & light in high 80's while riding--and while wouldn't use for running as I don't want to wear out-- they're therapeutic & comforting for around the house.
They provide an ever-so-slight amount of compression & the ventilation across the top is fantastic.
Get them.
I like my socks a bit snug. I have a size 10 shoe and ordered the small/medium socks. They fit great and i dont have to worry about them bundling up at the bottom.
These socks not only look great, but they function great as well! I got these off Bonktown for $8.99 and it was such a great deal... I had to buy three sets of them! I saw at a local Cycling Store one pair for $12.99... here, you get THREE PAIRS for a lower price!

One thing about these socks though, they don't function quite well when you're not cycling. The ventilating mesh is great for biking, but a bit slippery in conventional shoes.