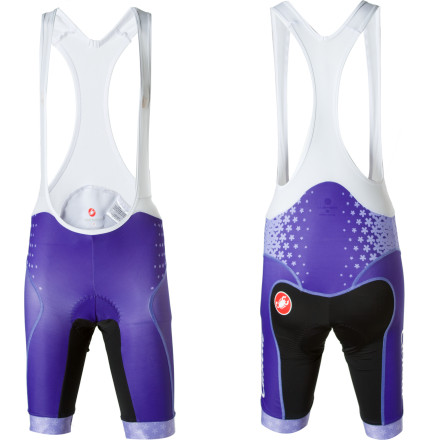 Detail Images
It seems like quality women's bib shorts have taken an awfully long time to come to the market. After decades of marketing only to those with Y-chromosomes, clothing manufacturers have realized that there's another group out there that would like to take advantage of the benefits provided by bib shorts. The Castelli Madeleine Women's Bib Shorts draw on years of innovation, but Castelli designed them for the shape of women's bodies and with an Italian eye for design.
The limited edition Madeleine Bib Shorts utilize some of Castelli's time-tested technologies, including a KISS3 chamois and Action Micro fabric to produce bib shorts that are lightweight yet durable and comfortable yet stylish. The Action Micro is used through the legs of the shorts to wick moisture away from your skin while you're riding. Breathe Lycra is used in the bib straps and is a mesh fabric designed to move moisture rapidly away from your skin without compromising any breathability.
The KISS3 chamois is one of Castelli's longest-running models, and with good reason. It has an extremely low profile while still providing the support and comfort necessary on long rides. It has multiple densities of foam padding, with the highest-density foam placed right under your sit bones. In short, it'll keep you comfortable without making you feel like you're wearing a diaper.
The Castelli Madeleine Bib Shorts are Violet and come in five sizes from X-Small to X-Large.
Women-specific AC chamois wicks moisture and provides padding
Mesh bibs promote moisture transfer
These are comfortable, lightweight, and flattering. I'm 5'10'', 140lb, and the medium fit really well. I haven't had any problems with the torso being to small. The material does get opaque when stretched, but if you move the fabric around so it's not stretched too much in any one area, this isn't a problem. The leg band didn't have any silicone grip, but I've never had problems with them ridding up. The chamois is fine.
not all bibs created equal
I actually have Castelli bibs I absolutely love, but these aren't them. SLIM is truely slim. I'm 5'5 125 lbs and have relatively muscular legs, and these were just too tight on the gripper; and too short in the torso causing pressure on the shoulders. The material on these bibs are thin. Nonetheless, I'll still try other Castelli's as there are different qualities to the shorts.
I should've known better....
I have tried Castelli products in the past and I should've known better. They run very small and entirely different from the way I am shaped. The material is also very light-weight and if it's stretched too tight looks embarrassing. Lesson learned. I will not order anymore Castelli items. They're just not compatible with me.