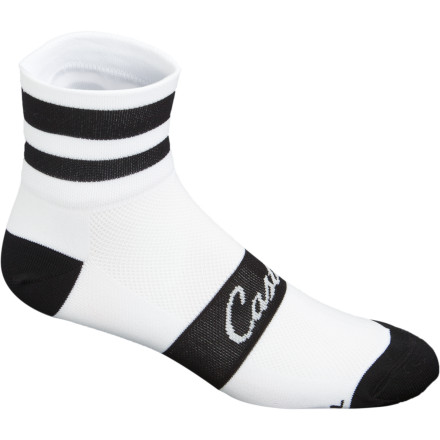 The Castelli Duran Socks are so classy looking that it's almost a shame they'll be covered by your shoes. The classic black and white socks with Castelli's traditional script logo across the foot have a great post-war feel, and the bands at the ankles strengthen the motif. The Duran Socks may look classic, but the material and construction belie their origin. The mesh tops are designed allow air to move in from your shoes' vents, while the rest of the socks are structured for maximum durability.
The Duran socks use a polyester and spandex blend that works to function in two ways. The polyester is designed to wick moisture away from your skin so they'll keep your feet dry as well as cool. The spandex works to keep the socks snug against your foot. Castelli knits them with a mid-foot band to help keep the socks in place as you twist and strain against the pedals.
The Castelli Duran Socks are available in Black or White. They come in Small/Medium and Large/X-Large sizes. The Small/Medium will fit 35-39 sized feet, and the Large/X-Large will fit sizes 39-45.
Polypropylene blend wicks moisture and keeps feet from overheating
Ankle height will get you past the fashion police without any trouble
Elastic mid-foot band keeps the socks in place while you're hammering