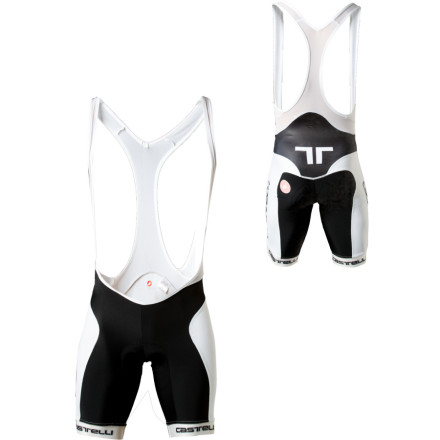 Detail Images
Keep your kit clean and subtle with the Castelli Bormio White Bibshort. These limited edition bibshorts feature Castelli's new AC chamois to provide optimal comfort while reducing bulk. Castelli dumped the skin-irritating silicone grippers in favor of stretch panels to keep the shorts locked in place, and the subtle graphics help you avoid the racer-fanboy look.
Unanswered Question
what is the inseam measurement
what is the inseam measurement
I agree with the reviewers that point out the low cut front; its lower than I would design it, but not awkwardly so (for me). There is no belly showing when standing up strait. I think my Hincapie team bibs are still my favorite (incredibly comfortable) but these are very nice. Chamois is great.

Now to sizing: I'm 5'9", 130-135 lbs. 29" waist. I have lean thighs (my review might not be accurate for guys with bigger thighs). I have worn Volero and Hincapie Bibs. I wear small in both (small jersey and bibs). I originally ordered a medium Bormio kit based on the near universal recommendation to size up. However, with the exception of the Bormio long sleeve jersey, the mediums were all too big for me. Now wearing smalls. The small bibs (which you're looking at here) are admittedly tight, but I had no problem getting in them and they broke in beautifully. Shoulder straps fit snug but are not awkward or constrictive.

In short: if you are used to European style, aggressive cycling sizing, Castelli (including the Bormio) will probably be more or less true to normal sizing. If you normally wear small but are on the border of going medium, you probably should go medium. But if you are normally right in the middle of small, you'll still want small here. It may admittedly be a bit tighter but not enough to have you change sizing.

And the kit, including these bibs, looks great. I get compliments. Full retail? I don't know... but bonktown pricing was a steal.
Comfortable but be careful if you're tall and thin
This bib is great, but if you're tall and thin like me (6', 150 lbs) I usually wear a size 30 waist and this bib fits my waist well but my jersey barely covers the whole front. If i raise my arms and stretch my stomach is visible. I have a medium and probably should have gotten a large, though the legs and waist might have been too big then.
These provide the same comfort as my Zoot shorts with half the padding and twice the breathability. The seams on the chamois are very flush with the material so no chafing there. I'm 5 ft 10in 160lbs 31in waist and the large fits comfortably (comparable to zoot medium). For a race fit I would be ok with a medium in these (my thighs are average size for a cyclist). 1/2 star off for the fact that the letters on the leg grippers are already bleeding a bit (black on white).
as these are my first quality bibs/shorts, i have nothing to compare them to other than cheap shorts that feel like a full diaper.
i'm 6' tall, 220 lbs, 36-38" waist, got the XLs.
they fit fine everywhere, only wish the inseam were longer as the leg gripper panels tend to slide up to the thicker part of my thigh - but i'm sure they'll stretch out with more use.
yes, they do disappear beneath you. no, the placement of the straps and low cut front do not bother me as i forget they are there, i still have a gut and the straps/low cut don't interfere with it's protruding nature.
really loved the style but had to return due to the unusual waste band at front. The reason most riders use bibs it to rid the feeling of a waste band that cuts. This front is cut straight across like a traditional short/pant and most bibs are "V" cut or "U" cut in front.
First thing I noticed when putting this bib on was the different fit of the straps. They're very wide set, and the top of the short is quite low which I was worried about for when I actually go on the bike. I had no issues with it digging into me, or the top attachment feeling weird, and I absolutely loved the Chamois. It was quite stiff feeling compared to my Pearl Izumi, but is awesome during rides.

Size wise i'm 5'10 175lbs wear a 32/32, I ordered a large
Just tried them on and had to return. The attachement of the front bib is located too close to the side of the garmet rather than the front and therefore cuts at a very uncomfortable angle. Weird because the rear attaches are the rear like normal and what I thought should attach near the front does not and it is attached just inches in front of each hip bone... In addition the front of the bib does not "scoop" in a round pattern like most bibs which is the beauty of a bib and that is to eliminate the "cutting" of a front wasteband. This front is low and straight across just like a short ... what is the point to have great fabric and technology like a great chamois if it cuts the waist like a traditional short. Very poor item and I don't suggest buying!
These Shorts are awesome! Definitely the best bib shorts I have had. The material and padding is great. Order one size up. I got the matching jersey with it and the outfit looks awesome!
These bibs are great. Comfy chamois. Some say that they dig into your shoulders. I think this is more based on body type than the design of the bibs. Overall I like these bibs a lot!!! I would definitely recommend them. However, I also bought the same ones in the blue color and they fit much tighter than these. I think it had to do with the color of the material making them fit different.
I took my first ride in these today, very comfortable. I didn't see much difference from wearing shorts, too early to tell perhaps. I'm 5'10", 185, with a 33 inch waist so I went with the large, fits fine. The grippy fabric on the legs is quite cool and makes me look fast.
Great shorts, questionable graphics
I LOVE these shorts!! I am 6'1", 165 with a 33" waist and fit perfectly into a large...fyi. Nice low front waistline. Good compression. Great material. Great pad. My only beef is that the graphics on the leg grippers has seemingly bleed a little in only a month. That even is with hand washing and drip drying. So, take it for what's worth, but I would definitely buy another pair though.
Just got these and while I haven't had a chance to ride in them, they're really promising. Great construction, love the leg cuffs. Had a hard time figuring out what size to get since I'm new to Castelli. I'm 5'10", ~155 lb, 32/33" waist and about 22/23" thighs, the large fit snugly but well. Also got the medium to try on size-wise and it was definitely a little too snug in the thighs.
I usually where a medium or large tri short...
I usually where a medium or large tri short (34-35 inch waist).

What size should i buy in the Bormio bibshort?

D
Probably XL. I usually wear a 36 waist and I got an XXL, which is comfortable but could be a tiny bit tighter.
Probably XL. I usually wear a 36 waist and I got an XXL, which is comfortable but could be a tiny bit tighter.
The Large should fit Fine
What is the inseam length?
What is the inseam length?
, ☃bcs_badge_alumni_label☃