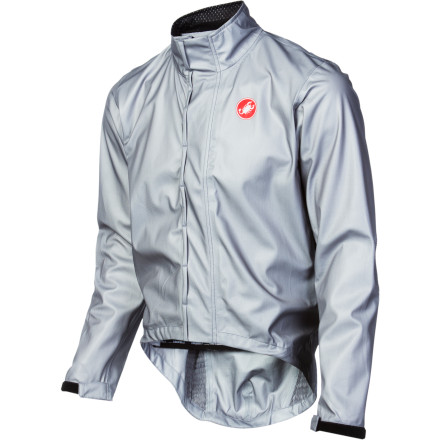 Detail Images
Description
Rain protection that's made for the best.
There's a reason pro cyclists wear the Castelli Pocket Liner Men's Jacket. Sure, most of that reason is because they're sponsored by Castelli, but they wouldn't be using the gear if it wasn't high quality. The Pocket Liner is one of the best cycling-specific rain jackets we've seen, with a design that's uniquely waterproof, breathable, and tailored to fit aggressive cyclists who ride hard in any weather.
The Pocket Liner's main party trick is its combination of waterproofing and breathability, which comes courtesy of the eVent membrane. Featuring lots of microscopic pores, eVent keeps water droplets out but lets vapor escape, so you stay dry even if you're pedaling hard and sweating. Castelli built in zippered underarm vents to increase breathability and cooling on muggy days, too.
Lots of rain jackets will keep you dry, but most don't fit well enough to be worn on the bike. The Pocket Liner is cut with Castelli's trademark attention to fit, though, with a slim-but-layerable fit for cold weather and a dropped hem to keep wheel spray off your back. There are also sections of pleated fabric on the back and elbows, which allow for increased flexibility without getting billowy and causing lots of drag. You can adjust the sleeves with hook-and-loop tabs at the cuffs, and the front storm flap covers the zipper to prevent windblown moisture from entering your outer layer. The Pocket Liner is also supremely lightweight and packable, so it's easy to stuff into a jersey pocket if you're not sure what the weather has in store.
Event waterproof and breathable membrane
Stretch back and elbow pleats
Underarm zip vents
Hook-and-loop cuffs
Dropped back hem
Front storm flap
Great Castelli rain jacket; NO POCKETS
Familiarity:

I've used it several times
Fantastic rain jacket. A bit heavier duty than what I consider a "pocket liner" jacket which suited my needs. The sleeves run a little long for Castelli which suited me well at 6'4". Typically I size up with Castelli, however, in this instance I think it is more true to size. NO POCKETS. That's not a huge negative but a side zip rear pocket would have made it perfect.
How is the sizing on this jacket? I usually wear a Medium Castelli jersey, but when I tried on the Gabba convertible jacket, I could have worn a large or even an extra large. Is this one true to size, or should I size up?
I can wear a medium in castelli jerseys but they are snug. I have a large and it fits well. Give me a shout directly if you have any more questions. I personally have and wear this piece
I have a Nike marathon storm fit jacket, it kept me dry even in a 2 hour heavy rain ride. I'm considering to upgrade to a Castelli Jacket for this season. I would like to know the major difference between Pocket liner Jacet and Gabba Jacket? Is Pocket liner Jacket more packable that can easily store in back pocket? Are they also have the ability to keep rider dry in full 2 hour heavy rain compare to nike storm fit fabric?
Best Answer
HI Benjamin,

Thanks for the great question. While I'm not familiar with the Nike jacket you mention, I do know the Castilli Pocket Liner and Castelli Gabba Jacket quite well. Both will help you get out and ride in wet weather, but the two jackets are quite different from one another. The Pocket Liner more of a classic rain shell, albeit a very well-executed one. The Pocket Liner is fully waterproof, with taped seams for full storm protection. The Event material is thin, lightweight, and does not have any stretch, although the accordion-pleated panels keep if fitting close to the body. It does not have pockets. The XL can roll down to the size of a burrito, and stows in the center jersey pocket nicely. I would wear this jacket over a jersey, or in colder weather, and jersey and a base layer.

The Gabba Jacket is made out of Gore Windstopper Soft shell material. It is stretchy and softer inside and out than the Pocket Liner. The fit is closer to the body. Although the Windstopper fabric is waterproof and windproof, the seams are not taped or sealed, so the jacket is considered water-resistant rather than waterproof. The sleeves zip off, with a short sleeve underneath. There are 3 rear pockets. I would wear the Gabba Jacket on its own or over a sleeveless or short-sleeved base layer. Think of it as having the fit and function of a jersey with the protection of a highly water-resistant jacket.

If you'd like to discuss the best jacket for your riding style and conditions, please give me a call


JUST AS ADVERTISED!
Familiarity:

I've put it through the wringer
On a recent bike tour (TOSRV) in Ohio, we were pelted by a 4-inch rain storm, so intense it was a couple of hours before I could see straight. However, it gave me a real-world test, rather than some findings somewhere in a lab. As a result, I never got a drop of water on the inside, nor was my backside ever exposed. With my Capo rain boot covers, I was well prepared for these elements for the first time in 30-years! Expensive? Yes, but worth every penny!



At 6?4? and 180 pounds, the XL was perfect!


Awesome jacket and windproof too
Familiarity:

I've used it several times
I've had my Castelli Pocket Liner Jacket for a couple of weeks now, and I'm thrilled with it. The waterproofing really is as good as everyone says. While it's not perfect - I got caught in a surprise hard storm yesterday and I did get somewhat wet through the jacket - I've stayed dry through rain that would have soaked me in my Gore Phantom soft shell.

One key feature that not too many other people are talking about is its windproofing. I think its windproofing may be better than its waterproofing. I've ridden in mid-40s (Fahrenheit) with just a short-sleeve jersey on under the Pocket Liner Jacket and I've been completely comfortable. This is a fantastic solution for bike commuting in the Pacific Northwest: wear your jacket over your jersey for your 45 degree ride in; fold up your jacket and stuff it in your jersey for your 85 degree ride home; or wear it both ways if it's raining.

As a quick note on sizing, the Pocket Liner Jacket runs very large (for Castelli anyway). For reference, I usually wear Large in Gore, which translates to XXL in Castelli. However, I got my Pocket Liner Jacket in XL and it's slightly big, definitely not a "race fit". This is not criticism, just something to be aware of. I do wish the rain flap in the back were a little longer, but this is a very minor criticism.

Again, it's a great jacket and a great purchase. Highly recommended!


You read the reviews but until you actually try this jacket, you won't believe it. It seems all the product descriptions these days talk about breathability at the same time as being waterproof. Just rode two hours in a steady downpour today and this thing kept me dry and I never felt overheated once. I was wearing a long sleeve Craft base layer and a long sleeve Capo jersey so I was a bit worried I had too much on in the 40 degree weather once I started climbing but I was perfect. Now, if I can only wear an entire bodysuit out of this material to stay dry, that would be ideal!