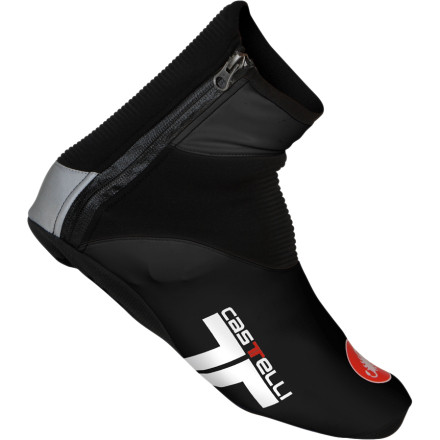 Description
Feeling your toes is pretty important.
A thick, fleece shoe cover designed for riding in cold and windy conditions, the Castelli Narcisista Shoecover is the perfect addition to your winter wardrobe.
The thick and fleecy portion of the Narcisista is Stratolight fabric. It's designed to provide superior insulation for your foot. Neoprene inserts also help to provide warmth and flexibility, while a plisse insert ensures a stretchy, foot-hugging fit. Perhaps most importantly, after input from riders on the Garmin-Cervelo professional cycling team, Castelli moved the Narcisista's zipper to the outside, making it harder for water to seep into your shoe and easier to adjust while riding.
The Castelli Narcisista Shoecover comes in Black and features reflective detailing on the back of the heel to increase visibility in low-light conditions (you know, the kind of conditions you'll be riding in if you want to have any chance of winning races in March and April). They come in five sizes from Small through XX-Large. Be sure to check the sizing chart to ensure proper fit.
Zipper Comes Undone Easily
Familiarity:

I've put it through the wringer
The problem with this and all zippered cycling shoe covers is the zipper. The fits for these are intentionally tight against the shoe. It is very easy to put too much strain on the zipper. I ordered XXL to cover my size 48 shoes. I spend a few minutes each morning trying to get them on without the zipper becoming unlatched. Even with this extra care they have become almost unworkable. I want to stress that I am not a neophyte and I have been wearing cycling covers for 15 years. They simply do not last long. Word to the wise: be very careful putting them on your shoes. For the use I got out of them, I did like them (five stars) because they broke after a month I am downgrading them to three stars.
Best shoes cover yet!
Familiarity:

I've put it through the wringer
I had same cover for 2nd cold season now and I think it will last to the end of this season..maybe till next! I had other Castelli shoes covers that I won't comment on (great look but poor quality) but this one "Narcisista" has QUALITY and the LOOK that you won't be disappointed with. Be cautious! this is not a rain shoes cover, just to keep your feet warm. Make sure to wear Castelli Duo Windstopper Socks or rap your toes with a Aluminum foil over your winter socks to keep your toes warm…sometimes I add on Toe Thingy - warmers over my shoes before putting on Narcisista Shoes Cover if temperature drops below freezing to protect my toes! I wear Sidi size 44 and XL works…I usually pull down half way and take off my shoes and keep the cover on during the winter season unless hand wash to keep them clean.
Great Looking covers!
Familiarity:

I've put it through the wringer
I love the look, and fit of these covers. I have size 45 road shoes and the XL covers fit perfectly tight, but not too tight where its hard to get them on or off. They can take a very light sprinkle of rain, but any steady rain will get right through them. It keeps dirt of your shoes and keeps your toes very warm! I've had to take them off only once and that was 72+ degree weather, so that tells me they breath good as well! All in all I am very happy with them, but the logos on the back are peeled off over half way! I don't even stretch the backs on either, I just don't get it! CASTELLI PLEASE CHANGE THE WAY YOU LOGO YOUR CLOTHING! If I paid full price I would be really upset!
Bob S
Familiarity:

I've used it several times
These boooties are very nice and will definitely keep your feet warm. You definitely want to size up 1 size. I have 45 shoes and bought the XL and they are nice and snug. However, here is the draw back; after wearing them on 3 rides the bottom seams are pulling apart and they are already tearing apart and have holes in them. There is very poor wearability to these.
Great Looking Shoe Covers!
Familiarity:

I've used it once or twice and have initial impressions
I have a 44.5 shoe size and based on other reviews I went with XL. They fit perfectly, in fact, I think a 46 shoe size would be too big for these.

These are by far the most comfortable shoe covers I have ever worn, as you can see from the picture they have a different material on the ankle, which feels amazon, it lets your ankle move freely without the feeling of material compressing around you.



The zipper is on the outside, I actually don't mind that, a lot of people complain but for me I like to use the zipper while standing and it makes it easy just to lift my foot from the outside and zip it up or down from the side.

I have not tested these in wet conditions, but did ride in 40 degrees and my toes felt absolutely perfect.

The best part for me is that they look amazing, I like red so these go perfectly with my bike and other Castelli knickers and bibs I have. I have only used them a couple of times so I don't know how durable they will be, I'll update the review after the winter.



The only downside that I have found to them is that when I opened the package the scorpion in the back of the bootie was already deteriorated a little, when I went to the website to try to exchange them, they were gone. I'll have to keep these since I really like how they look.
Well Rounded Shoe Cover
Familiarity:

I've put it through the wringer
First off, I have size 44.5 Giro Prolights and I went with an XL for the size on this shoe cover based off the charts and previous customer reviews. Granted the Prolight is a slim shoe and I have no issues getting the covers on or off.

This shoe cover is yet another quality product from Castelli. The fit is very snug and racelike as is with all Castelli gear. I take my time putting them on and taking them off but they seem like they can take a beating as the material is very stretchy. The zipper starts from the back heel and closes at the bottom of the calf. Maybe they changed the zipper since these last reviews but I don't see myself breaking it even if I tried. The top cover material itself doesn't seem 100% waterproof while riding in heavy rain but it's still got great water/wind-proof qualities. The bottom heel area and toe area also have a stronger material which is nice while you are unclipped and walking around. I've done quite a few rides sub-20 degrees on wet roads with snow coming down and my feet stayed comfy with proper socks and these covers over my shoes.

I don't know why I even bothered trying any other brand for shoe covers as I can always count on Castelli to put out a quality product.
How waterproof are these covers? Are they...
How waterproof are these covers? Are they suitable for cold, rainy rides? Thanks!
Best Answer
The Narcisista covers are made from water-resistant materials, but are not seam taped. If you are after true protection form the wet, consider the Diluvio or Estremo covers instead.
Good shoe cover
Familiarity:

I've used it several times

Fit:

Runs small
Although I haven't had a lot of shoe covers to compare these are the best I've had but here are unbiased pros/cons.

FYI - Castelli sized them small in my opinion. I wear a 44 and got an XL and they were tight as hell. If i'd got an L I seriously doubt they would have ever fit.



Pros

* wraps around whole shoe not just strap across bottom

* Zipper - I hate Velcro. It often wears out

* warm

* form fitting to shoe. Mostly just looks cool rather than wearing giant boot looking thing.



Cons

* The zipper is on the outside. Although the reason stated is it reduces water from getting into your shoe (understandable) and adjusting while riding, they are much more difficult to put on, Especially if they are a tight TIGHT fit. I don't bend that way, Frankly there is no need for adjusting while riding. They are either on or off.

* I've used a couple of times on trails because the pair I used for mountain biking died. They do NOT stand up well for that. They don't claim to. Just saying, the bottoms are delicate. Walk seldom and with care in them.





I'm looking to replace the ones I bought now 2 years ago. I MIGHT get them again but at this very moment I am looking to see what else there is in there price range.
Great until zipper broke
Familiarity:

I've used it several times

Fit:

True to size
Used them for about 4 rides, then the zipper gave up on me. Worked great until then, usually rode in temps ranging 30-40*. I'd love to get another pair because they look great, but can't imagine they'd hold up any better.
Lovely Shoe Covers, Work Great....for One Season Only?
So I've gone through two sets of shoe covers before, I don't really use them that often since I was living in Los Angeles and the weather is temperate, but for the possible five or six times I did use them, they were great!

I'm a size 10.5/11 and went with the XL size. They fit great, a little snug to get on, but once they're on they lock out the cold. Didn't get numb toes one bit.

What sucks: Zipper ripped at the seams, bottom heel area began to tear at the seams and I started to think perhaps I should've gone with the XXL.

Anyhow, they lasted longer than the Primal shoe covers I had which only made it one ride.

Seems like the shoecover product is still something that needs to be defined/reinvented since so many of these fall apart. Maybe I'll just borrow my mom's sewing machine and fix them since I doubt these have any warranty on them anymore.
These were great while they lasted, but after 5 rides they started tearing, and the zipper fatally broke before my 6th ride. DIY repairs only lasted 2 more rides when they started tearing in another spot.
horrible...2 rides and started to totally fall apart...stitched them up thinkin that would help...most any castelli things i've bought are like buying walmart toilet paper....NOT a good idea
I tore up my Primal Wear booties at the zipper, then fixed them, then tore the cloth up. They sucked, and the material was as whack as the design.

Bought these. Now I show up to my Thursday night club rides and look like a baller.

They go on fine, the zipper is awesome, the design will make the girls holler, and they keep my feet warm.

Class act right here. Make sure you get the right fit for your shoes. I wore a 45 Specialized Expert Road Shoe and got the XL.

SWAG.
Head's up: mine tore putting them on the first time
Maybe my pair was defective but they tore when I put them on the first time. Normally Castelli quality is excellent but, as per some of the reviews below, the design seems not well thought through.
Of course RealCyclist is refunding, paying for return shipping, and the phone rep had multiple alternatives to suggest. Ah, I love quality customer service!
Excellent but definitely UP SIZE!!!
I just got a pair of these a couple of weeks ago. Did great in 40 degree temp. I wear 44.5 shoes which I consider to be pretty average foot size but I followed other's recommendations and got size bigger. I got XL and that was pretty darn tight. If I would've got Large I seriously doubt I could've gotten them on. So definitely up size.

One stupid thing that EVERYBODY does wrong.. not sure why the zipper is on the outside.. it really should be on the inside. Then when I'm putting them on I can put my right foot on left leg to zip up and vice versa. Being on the outside makes for an unusual twisting... but I'll live.
Great Construction, worth it!
Excellent shoe cover. Before I bought this, I thought hard between the various Castelli choices, and I am very happy that I chose the Narcisista. It has the most detailed construction and it is well thought out. The zipper is great, very solid. The stretch is very nice. I purchased a L for my 43.5 and the fit is spot on. I used the covers on a mild morning, and they were excellent. A+ in my book, and im very happy to chose these over the other Castelli options.
Been riding with these for the last month in 30-40 temps. No complaints on all but the coldest days. However, recently found holes on the bottom of these that appear to be due to the cover being stretched and tearing. I have an XL for 44.5 shoes, which is between L and XL according to the size chart.
I first ordered the XL for my size 11 shoes, and it was much too tight. I recommend going up one size.
I'd say goog to keep you'r feet warm through high 30's. Probably more ideal in low-mid 40's. fit is good. My shoe size is 44.5 specialized s-works, Large fits well in the Narcisista. I also have the Nanoflex and a large was too small -felt like the seems where going to burst at any moment. its hard to compare these to the nano's....these seem to have a boader range of temps (that is you can keep them on when it gets into 60's), but they dont do as well in the wind or rain. They are more comfortable, but dont have that quite as much of an aero feel. Nano's are better in wind and moist. Back zip on naon's sucks and digs into skin. side zip on these is great. the narcissita would be better if it had a wind-proof toe covering.
hi! what size is recommended for size 42.5...
hi! what size is recommended for size 42.5 shoe,,,and this is good for the mountainbike shoes,,ty
very tight fitting. more for road. try garneau