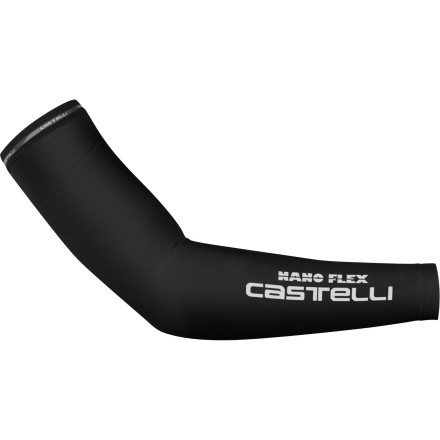 Description
Gun socks.
It's tough to make arm warmers warmer. If we know we'll be riding in conditions where a pair of arm warmers won't keep us sufficiently warm, we tend to choose a thermal jacket. But, what if the day turns out to be intermittently cold and wet? Well, the Castelli Nanoflex Arm Warmers are designed for days that deliver everything from cold and wet to sunny and dry.
Nanoflex is a proprietary Castelli fabric. The mill begins with Castelli's super-warm and ultra-stretchy Thermoflex fabric, used in many of its winter pieces, and then coats the outside with tiny nanofilaments of silicone fiber. These fibers create a near waterproof barrier to moisture, and raindrops run off the fabric without soaking through. Despite its water-resistant finish, Nanoflex fabric remains highly breathable, keeping you comfortable in almost any conditions.
Silicone arm grippers keep the arm warmers in place on the hardest rides, and reflective logos are printed at the elbow and lower arm to increase your visibility to motorists in poor light conditions.
The Castelli Nanoflex Arm Warmers are available in four sizes from Small to X-Large and in the colors Black, Red, and White. Please note that Castelli recommends using these warmers at temperatures ranging between 50 and 60 degrees Fahrenheit.
Great Product
Fit:

True to size
These were great. I have long arms and the length was perfect.
Awesome!
Familiarity:

I've used it several times
I'm 6'8" with skinny arms...they don't slide down while riding. The previous ones I had drove me crazy. The price is worth it of you are having this problem. I got the medium size and they were still plenty long to fit my arms.
I own a pair of each, Specialized and Louis Garneau arm warmers, and these are definitively warmer. The Castelli ones feel a bit tighter than Large on Specialized or Louis Garneau, so I would keep that in mind. I have not had any issues with the top part or the warmer ripping, as mentioned on another review, but I am also careful when I put them on and take them off.
Well Built
Familiarity:

I've put it through the wringer
These arm warmers have kept me warm through the mild San Francisco winter. However the big thing for me is that the arm warmers still stay up after much use which I can't say the same for other arm warmers I've used before.
If You Only Buy One, Buy These
Familiarity:

I've put it through the wringer
Let's start here: I LOVE Castelli products!! I would estimate that 2/3-3/4 of my vast cycling wardrobe are Castelli branded items. I recognize they aren't the cheapest but the reason is bc they are the best.
I only own two sets of arm warmers, both are Castelli Nanoflex. For me, if the weather demands an arm warmer, these will do the job, whether it is wet or dry, nippy or cold. They are lightly insulated but still breathe nicely. Obviously, the most impressive feature is the Nanoflex technology. I don't need to tell you that, albeit not water proof, it repeals water in a fascinating way. This allows the material to continue to breathe. SO, you get the best of both worlds...breathable yet incredibly water repellant.
Why do I own two pairs? Well, I owed my first pair for over 3 years without issue. Eventually, the water repellency faded. I may have dried them (I would recommend cold/hand wash and do NOT dry in the drier) or maybe they just wore out. No worries, I go my $$-worth and now onto a new pair.
Castelli durability: with as many Castelli products I have owned over the years, I have had rare occasions where I had a bad seam or failure. Although it is irritating, I do not feel it is any different from other companies. Plus, Comp Cyclist ALWAYS takes care of their customers so I never worry.
Bottom line: Castelli. Buy them, you WILL LOVE them!!
Convertible is great!
Familiarity:

I've used it once or twice and have initial impressions
Just got these for a fall fundraiser ride. Boy, am I glad I did. Started at about 45F with shorts and jersey, plus these, the related knee warmers and a Fawesome vest. Very comfy. It warmed up over the course of the ride to mid 60s. As it warmed up, I was able to shed first knee warmers, then arm warmers. Made it so that I was comfortable the entire ride, not the more usual under-dressed to start, over-dressed by the finish.



I'm 6', 185lbs. I got the L, and they fit great. They are long-ish, but don't slip as a result.
Quality is suffering... 2 times.
Familiarity:

I've used it once or twice and have initial impressions
I have lost my old warmers and I had waited for these with anticipation from all the great reviews and hype regarding the water repellence, not that its needed much in Colorado.



Unfortunately as I pulled on my first pair of the Castelli Nano flex arm warmers, the gripper band tore halfway off. The large size fit well and felt great but I returned them and waited for the next pair.



When the next pair arrived, the Arm band on the new set was already torn about about 1 inch from the arm warmer. I think Castelli may have sent out a few lemons and I got both...
Nanoflex fabric rocks
Gender:

Male

Familiarity:

I've put it through the wringer
Great fabric! Superior wind and water protection, and they're warmer than my thermal PI arm warmers. The length is perfect. I have to fold down the tops of my PI warmers because they're too long. Not so with these. The fit is nice and snug but they don't stretch as much as the Castelli Thermoflex warmers so I couldn't give 5 stars.
Go to arm warmer for variable conditions
Familiarity:

I've used it several times
I bought this in conjunction with the Gabba WS Jersey. The grippers on the outside and inside of the sleeve at the top do their job of preventing droopage. The material is brilliant in the fact that it's warm on the inside and coated on the outside. Moisture beads up and falls right off the sleeve making it near waterproof. The sleeves are smaller than normal though so I'd recommend sizing up. The only unknown right now is how long the coating on the outside will hold up.
I tend to be a skeptic of anything that's 'water resistant.' I've never been pleased with DWR treatments and the like but nanoflex actually does a pretty dang good job of keeping you dry. I wouldn't want to test their limits too far from home, but these have seen some cold and some showers and have kept me comfortable. I have another pair of arm warmers that's articulated and I can't tell a difference in fit or comfort between the two, but the fabric on these beats out the others every time.
Great fabric!
Familiarity:

I've put it through the wringer
Really great fabric, watching the water bead off is incredible and they breath well even when it's 'just' cold without the rain. I'm 6 foot 7 and they are still really long - not sure who would have arms longer than mine! I will say one thing thougfh, the material is superb but Castelli seem to be a bit lazy with their patterns - they should charge the extra $10 and really get some shape into these things, it's not too bad on the arm warmers but the knee warmers are really let down by treating them as 'tubes' as opposed to the way Assos make everything articulated.
foul weather friend
Gender:

Male

Familiarity:

I've used it several times
I got a pair of these arm warmers last season and really like them a lot. They work incredibly well at repelling water and insulating in bad weather. They also breath well. Not too think either. Overall I am very pleased with these.They do run slightly small so if you are a weight lifter I would suggest sizing up.
A bit long, but work well
Familiarity:

I've used it several times
I've had good luck with these warmers and they go a great job of keeping me warm on those shoulder season rides when I need a bit more. It's probably just the Midwest in me, but I am not the type of person to wear arm warmers unless it's less than 45 degrees. I typically will wear them between 35-45 and find them to work really well in that environment. For me personally, I would find them uncomfortably warm in anything about 50, but that's just me. I am 5'11" 175lbs pretty slim arms and the Large fit well for me, they are a bit on the long side though. I haven't been able to try them out in any precipitation yet to comment on their wet weather performance.
Only thing i would say is that they are quite long....I bought a small and I have long arms for my height (6"2 wingspan and I am 5"9) so they fit just about right, but i could see someone with shorter arms having a problem with the length.



In terms of performance they are top notch, could not feel the wind at all.
An excellent product
Familiarity:

I've put it through the wringer
I use Castelli arm warmers for my early morning rides where the temps are 60F or below. They're useful down to 50F w/o sun and perhaps 45F w/warming sunshine. I overlap the tops on the sleeves of my Gore WS short-sleeve base. It's a good combination between 50F and 60F. The arm warmers store well in a back pocket as the day warms into the mid-60s. I use the white model when riding pre-dawn for visibility. The black warmers absorb radiant heat during the day. The grippy tops stay up well thus far. I have 37" arms; the XL fits just right. I've used these for two, perhaps three years. An improvement would be to add reflective materials as is typical on Gore products.
good but not great
Gender:

Male

Familiarity:

I've used it several times
Castelli really hit a home run with the Nanoflex fabric ? it's brushed for warmth, and repels wind and moderate moisture (rain, snow, etc.) with relative ease. No wonder why the Garmin guys insist on this stuff. Downside: zero articulation in the construction. No elbow bend or shaping makes the warmers bunch up where your arms bend. Not exactly uncomfortable, but not ideal either. Still a great product.