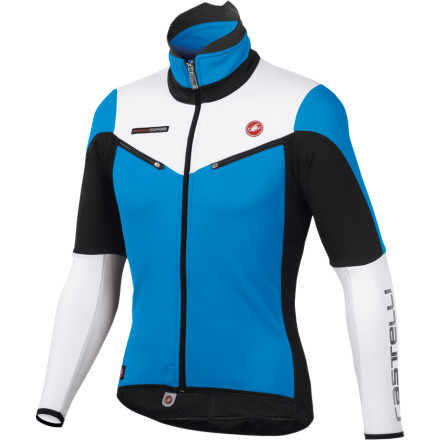 Detail Images
Share your thoughts
What do you think of the
Castelli
Mannaggia Jacket - Men's
? Share a...
The Mannagia in anthracite is a very nice jacket; great Italian moto gp detail. I own the Radiation jacket in black as well, and living in central Illinois the weather can turn bitter overnight and the Mannagia works well down to about 34 degrees, with the sun out, worn over and only with an Assos base layer. Anything between 20 and 34 degrees I have to break out the Radiation jacket with the tin foil liner. One thing I should mention about the Mannagia, it doesn't breath as well so avoid wearing it when it's over 50 degrees or you'll be swimming in a liquid pond of sweat. Fabric wear---after four washes the red color on the design on the back of the jacket started to wear off to silver, which changed it to the silver primer; nothing to panic about, the jacket is still functional, just lost some of the red touch-design looks just as nice metallic. This is a very accurate review of the Mannagia-34-50 degrees; very attractive Euro styling, durable zipper, nice slender fit. It looks good and cuts thru the wind with no flap! Designed for the high performance engine! Don
Mannagia! and Primavera Jackets
Castelli Mannaggia Jacket
Absolutly love this jacket. Riding it up into the moutians right now. Start out low at abut 50 degrees and get up to high around 30 degrees. Unzipp some on the way up and zip up for the way down and I am very comfortable.. If I coudl find won of those blue and green ones I would buy anouther one.
Finally bit the bullet and coughed up the dough for this jacket...I'm not disappointed!! Looks great, feels great. A quality piece of kit but a cold weather jacket for sure. Delivery was fast!

Thanks.
Does this jacket ever go on sale? Is it...
Does this jacket ever go on sale? Is it worth the dough?
Buy the time it goes on sale You won't need it anymore.
Yes Worth every penny.
On sale now and worth the money
This is one bad jacket...bad as in good I mean. Very lightweight and very warm. When I took it out of the packaging I'd have to say I thought I got ripped. However, only a minute of wearing it changed my mind. The first day I came into work with it on everyone noticed it and were asking about it. The only thing that made them cringe was the price.