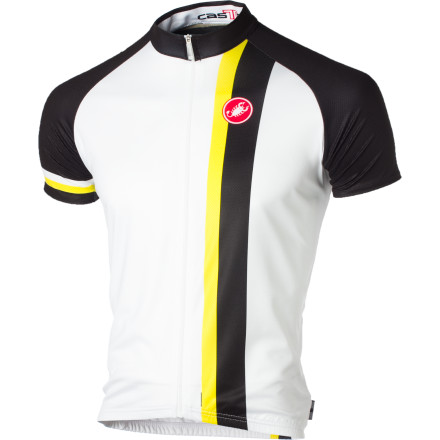 Most think of the cold as nature's detriment to cycling. However, temperature is a two-way street, and both polarities need to be accounted for if you want to ride comfortably year round. The Castelli Luglio Short-Sleeve Jersey is the starting staple for any heat-conscious cycling wardrobe. It uses Castelli's most luxurious fabric to provide you with a lightweight jersey that will keep you cool and dry all summer long.

Castelli's Luglio Jersey is made from Castelli's exclusive Prosecco Strada fabric. Renowned for its breathability and comfort, Prosecco Strada features a lightweight, airy design that's assured to wick moisture from the skin to its quick-drying surface. Castelli also placed an emphasis on creating a cycling-specific fit that moves with your body, not against it. To achieve this, Castelli incorporated a raglan cut that nearly eliminates seams, and keeps the jersey's movement in one piece up to the collar. Additionally, the Luglio uses Castelli's Jacquard elastic hem at the bottom-rear of the jersey to prevent rise and sag when its three rear pockets are loaded.

The Castelli Luglio Short-Sleeve Jersey is available in sizes from Small to XXX-Large, and in the color White.