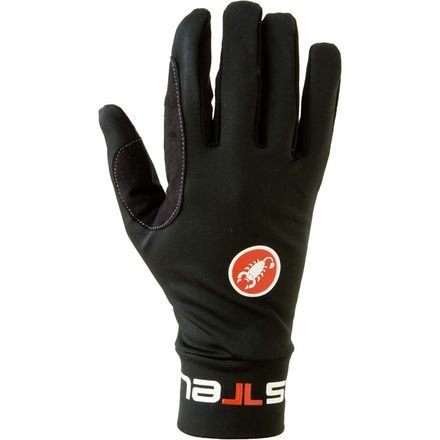 Detail Images
Description
Let there be light!
The Garmin-Cervelo professional cycling team's favorite glove for cool conditions, Castelli Lightness Gloves are designed to be soft, stretchy, and warm.
Castelli's Lightness gloves are a happy marriage of two materials: Thermoflex and Clarino. Thermoflex is made with a nylon/lycra blend that's brushed on the inside to provide stretch and warmth, while the outside has a silicone finish to offer light water repellency. By using Clarino (a fabric made of extra-fine micro-fiber) for the palms, Castelli increased the touch and durability of the Lightness. You'll get gloves that offer ideal cool-weather protection while offering enhanced aerodynamics and an intimate feel for the handlebars. What more could you want?
The Castelli Lightness Gloves come in Black and are offered in six sizes from X-Small through XX-Large.
Share your thoughts
What do you think of the
Castelli
Lightness Glove
? Share a...
Not worth the money
Familiarity:

I've used it once or twice and have initial impressions

Fit:

Runs small
Bought these on sale @ CC , Do not waste your money, the second time i put them on they ripped down the thumb area. I Wont be buying anymore....
It comes undone
Familiarity:

I've put it through the wringer

Fit:

True to size
They are designed to fit like medical gloves, only they don't stretch at the seems. Like others, I expect these to last but one season. I've worn them a dozen times and the seam has split at the base of my thumb. They don't stretch enough to go on without tearing this thread. Once on, they're awesome. Fit "like a glove." But will only be good for one season, i fear.

On the plus side, they aren't advertised as sensor (e.g., touch screen compatible) but they do work. I can use my phone to turn on strava (can't bike without broadcasting to the world, right?) with them on.
The palm has a nice, grippy suede that may degrade over time, but won't matter since the seam will fail long before. THey're reinforced as the photo shows around the thumb and forefinger. this is forward thinking. Just need to make these velcro closure, or something to extend their usefulness.
Warm
Familiarity:

I've used it once or twice and have initial impressions

Fit:

True to size
ordered a large pair of gloves and they fit fine . I'm always checking other peoples reviews with castelli because their stuff usually runs small but didn't have any problems. They're warm for chilly days but not for real cold weather. I'd say 40-60 degree F weather. I was a little disappointed that they don't have any gel padding in the palms but for a two hour ride they weren't uncomfortable which I was very surprised. I thought for sure I'd start to have pain and numbness in my hands but I didn't.
Benchmark!
Familiarity:

I've put it through the wringer
Like for so many out there, these are my absolute favorite gloves for use between 45/50 to 65 degrees.

Bar feel, bar feel, bar feel! The materials used (lightweight and flexible yet warm), and no pads (this is good), and the grippy application to the palm, result in *amazing* bar feel and bar grip. The best of any long-finger glove I have ever used. These gloves are a joy to use in the Fall and early Winter.

And my gloves are wearing great. I get two years out of mine with heavy use (I'm happy with that, esp at this price). They are hard to get off after use (sweaty), so be careful. But that is true of any L-F glove without velcro. I do *not* want velcro in my gloves (catching on the fabric of my expensive jersey or bibs). These are great gloves! And at this price it is a complete no brainer.

Frankly, I think this is one of the BEST items that Castelli makes. And that is saying something.

Sizing (gloves): Pearl Izumi = L. Giro = XL. Castelli = XL.
Great but one seasoner
Familiarity:

I've put it through the wringer

Fit:

True to size
I've had this glove for about a year now. Wore it through rain, humid, hot, blistering cold and wind of mid-west.
It is extremely light, surprisingly versatile but not durable by any means.
Keeps your fingers warm down to mid 40's when the wind is minor but if the wind is around 10 mph or stronger, you're going to need a liner or a thicker glove. Temps in 50 and higher is where this glove does best.
It's extremely light which is great for the spring/fall rides where bulk is the least thing you want and it also looks great.
If you plan on wearing liners or anything underneath, get a size larger as the band on the wrist does not have ANY give so putting the glove can be a challenge in itself.
Palms have non-slip castelli logo treatment so it grips great under all conditions, however the finger tips, especially the index finger and the thumb tips start to wear pretty quickly.
I started seeing the fabric on the the finger tips thin out after about 3~4 months and now, there is a good size hole on them. For the price, it may be okay for the glove to last for a year before needing to be replaced, but it's a hassle and not something you expect from Castelli brand.
You can probably find another glove for $20~30 that will give you the same performance and last you couple of seasons, hence 3 stars.
Overall, good glove that does what you expect it to do (which most other gloves will as well) with very low life expectancy.

Castelli lightness gloves
Familiarity:

I've used it once or twice and have initial impressions
Just recieved these and wore them on a cold ride (37 deg F) yesterday. I was pleasantly surprised, with how warm they are. When I first put them on, they seemed very thin, and without padding. But they were perfect! My hands felt great all day, and as it warmed up, the gloves left my hands dry - I was surprised again. Most gloves, as it heats up, leave your hands wet and sweaty. My favorite winter gloves now - love em!
Castelli has always served me well
Familiarity:

I've used it several times
I've worn these gloves 3 or 4 times now in a range of temperatures and have been very happy with them. I bought them to replace an old pair of gloves I had with holes in them that I normally used for temperatures between 50 and 65°F. These gloves are perfect for those temperatures but could also be used in colder weather for shorter rides. I rode for about an hour and a half in 45°F temperatures and my hands felt great for over an hour. However, not long after that, my fingers started to go numb.

I have not worn these enough or had them long enough to know how they withstand long-term wear, but my initial impressions are very positive. I have pretty small hands for a guy, and the large fits perfectly. Most Catelli products run pretty small.
Stitching came loose after 2 weeks
Familiarity:

I've used it several times

Fit:

True to size
I bought the gloves for cycling, but didn't get a chance to wear them for cycling at all. I wore them 4-5 times for jogging and a few times driving and the stitching already came loose in several different spots. Very very dissapointed....

The gloves look very nice and fit very well. They're okay down to the forties, but fingers started getting numb with colder weather.
Warm, Good Grip, Thin
Gender:

Male

Familiarity:

I've used it once or twice and have initial impressions
These are a sleek, thin, warm glove with great grip. They are windproof, and this contributes to their warmth. They have slightly longer cuffs, to interface nicely with a long sleeve jersey that may be on the short side. The fabric is a matte black with the logos. The only downside is they seem to be sized one, likely two below what you're used to. I'm giving 4 stars only because I've got a few rides using them, their longevity is a key untested factor thus far.

Size up one size, they run small.
great gloves
Familiarity:

I've used it several times

Fit:

True to size
used these gloves while riding the salt to saint and they worked great! they keep your hands warm and are super comfy!
Second Pair
Familiarity:

I've put it through the wringer

Fit:

True to size
I recently bought a second pair of these gloves, as I liked the first ones so much. They are a great fitting, comfortable, good looking glove that I ride down to about 35f.
cool weather hand covers
Familiarity:

I've used it several times

Fit:

True to size
I sport these gloves in and around SLC during my morning commute and various rides, they work well in the morning when temps are near freezing, although I do wear a hoodie with thumbholes since my hands still get a bit chilly in pre dawn temps with these on, but its nothing I cant get over for 20 or so minutes. During the day in more mild temps they are a great light glove that are not stifling or sweat inducing, and the grip in the palm along with leather around the index and thumb make for a very solid grip and makes me more confident when I really start to pull on the bars, so far so good!
My "go to" glove from about 45 to 60 degrees. Fits snug but wrist does loosen up with time, I wear a large which works well with this glove but the Castelli Super Nano I couldn't even get on in this size. More stylish and slightly warmer than Pearl's soft-shell lite which I also own.
Makes you more AERO!!! Cheap material...
Familiarity:

I've put it through the wringer
I love them...most excellent gloves, they do a superb job of laying down my knuckle hair and conserving at least 15 watts or so...

(Perfect fit in large for my 9" around hands...quite warm as well for a thin glove...I was out in 40~ today with some headwind, hands were cozy...)

Edit...I've reduced my rating to 2 stars because they've ripped at the stich between my fingers. I'm returning for an exchange and we'll see where it goes from there.

and...now one star. Hole wore through the palm, only 3000 miles on the gloves...
Warmer than I expected
Familiarity:

I've used it several times
Got these about a month ago and have used them 5 times on rides in the mid 40's. I didn't expect them to be this warm as they are very thin. Nice thing about that is they are super comfortable and look great too.
Better Than Expected
Familiarity:

I've used it several times
I was surprised how well this minimalist glove kept my hands warm into the low 40's. They look great, fit is perfect and they feel great on the bars. They are rather hard to remove after a long ride when they are damp from sweat, I can see how others have had problems with the stitching and have been cautious when removing. It's hard to get excited about gloves but this is my favorite in this temperature range, will probably pick up an extra pair or two at the current low price!
Nice grip, poor stitching.
Familiarity:

I've used it several times
I love these gloves for the fit and sticky grip. But, since I have only worn them several times in the two years that I have owned them, they have spent much of their time in my gear closet waiting to be sewn back together at the seams just like a one yer old pair of Castelli knickers that I own. Like every Castelli product that I have purchased in the last two years, the stitching fails within the first couple of uses. Sadly, Castelli does not stand behind their products either and you are generally stuck with the product unless you purchased it from Competitive Cyclist.

Functionally, these are great just like my knickers. The fit is perfect, function is perfect and the material is very nice. Quality, it isn?t worth the money if you can only wear them a couple of times before the seams start to fail at the stitching. Spend your money on another product with better quality stitching.

Nice piece of kit. Usual high quality from Castelli, and actually keep your hands warmer than you would expect when you first put them on. I have done several rides down to 40f and they work well.
Love these - very natural fit; so comfortable you will forget you're wearing gloves. The palm and fingers grip the bike very well, and they provide excellent wind/chill protection. Highly recommended.