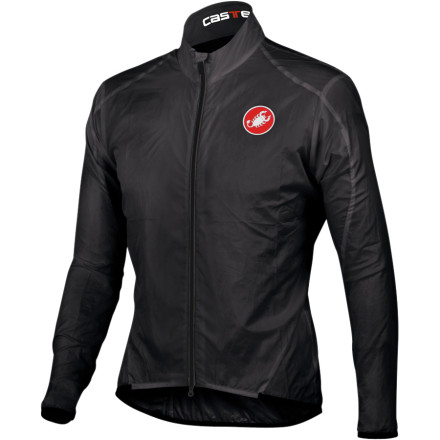 Detail Images
Description
Lightweight, packable protection.
We'll be honest. Not all lightweight wind jackets even make it to the end of their first ride. Ill-fitting jackets that hamper movement and don't block wind have on more than one occasion been "left" at the mid-ride rest stop-on purpose. Castelli decided to create a jacket worthy of an entire day of riding and succeeded with its Leggero.
Castelli's Leggero was cut from Forcefield fabric. This lightweight material weighs just 35grams per square meter. The fine weave blocks wind while at the same time it is also water-resistant to keep light spray from drenching your jersey and skin. Because we all know too well that oftentimes jackets result in overheating, the forcefield fabric is also breathable and an expansion vent in the back further moves moist air away from your skin. If that's still not enough, the double-pull zipper lets even more hot air out.
The lightweight and thin nature of the fabric makes it easily packable in a jersey pocket should the weather warm up during your ride. It comes with its own stuff sack and slips into a jersey pocket. The jacket features a mesh lined collar to minimize chafing at your chin. If your ride starts or ends in the dark, reflective tabs increase your visibility.
The Castelli Leggero Jacket comes in Black, White, and Florescent Yellow and is available in six sizes from Small through XXX-Large.
Body is Too Short
Gender:

Male

Familiarity:

I returned this product before using it
Size ordered: XL in Black

My numbers: 6ft, 190lb, 42in chest, 34in waist



I already have a Castelli vest at a similar price point in size XL, plus a couple Castelli bibs & jerseys in XL so I expected this jacket to fit.



The chest and sleeve dimensions were spot on. The jacket front was ridiculously short however! Standing straight, the zipper pull tab is right above my navel. Note that in the product images the waist line on the black and white models both fall near the sleeve cuffs. What I got instead was the super-short bomber jacket look as seen on the Acid Green jacket.



I'm returning this item and will continue shopping for a decent wind jacket.
Awesomeness in a wind jacket.
Familiarity:

I've used it several times
This jacket worked perfectly to keep me slightly warm on a chilly ride, but still allowed adequate cooling for maximum comfort. You can't beat it for the price!
Does the job.
Familiarity:

I've used it once or twice and have initial impressions
Me: 173lbs, 6'1", 32" waist, 40" chest.

The jacket is described above as "The Castelli Leggero Jacket begins with the Italian maker's stellar form-following fit. This is one jacket that won't flap in the wind." This is definitely not one of their race or aero fitting pieces, nor is it designed with shoulder curvature that mimics the shoulder dropped position on road/mtb. I purchased the Large and feel that a medium over my size Large castelli long-sleeve lightweight jersey may have been the way to go, BUT, my shoulders are pushing out the seems on the Large and the front is already nice and short. Not sure how this one got designed in such a fashion? At about 25 mph in a tuck it started flapping at the shoulders loudly, bit of a bummer to say the least. I like the pit "hole" and the vents on the back to I'm planning to take it to my tailor to have him "dart" the fronts of the shoulders (above the pectoral and near the pits) to help draw the shoulders forward for a better on the bike fit.

Super small, packable design is just what I was looking for.
Zipper is Garbage!
Gender:

Male

Familiarity:

I've used it several times
The jacket itself is good but my zipper has already malfunctioned after only several times using.....double zipper no longer works....DO NOT BUY THIS JACKET.....look into the Castelli Velo or something else with a more durable zipper
I own a lot of Castelli gear. Castelli offers arguably the greatest lineup of performance cycling clothing in the world.



But the -cheap- poor quality zipper on this otherwise really good looking featherweight-packable jacket is not up to the job. The soft nylon teeth derail and then jam incessantly! This zipper is beyond fiddly! Frustrating and now the teeth are bent/deformed and the zipper works even worse.



This is unacceptable from Castelli -at any price. Come'n Castelli!



UPDATE....I think Castelli has addressed various issues with this jacket by releasing the new "Velo" jacket. Check-out Castelli's new "Velo" jacket.
LOOKS GREAT
Familiarity:

I've used it once or twice and have initial impressions
looks and feels great ,body size is bang on ,sleeves are a great length if a little blousy for some but fine for me as i like it a little loose ,packs down real small, for a little extra layer if theres a light shower or a cool decent
Meh
Familiarity:

I've used it once or twice and have initial impressions
I loved the colors that were offered, but the jacket didn't do so well for me. It is lightweight and shields the wind very well, but even though it seemed to fit very well (very close) it would puff up in the shoulders when riding. I will admit that I'm a small rider, though, and the Capo wind jacket just ended up working better for me.
Usually Castelli is on point. This one didn't do it for me. A light sprinkle fine, anything else and it will be saturated in no time. Also, didn't find it as wind proof as others have.
Great packable jacket?
Familiarity:

I've used it several times
This is a great packable jacket except for it's durability. I have had to re-sew it and just recently the zipper broke. Hoping I can find a tailor to replace it for a reasonable price. If you buy this get it on sale like I did, at full price the jacket is not worth it.
Super light does the trick
This jacket is about as light as you can imagine.

I've found it to be totally windproof.

I also haven't found the limit to its water resistance even with prolonged rain.

It does not breath well, and so I find myself playing with the two-way zipper a lot as I climb and descend.

The material has withstood normal use, but I suspect any amount of crashing will do it in.



I give it the 5 star because its shortcomings (breathability and abrasion resistance) are expected from a super-light super-compressible wind jacket.
This would have been a great light weight jacket but even the XXL was too tight to get my forearms down. The guy on the phone said they run small and he is correct. Beware if you have muscles my friends. A different style might be needed.
If you're a gear geek - and let's face it - most of us shopping on this site are just that, then you've probably got a cycling clothing for almost every season. If you're looking at this jacket, I have to presume you're in the market for something that is super lightweight, will keep the wind out, and will keep you dry in anything but a huge downpour. If that's the case, you've come to the right page.

This jacket is ridiculously light. I haven't looked into its official weight, or bothered to try weighing it myself, because I don't think I own a scale that would even measure this thing. Maybe a food scale would do it, but why would anyone ever do that. What you care about when it comes to weight is what's it going to feel like in your back pocket before it comes time to put it on. Answer: As though it's not even there. Seriously, I barely notice it when I've got it stuffed back there.

Next - How does it work? Uh ... how about as well as you'd ever dream of it working? It blocks a ton of wind for being as paper thin as it is, keeps me dry, and I don't get all sweaty inside it. Not sure how the good folks at Castelli do it, but they've made a VERY breathable and VERY wind/water resistant jacket. Once again, nicely done people.

Last - Is it a decent value? I don't know, would you rather spend like $65 on this or $300 on the admittedly James Bond-like Pocket Liner Jacket? Well, until I hit the lottery, I ain't spending no $300 on one jacket, so thank you very much I think I'll take this kick ass jacket and invest the other $235 into a pair of new shoes or a killer helmet.

You're welcome.
Pro's - Super light, super thin and super packable.
Con's - Fit is less than desireable. Went with the large based on recommendations (5'9" 160 lbs). The torso length and width is good but the sleeve length is about 36 inches and fit through the shoulders and upper arm is very baggy.
This jacket is great, it packs into a fist-sized bag and takes up about half a back pocket when not in use. I bring this jacket with me when there is any chance of rain, wind, or just dropping temps.I am 5'11 140lbs and a Large fits me well, the sleeves are a great length. The torso rides up a little bit, but is really no problem. When going above about 20-25, there is a little flapping in the jacket, but it still has the standard Castelli slim fit. Overall a very good and surprisingly versatile jacket.
The Leggero is super light and really thin, almost as if it's thinner than paper. I got the white and really like the style and fit. I purchased the large (I'm 5'10" on a REALLY good day, 155lbs, 32" waist and have a big ole jacked 38" chest.)

Impressions after wearing the Leggero for the first time.

Ride info:

Mileage: 21.04
Effort: Easy
Weather conditions: 59º, windy, sunny.
Bugs eaten: 2.5
Clothing worn: Short sleeve jersey, arm warmers, shorts, compression calf guards, Leggero jacket.

I kept the jacket on the entire ride and didn't really feel the need to take if off. It didn't heat up my core, however kept me warm during the downhills and when the wind was kicking up. I thought it did a great job of keeping the wind at bay, and preventing my body from feeling any chills.

I included a photo of Leggero all tucked into it's little pouch. I used a 25 cent piece for scale.

Pros:
- Nice for light to moderate wind protection
- Looks and fits great
-Breathes well
- Cute little pouch you can toss in your jersey pocket

Cons:
- At 80 dollars I wonder if something else could the same duties for a lot less.

Other:

I read other users saying this is good for the drizzle/light rain. I haven't tested it out yet. But if you're looking for something that will stop the wind and act as an extra layer when it's cool-warm out, then I recommend the Leggero, that is if you don't mind shelling out 80 bones.
Great item, super thin and light, I am medium build 5.10 , 70 kg - large is perfect. Go for it, you will like it.
Does anyone know if this jacket runs small?...
Does anyone know if this jacket runs small? I have bought two jackets so far that I had to return because of the extra tight fit. Let me know, thanks!
Yep - it runs small. I normally wear L for most gear, but needed an XXL for this one.
Best Answer
I'm 5'11" and 205 lbs and I'm returning this jacket because it is cut way too small for a 3XL and the zipper is of very inferior quality for an $80 jacket/windbreaker. It is made in China. It would be nice if the Chinese designers would start cutting their 2XL and 3XL garments larger to accommodate American buyers/riders. The DS may be a better investment for another $5 but this Leggero is definitely being returned.
Jacket is super packable. It comes with a circular pouch about 3" in diameter that you can stuff the coat into, perfect size for a jersey pocket. As for performance, the jacket breathes and blocks wind well. It is very light weight. Not sure about how it does in water.

Fit is ok, order the same size you would for a castelli jersey - length is a bit short. There are no pockets on the back.
does this jacket have back pockets?
does this jacket have back pockets?