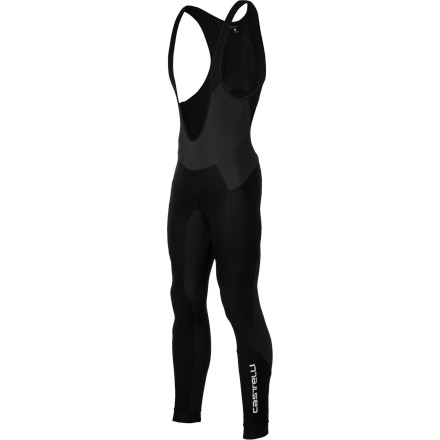 Detail Images
Castelli's aware of the fact that we will ride outside during the winter months, even if the weather conditions are less than ideal. The Italian apparel designers know that we are a stubborn bunch and will always prefer the open roads to the gym when given the chance. For this reason, Castelli spent considerable time revamping its cold-weather apparel this season, tweaking technical pieces as a means to keep us more protected and comfortable than before. The new Leggerezza 2 Bib Tights is an example of this, overhauling the original with new fabrics and a more comfortable fit.
For the construction of the bib tights, Castelli selected two specific fabrics. For the bulk of the body paneling, Thermoflex was used. These panels of Thermoflex stretch to move with you like your summer riding shorts, but with the benefit of giving you cold weather protection. The fleecy inner-lining traps warm air next to your skin to ensure you don't chill. This material runs along the sides and backs of the tights where you're the most susceptible to cold. Additionally, this fabric is made from a polypropylene that doesn't absorb water, but still effectively allows moisture to be drawn to the quick-drying outer layer so that you stay dry and comfortable on the inside. For the front panels, Castelli's SG0.6 Wind was added for its incredible lightweight composition. This material uses the technology of SG0.6, but sandwiches a wind membrane between two layers of it. Trapped air in the fibers provides excellent insulation in the cold while allowing airflow to evaporate sweat.
In the fit department, Castelli designed the Leggerezza using anatomic fabric panels that mimic the body within the cycling position. This means that the multi-paneled pattern is curved, which allows for a full-range of movement without any fabric pinching or chafing. The bib portion follows this design, utilizing a large curved back panel and straps that move with you as you ride.
For further comfort, Castelli incorporated its KISS3 chamois into the Leggerezza 2. The KISS3's surface uses a skin-care layer comprised of a bacteriostatic fabric that conforms to the body. Additionally, the material supports airflow and aids in evaporation. At the second layer, the chamois features a multi-density foam with continuously variable thickness at the highly-sensitive ischial zone (your sit bones). This moves to a moderate thickness at the perineum pressure regions. And furthering this design of targeting support, the insert tapers to a minimal density along the perimeter.
Castelli rounded out the bib tights with durable camlock zippers at the ankles, as well as its Giro3 gripper system. Reflective tape was also added to keep you seen by motorists in low-light riding conditions.
The Castelli Leggerezza 2 Bib Tights are available in sizes Small to XXX-Large and in the color Black.