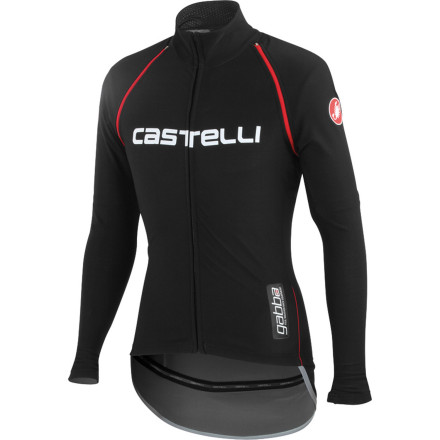 Detail Images
When the weather turns on a dime, you'll be ready with the Castelli Gabba Convertibile Jacket. Featuring the latest Castelli technology, the Gabba Convertibile Jacket is the ultimate in protection from cold, nasty weather. Developed for competition in the Spring Classics, the Gabba series provides breathable fabrics that guarantee wind and rain protection. And if the skies part, and the temperature rises, the Gabba Convertibile allows you to remove the long sleeves and keep riding. Accordingly, no other jacket can be ridden as comfortably, and in as many climates, as the Gabba Convertibile Jacket.
Essentially, Castelli's Gabba Convertibile Jacket is a rain-specific version of the Castelli Aero Race jersey. In the development stage, Castelli knew that no material existed in order to meet Cervelo Test Team's demands for a rainproof race jersey. So, a partnership was formed with W.L. Gore to create the new Windstopper X-Lite Plus fabric. The new fabric allowed the construction of the stretchy, windproof, and breathable rainproof jacket that we have today. For further rain protection, Castelli included a Storm-flap off the rear jersey panel to protect you from wheel spray, and the three rear pockets feature eyelets for water drainage. To add extra comfort, Castelli incorporated its Nanoflex inserts under the arms for controlled temperature regulation. And for full versatility, you're able to unzip the sleeves, and use the jacket as the short-sleeve Gabba jersey. Perfect for any condition, the Gabba Convertibile Jacket will outperform the competition wherever you take it.
The Castelli Gabba Convertible Jacket is available in six sizes from Small to XXX-Large and in the color Black/reflective silver.
Survived a 48 hour bike trip
Wore this during a 48 hour trip around Iceland and we got all types of weather, what a fantastic jacket this is. I am 180 cm and 85kg with athletic body shape and the XL fit me perfectly.
Unanswered Question
A couple of questions: 1. I have a 35.5...
A couple of questions:

1. I have a 35.5 chest and an 32 inch waist, according to your size chart I fall under size S, is this size good enough to use both thick and thin base layers? I really want it to be as versatile as it is intended, as a jersey, not a jacket.



2. Does this garment eventually stretch out to your body shape for a comfortable fit?



3. Does this version have the nanoflex underarms like the normal gabba jersey?



4. Is the Fawesome vest exactly the same measeurements as the Gabba jerseys or is the Fawesome more roomy?



Thank you for your help.
This is my go to thermal jersey
Familiarity:

I've put it through the wringer
This is my go to thermal jersey once the temps get into the 40s. Blocks the wind but wicks the moisture away. Comfortable and toasty. When things get really cold, I put and Espresso Due jacket on top of this. Highly recommend this, and the sleeves come off in case you get a late morning hot spell. Great in the rain too in Fall or Spring
Will the size Small be available any time...
Will the size Small be available any time soon?
Hi J.P.,

Unfortunately, we do not currently have any of the size Small ordered to come back into stock, sorry about that!
Best Purchase You Will Make
Familiarity:

I've used it several times
Beyond thrilled at the purchase of this jacket. For a year or so now I have been debating spending the extra money on a Gabba vs keep using the traditional $50 trashbag style rain/wind proof jackets. I finally caved and picked up a convertible Gabba. I take a size small in Castelli jerseys/bibs so I went with a medium for the jacket. Sleeve length is perfect and chest is not tight but still race fit to the waist.

High quality seams all over. Material is very durable and stretchy. Grippers on waist keep the jacket in place, never have to adjust. Wrists are not tight but have grips to keep them in place on skin or gloves. Collar is soft and actually does a good job at pulling sweat away. Nanoflex all over which does a good job to keep you dry up to a certain point. But let's be serious if you are riding 3-4hours in steady rain/snow and expect to stay bone dry that's just not realistic. This is very windproof but still breathes and pulls sweat away better than any jersey I've used. You could easily wear this jacket with no base layers into 50-65F+ and not overheat.

As for the guy saying how he returned it because of the sleeves are not removable while riding, well they make such a product and they are called arm warmers. Castelli designed the zippers on this jacket in such a way so that you can't feel them in your arm pits. If you have the sleeves on it feels like a normal jacket, sleeves off and its a regular jersey. No bulk. The best thing about the zippers is that with the sleeves on I can half zip the sleeves and get air flowing into the arms when I stop.

Overall, I will never second guess buying a Castelli product again. There's a reason so many pro tour teams have unbranded Gabba's, because they work a hundred times better than competitors. You pay for quality and functionality and it is worth every penny.
For recreational riders logging many KMs...
For recreational riders logging many KMs in cold and wet conditions -- Gabba long-sleeve jersey OR Gabba convertible jacket OR Confronto jacket??
Best Answer
Either Gabba. If you want the option to wear this into Spring and during Fall, go convertible, and if not just get the long sleeve.
This has to be one of the most versatile pieces of cycling clothing I own.



I can wear it short-sleeve, long-sleeve, in the wind, in the rain, and it takes it all in stride. The fabric is heavy enough and protective enough to negate the need for a dedicated jacket or wind vest in early spring or fall conditions. It is definitely too heavy to wear in the heat of a Utah summer, but that is not what it was made for.



The removable sleeves are a wonderful feature and definitely beat a pair of arm warmers when it comes to comfort. The previous reviewer is right to mention the difficulty of removing or installing the sleeves. I can take them off without assistance, but to put them back on I need to remove the jersey or have someone help.



That minor grip aside, show me a more versatile cycling top for early season riding and I'll happily switch. Until then, I'll be rocking the Gabba with a big grin on my face.
Nice jersey. Sleeves are hard to remove.
I received this jersey, tried it on, and sent it back. Didn't ride with it.



Issue is with the sleeves. It's cool that they zip on/off. More comfortable than arm warmers when attached. However, placement of the zippers makes them near impossible to remove while wearing the jersey. You'd either need to take off the jersey or have someone help you. Extremely inconvenient if you want to remove sleeves during a ride.



Hope the next gen version moves the zippers. Gotta love BC's return policy though!