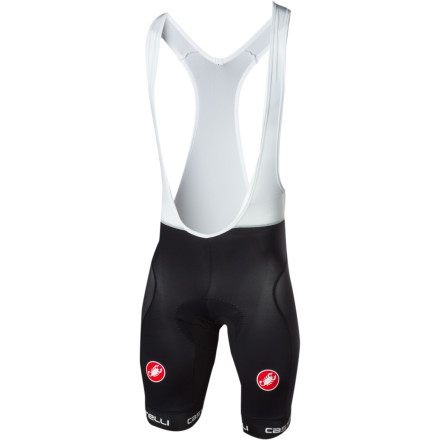 Detail Images
Description
Don't hold back.
Delivering on the promise right there in the name, the Castelli Free Aero Race Bib Shorts aren't just aerodynamically tuned to maximize your speed, they're comfortable enough to help you maintain it.
The race-worthy fit and aero-focused fabrics of the Free Aero bibs afford a more efficiency profile in the wind, but that's only the start of the story. Three fabrics are at play. First, Castelli developed what they call an Action Micro fabric that is particularly durable and placed it in the saddle contact regions, since those are the areas that get the most regular wear and tear. A second material, Energia Micro fabric, is used on the sides and back of the bib shorts to grant you outstanding stretch and return. Finally, the Breathe Micro fabric is used for the front of the shorts because, as its name indicates, it has been designed for maximum wind permeability to help keep the legs from overheating on warmer days.
That's all mighty fine stuff that will benefit many, but where bib shorts are concerned, we often need to look deeper: how about that padding? Ask the pros on Garmin-Cervelo's pro team. They spent a year riding this short, providing feedback to Castelli, and neither they nor the company's engineers would keep quiet until they'd dialed in the perfect support system for their excellent new bibs short design. The Progetto X2 Air Seat Pad chamois is the result, a multi-layer, multi-density, four-way-stretching pad that best supports you at your ischial and perineal areas - the sensitive ones that hurt on long or vigorous rides - while also providing flow of both blood and air to your undercarriage to keep you cool, figuratively and literally.
The details weren't ignored, either. The bib straps open particularly widely, and they extend from a cut that goes all the way down to the waste, to ensure maximum breathability beneath your jersey. Castelli also eliminated any and all seams on the inner thigh to reduce irritation, but their retained their proven Giro3 integrated leg grippers to minimize movement of the bib legs. You'll also find subtle but reflective details all around to increase your visibility at night. But the kicker that lets you know this is a pro-level bib short? The subtle mesh radio pocket that's integrated into the bib strap, so you can keep in touch with the team car. You do have a team car, don't you?
The Castelli Free Aero Race Bib Shorts are available in Black and Black/white. They come in sizes Small through XXX-Large.
Multi-density Progetto X2 Air insert provides critical perineal support while offering maximum airflow
Low-profile mesh straps keep your chest free and open to prevent overheating
Color-matched (to jersey) Giro3 leg grippers hold the short in place no matter how hard you hammer
Radio pocket sewn in mesh strap back helps keep you in contact with the rest of the team
Share your thoughts
What do you think of the
Castelli
Free Aero Race Bib Shorts
? Share a...
Great Looking Bibs
Gender:

Male

Familiarity:

I've put it through the wringer
I love Castelli stuff and am a huge fan of the Progetto X2 Air chamois. I like the fit and look of these bibs but the chamois starts to become an issue after two hours...I have to constantly change my position and fidget around to keep going. All my other Castelli bibs (Castelli Free Aero Race) are great but this one isn't, but only because of the chamois.
positive early impression
Familiarity:

I've used it once or twice and have initial impressions
worn it for a short ride and loved the fit from the moment I hit the saddle. The chamois is very comfortable but will be interesting to see how it performs on a 3-4 hour ride. 5'8", 30 in waist, 145# and sized up to L as I didn't care for the "strangulation" feeling from the M although there was obviously more compression with the smaller size.
Light bib short, gets the job done
Familiarity:

I've used it several times

Fit:

Runs small
It works. Not a favorite of mine only because of some stitching issues. I feel that this is slowly becoming the new normal for Castelli. Inconsistency, that is. It's certainly worth giving this bib a try. As you can see below, it's quite loved by most who try it. The Progetto chamois is as good as described and would certainly make this bib worth a shot.
Castelli Free Aero Race Bib Shorts
Familiarity:

I've used it once or twice and have initial impressions
I am 5'5'' with waist 30 and 138 Lb, small fit me perfectly. I already rode about 30 miles couple time. It feels pretty good, no irritating inner thigh seams from this product.
Fracking Awsome Fracking Awesome bibs!
Gender:

Male

Familiarity:

I've used it once or twice and have initial impressions
These bibs are great; they have great compression for your thighs and hammy and the chamois is the best I have had between my legs. I liked these so much that as soon as I got off my bike I ordered another pair. They due feel weird at first (almost sent them back) and you will want to exchange them, don't go by you waist size and look at the chart, I am a 32-33 and got the mediums according to the chart and they fit great. So I would get a pair if I were you, beside can't beat the price
Size up
Familiarity:

I've used it several times
Really bummed about these bibs. I have the free aero kit version, and thought the sizing would be the same on these. Not quite. These are very high compression and try as I might, I just can't make them work. Too small in the groin area, fine everywhere else. At 5'6" and 155 lbs, I would need a large in these, not the medium the size chart says would fit. Unfortunately already ridden in and not returnable.
excellent bibs
Familiarity:

I've used it once or twice and have initial impressions

Fit:

True to size
these run true to size and fit really well. I'm 6'2", 200 lbs and the XL fits great - snug and compressive without being restrictive. I've only had a short ride in them so far, but initial impressions are they are durable and comfortable, with no ride-ups, bunching etc. I have fairly large thighs, so the grippers work for me.

note: if you are somewhat modest, stay away from the white color. They aren't see through, but your "manhood" will cast a shadow that will show up on the white material.
Great shorts, size up
Familiarity:

I've used it several times
Amazing shorts, comfy, fast-looking.
Great chamois.

Size up - I'm a small-framed climber and still needed a can-opener to fit into a small.
Great initial impressions
Gender:

Male

Familiarity:

I've used it once or twice and have initial impressions
I've been looking for 'that' bib short for a while and even though I've ridden in cheaper Castelli's, Voler and Gaerne before, these certainly are a long way towards finding the perfect bib short. The compression took me by surprise first time out and I thought I'd need to size up from a large, I'm 6 ft and 165lb. But once on the bike any uncertainty disappeared. Great chamois and great fit for me. Not sure why there appears to be numerous versions on the CC site of this bib and mine certainly doesn't have a radio pocket as stated in the description. Great price on sale and I'll be buying another - perhaps not in white, as the wife tells me they don't leave much to the imagination in the see through department.
Love these over my Assos
Familiarity:

I've used it several times

Fit:

True to size
These are my go-to bibs for longer rides. The chamois is extremely comfortable and not too bulky. I also got a pair of Assos T.equipe_s7 bibs that sadly dont live up to the hype (for me). I am 5'9" with a 30" inseam. I wear a medium in both. I did a 60 mile ride with the Castelli and had no issues. The Assos started to cause discomfort around 35 miles. I'm going to hang on to both pair to see how their durability stacks up. Buy these bibs and you will be pleasantly surprised. Your butt will thank you. Btw, I used DZ Nuts chamois creme for both.
sizing is different between versions
Familiarity:

I've used it once or twice and have initial impressions
Just bought 3 different pairs of "free aero race" bibs. These, the TDF KOM ones and the "printed version", all in L size. I am 5'11", 155lb w a 32~33 waist. Sized up based on reviews (mistake maybe)

These white ones are tighter in the leg than the other two, and slightly shorter in the straps. I prefer tighter and have only ever worn LG mid-grade bibs in "L" which fit how i like. The other two aren't necessarily too big, they are just not really tight. It almost feels like maybe the white ones fit like the other two but were washed and shrank (?) Is that something that happens with Castelli stuff - can anyone comment? My concern is that the larger ones will get way loose as they stretch over the next 2000 miles of usage.

I think I will be sending the other two back for Mediums, hoping that mediums wont be way too small.

Another point - the chamois seems wider and thicker than LG. The thicker maybe is OK, but the wider seems to but extra chamois material in my butt cheek x leg cleavage (whatever you want to call that). This is true of all 3 pairs. Maybe it will be OK on the bike, but feels weird when walking around.

Hmmm... Gave it 3 stars, but keep in mind that is based only on initial impression on what might be the wrong size.
Quality & Fit
Familiarity:

I've put it through the wringer
Pros: design, materials, fit, chamois
Cons: expensive

I've been riding with Louis Garneau bib shorts for a while and thought they were good until I purchased Castelli Free Aero bib shorts. I've noticed a remarkable difference in support, construction and materials with Castelli blowing LG out of the water.

The chamois is well constructed using top notch materials and sewn on to the shorts, not glued on like others (LG chamois detached after a few washes in gentle cycle, cold water and hang dried.)

The compression is stellar offering just the right amount of pressure at the right places without impeding circulation.

The fit is great just as long as you properly measure yourself and select the correct size.

Conclusion: get these while they're on sale!
Aggressive riding body positions only
Familiarity:

I've used it several times

Fit:

True to size
great pair of bib shorts, but just note that these are made for an aggressive riding position. the cham is a little short on the backside, so if you're in a more upright position (endurance/classics bike as opposed to race setup) or don't roll your hips as forward as some (more arch in your back, so hips are a little more upright), you may feel the edge and seams of the chamois. i ride an endurance setup, and i noticed as i got tired during the back half of my ride and started sitting in the uprights more, i could feel the back edge of the chamois. albeit i never had any chafing.

as others called out in their reviews, the side panels are sheer. i didn't realize this when i ordered the bibs, but i don't really have an issue with it.
Even better than the vaunted body paint
First, these are incredibly comfortable. You compression is great; very tight, but never uncomfortable. About the white and black and they look really good.
Great bib and cham, just not for me...
Familiarity:

I returned this product before using it
I've been on the hunt for high quality bibs with a great cham in the $150-200 price range. These check those boxes . . . but you can see through the material on the sides of the legs, all the way up to the hips. I'm a pretty modest guy, I guess, so I had to return. Otherwise, these would have been perfect, and I probably would have bought two or three more. I certainly understand why others rave about these bibs so much. I guess the hunt continues, for me at least.
Great bib, perfect fit
Gender:

Male

Familiarity:

I've put it through the wringer

Fit:

True to size
I've mentioned this in other Castelli reviews: do not "size up"! The size chart (waist) is correct as is, just use it. I'm 5'10, 32 inch waist, 155 lbs and the medium, as recommended, is perfect.

Best chamois I own, better than the top Louis Garneau which is very good. I have both both the bib and the short and while the short is often as comfortable as the bib at times it's not. Things jiggle around a bit more with the short sometimes, hard to understand why the variation. But the bib version is always just right, every ride is great.
This is my favorite of all my castelli bibs. At 6' 165 lbs a large is perfect, these seem to have a little better compression than my others. The chamois is top notch as well as the construction of this piece. Other reviews stated these are a tad longer than most bibs which is true- not by more than an inch or so. The different fabrics also work well with these bibs. All and all a great find!!
NO ONE TOLD ME IT WOULD BE THIS GOOD
Familiarity:

I've used it several times

Fit:

True to size
I wish someone would have told me that expensive chammys are AWESOME. First time I put them on I had a smile on my face for the first 20 miles because i hardly noticed my saddle. They feel amazing, didn't bunch at all when going in and out of the saddle and after 40+ miles. I'm stoked to take these out for a century and see how they perform. Also happy to report that the bibs are stretchy enough that you can relieve yourself without having to take the suspender straps off. Man they thought of everything.

Speaking of sizing: I'm 6'0" 185lbs, and the XL fits me perfectly. Straps aren't too tight, the legs fit comfortably above my knee.
Great bib
Familiarity:

I've used it several times
Great bib. Very happy with selection. Regarding size, I usually order a L, but the panels on the side stretched to make it a little too revealing (black). I swapped for an XL and the fit is perfect, but in no way loose, which I would experience when I sized up. Recommend sizing up in this short.
Perfection
Familiarity:

I've put it through the wringer
Used regularly (nearly every ride) with no issues or complaints. Has held up well after 1 year of washing (2 - 3 times a week) on delicate cycle and flat air dry. Trained, raced, gran fondo, and several centuries in these shorts. I'll be buying a few pair to ensure I have a pair for each day of Ride the Rockies 2014. Expect when Mother Nature forces me to wear a winter bib (fleece) this is it! Good from 50 to 100 plus degrees.