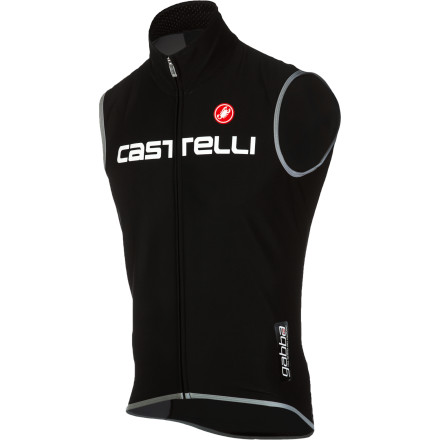 Detail Images
Another product resulting from the company's partnership with the Cervelo TestTeam and Garmin-Cervelo, the Castelli Fawesome Vest offers a high-performance blend of wind and water protection in a lightweight, aerodynamic package.
Professional cyclists can be fickle creatures. For example, Castelli's professional riders wanted a vest that was snug, aerodynamic, and breathable; but they refused to compromise on the total wind and water protection offered in Castelli's other winter products. Not wanting to disappoint some of the world's best cyclists, Castelli immediately set to work. First, they obsessed over the Fawesome's fit, ultimately creating a vest that's nearly as aerodynamic as Castelli's Aero Race Jersey -- a form-fitting masterpiece that re-defined how we all think about race-fit jerseys.
To address the request that the vest breathe while being able to withstand wind and rain, Castelli chose Gore's Windstopper X-Lite Plus (the same revolutionary fabric used for the Gabba rain jersey) for the Fawesome. A soft 4-way stretch blend of polyester and elastane, Windstopper X-Lite Plus fabric is extremely lightweight and offers a stretchy, breathable shell that's also wind and waterproof, making the vest a perfect option for rides in cold and wet weather. It's no surprise that the Fawesome was a popular choice among Garmin-Cervelo riders during the 2011 Spring Classics.
Other details include Velocity fabric on the back of the vest for breathability and temperature regulation and a lower back splashguard to protect you from spine-chilling wheel spray. Camlock YKK Vislon zippers are light, smooth, and stay flat when the zipper head is down, while silicone grippers on the waistband prevent the vest from riding up when you're on the bike. Rear reflective tabs and trim along the lower hem complete the package, offering improved visibility on grey, winter rides.
The Castelli Fawesome Vest is available in Black/silver or White/silver and comes in five sizes from Small through XX-Large. Like most Castelli clothing, the Fawesome is designed to be form-fitting as the technical fabrics used to construct the garment work best when in close contact with your body. Be sure to check the sizing chart to ensure proper fit.
Full-length zipper makes donning and removing a breeze, even at high speed
Lower panel on the back protects you from wheel spray
Silicone gripper keeps the vest in place when you're hammering
Reflective hits increase your visibility to motorists in low-light conditions
This vest is rockin'
Familiarity:

I've used it several times
I think a good vest is the most important piece of clothing to have in the closet, and this particular vest is hard to beat. I am 6'0", 165lbs and a large fits well. I only wish it was easier to get into my pockets.
Great piece of kit
Familiarity:

I've put it through the wringer
Solid fit. very windproof. excellent water repelling properties. Worn over Transparente jersey on multiple cool rides. Great venting, easy to manipulate the zipper too.
totally FAWESOME!!!!
Gender:

Male

Familiarity:

I've used it several times

Fit:

True to size
Two weeks in a row, two 60 mile plus rides that have seen 40-50 degree weather with wind and rain and the Castelli Fawesome Vest has lived up to it's name! First - great wind blocking capabilities. I did a descent from 9000' elevation at 40* and it worked great! As I came down from the mountain, hit rain and remained dry! Second ride, 10 miles from home went through a good drizzle that kept my core dry once again. This vest also breathes well to allow moisture to escape so you don't become wet/cold from hammering away as well. Definitely worth the $80 - one of the best pieces of cycling clothing I've purchased!

My only dislike but I've learned to get around this, is accessing the back pockets. I lift the vest up over the pockets and have easier access, then pull it back down.

In regards to size - true to Castelli sizing and sizing up. I'm 6'1, 190 lbs and an XL is perfect.
Kinda snug on me, but I don't care...
Gender:

Male

Familiarity:

I've used it several times
I'm 5'8", 165, 33 inch waist, and the large is "snug". It is stretchy, but with something under it, it is pretty close. This could be a plus though! Just a FYI.

Beautiful craftsmanship and fabrics. Love the vest, and after a couple of rides I am sold. This is a keeper. Warm in front, cool in back, just crazy well thought out. Only downside is that it does ride up some in the back (it's stretchy...) - there is no silicone to hold it in place on the bottom.

Overall, this is quite an impressive vest!
Really nice vest
Familiarity:

I've put it through the wringer
I found last season that a good wind proof vest works outstanding in low 60s over a short sleeve jersey, over a long sleeve jersey in the 50s and over a thermal jersey, like the Gabba in the 40s. This is a great vest. The only negative is that it doesn't have any rear pockets.
Warm and dry, dumb design
Gender:

Male

Familiarity:

I've put it through the wringer
Just got this for a fall fundraiser ride. Boy, am I glad I did. Started at about 45F with shorts and jersey, plus this vest, and Nano arm and knee warmers. Very comfy. It warmed up over the course of the ride to mid 60s. As it warmed up, I was able to shed first knee warmers, then arm warmers. Made it so that I was comfortable the entire ride, not the more usual under-dressed to start, over-dressed by the finish.



I'm 6', 185lbs. I got the XL, and it fits great. It's snug, like all Castelli, so very little flapping.



The back side of the arm holes make like wind-scoops when I ride the drops. Disconcerting, and it makes the back between my shoulder blades flutter.



The lack of pockets, or access to jersey pockets, is silly. Makes getting nutrition out of a pocket while riding a contortionist exercise. Dumb design.



Thumbs-up for the snug fit, warmth and dryness. Thumbs-down for flappy arm holes and no pockets nor access to pockets underneath.



---UPDATE---

I've "fixed" the airscoop arm holes with a couple of safety pins. Thinking of taking it to a tailor to get it really fixed. Not what I'd expect on a Castelli garment.
The Fawesome is Awesome
Familiarity:

I've used it several times
The first few rides I liked the styling but really did not get what all the fuss was about. April in Colorado can lead to some interesting weather. On Sunday it was 50 when starting the ride. I had on a long sleeve jersey, knickers, gloves, and this vest. One hour in the wind picked up to 25-30 mph and the clouds blew in and the temp dropped 15 degrees. Then the rain slash sleet hit and quickly turned to snow. I was amazed at how this relatively thin vest cut the wind. This in now my go to for mixed weather conditions. If they would only put a pocket on the back I would use this vest 100% of the time.


Love it
Familiarity:

I've put it through the wringer

Fit:

True to size
Terrific cold/wet weather jacket. Add some arm warmers or a base layer and you have flexible layers to keep you warm in any condition.

Vest is snug but form fitting which you want. I am 6'3", 190 lbs and the XL fits well.

Only negative is that it has no back pocket and no back zipper to access back pockets of your jersey so you will have to fully unzip and take it off to access anything in there.

Overall a great jacket and the bright coloring and reflective edging helps ensure others can see you, especially on flat light days.
Fawsome!!!!!!!!!!!!!!!!!!!!!
Yes just like the name says this vest really works, with cold and wet weather, really love it.
Unanswered Question
what is lining fbaric? it's thermal fabric...
what is lining fbaric?

it's thermal fabric something or same fabric surface?
AMAZING
Familiarity:

I've put it through the wringer
This vest works amazingly. It turns any long sleeve jersey that would ordinarily only go down to about 55 degrees into a cold weather jacket. Get this now. It is amazing.
Freakin' Awesome
Gender:

Male

Familiarity:

I've used it several times
This clearly has to be where the name comes from.



One word of caution, it is snug. Most Castelli gear is very form fitting, and this is no exception. It is meant to not affect aero drag, and it doesn't.



It is light, blocks the wind in the front, and dumps the heat out the back, great when full winter gear isn't needed, but I have also throw it over my cold weather jerseys for another layer of warmth.
Great vest for 55-65 degrees with a long sleeve jersey or base layer. can roll up and fit within a jersey pocket, but it won't roll up very small since it's a bit thicker material than a lightweight wind vest. definitely wind proof.

i'm 6' and 170lbs and the L fits me perfectly.
I have been using the Fawesome the past few weeks in temps ranging from 4 to 14 Celsius (40-57 F). I have used it in the cold wind and also in a warm-ish rain and all in between. It is quite versatile, I like it for warmer rainy days because it will keep my core mostly dry and warm but I won't overheat like I would in a rain jacket, even something breathable from eVent fabric. I can vary my base layer and jersey selection for the temp and use the Fawesome as the outer membrane.

I also have the Isterico, and it is a good product but much more thermal and a little less water resistant. If I could only choose one I would choose the Fawesome.

The fit is snug, I am 6' and 170 lbs with a 38" chest and the Large gives me a perfectly snug race fit. The only blemish is, as another reviewer points out, the arm holes are cut just a little too large and I have a bit of material flapping on the upper back part of my shoulders. I still gave it 5 stars though, just because it is so incredibly versatile.
I got this for Ironman Arizona. It kept me warm all day. It breathes more than the thin windvests I've had in the past so I stayed warm and dry. The collar is high enough to keep drafts out. Size was perfect. I'm 5' 10'' and 165 and large fits well.
I've used this vest 4 times now and I gotta say that very happy with my purhase. I wear a medium in castelli jerseys for the most part and the medium in this fits great and seems to stretch well. I'm 6ft and 155lbs. Started wearing on early morning rides in the low 50s but once it got into the mid 60s I had to unzip it. Anything above 68 and I'm taking it off completely because of the fleece collar just warms my neck too much. I'm actually looking forward to it getting colder so I can wear it longer. Only issue I have is I wish it had a back zipper to access my back jersey pockets or a small zipper pocket for keys/phone. Overall great though
Great fitting vest. Castelli sizing spot on

Perfect aero fit (I am 184cm, 100cm chest, 32' waist, 80kg) "L" size is perfect aero fit. no flapping.

Will be a nice winter vest (for here in OZ)

Zipper other way around though (zips up with right hand)...??
First ride today with the new Fawesome vest. Fifty degrees with a brisk wind. Nice weight with good windstopping qualities. Pro fit...except arm holes are large and allow cold air in. Odd for a vest touted as an aero garment. Otherwise a good product for fall riding.