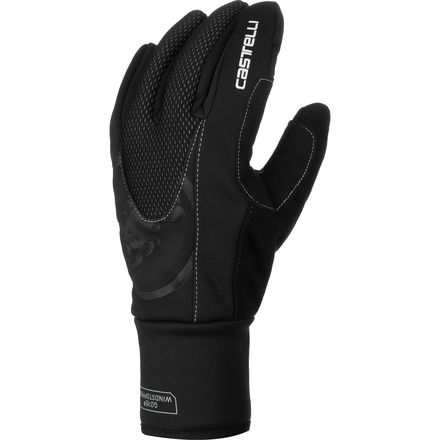 Detail Images
Description
Cold isn't an excuse.
With the right gear, you don't have to limit your riding to a dank basement or crowded spin class at the gym. Gloves like Castelli's Estremo offer the coverage and weather protection for pedaling through those dark winter months.
Not only do these gloves sport wind- and water-resistant WindStopper X-Fast fabric on the back of the hand, they're equipped with a fleece liner. The liner keeps your paws warm, but it also contributes to comfort by wicking perspiration and transferring it to the outer WindStopper Layer. This combination of warmth retention and weather defense lets the Estremo confidently lead a full-frontal winter assault.
But warmth, weather protection, and perspiration management aren't the only things we expect from a sub-freezing cycling glove. The connection to your hoods is just as important, and the Estremo delivers with a gripy and durable fabric for the palm and fingers. This offers excellent feedback for control, accurate shifts, and confident braking. The palm is also treated to a vibration dampening palm for reduced fatigue on those longer rides.
A microsuede thumb panel offers a soft wiping surface, and the wide neoprene cuff ensures The Estremo locks out all cold air. The Castelli Estremo Gloves come in Black and sizes Small through XX-Large.
Good cold weather glove
Familiarity:

I've used it once or twice and have initial impressions

Fit:

True to size
I live in Minnesota so we understand cold. These gloves are really pretty good. The main problem with gloves and fingers is that they are stuck out in essentially a relentless high wind situation. Any little pin hole (literally, a pin hole) in a glove will eventually cause cold fingers. The other enemy of warm hands is an inability to wick moisture out of the glove.

These gloves are made from some sort of soft shell like material that provides great dexterity for shifting but seems to be almost seam sealed compared to other gloves (even Castello's great 3.1 gloves from last year). I rode with this in sub 30F temps a week ago and they were toasty warm, almost hot. I'd say that these gloves could easily go down to low 20's and maybe even colder.
Road or Mountain, GREAT winter glove!
Familiarity:

I've put it through the wringer
My main concern about winter riding is my hands and feet. I literally have over 10 pairs of gloves and multiple bootie/sock/shoe combinations to combat the frozen finger and/or toe experience that ruins a winter ride. I try to have an overlap and choose my gear based on anticipated weather. Of course, this requires a lot of "guesstimation" and only succeeds about 50% of the time.
Prefaced with that, the Estremos are the the best winter glove I have come across. For me, they are solid from 25-40 degrees (close to what Castelli would tell you). The good news is this eliminates at least two other pairs in my closet. They are both have the dexterity and durability to ride them on the mountain (although I would expect that this shortens their lifespan significantly).
The only concession to their warmth is that is comes at the expense of some breathability you would like in a cycling glove. This is to be expected but once you overheat these gloves, it becomes hot and wet!
Again, best, wide range winter gloves I have worn...and I have worn many!
The Quest is finally over!
I have spent time and dollars trying to find The Glove for cold weather riding. Well, my quest is over. These glove are amazing.
You do give up a little dexterity or adroitness, for those smarty pants out there, but it is well worth it. I have no problems with breaking, gripping, or gear changing. This morning the temperature in the canyon where I ride was 39 F and with my other wide selection of cold weather gloves I would have been miserable after 20 minutes. With the Castelli's, 90 minutes later and I was wondering when the cold was going to penetrate. It never did.
I normally wear a large glove but I purchased the XL glove due to the extra insulation and they fit perfectly.
That's it. Hope this helps.
Cheers.
Great winter gloves.
Familiarity:

I've put it through the wringer
This winter has been harsh in NE, I used these gloves all the way down to 10F (with wind chill felt like 0F), & I was conformable, yes it might be little colder in them after 45 min or so...Optimal temp for these is in my opinion from 15-35F, anything warmer than that you'll be sweating too much.
Would these gloves be able to do double duty as xc-ski gloves?


I think so! Of course, it always depends on the conditions...I have worm them for colder mountain rides. Depending on the weather and whether you run hot or cold, maybe take a warmer and/or lighter pair with you in your pack. On a blustery night ride, I found the Estremos to be perfect for the entire ride but on a less cold evening, I overheated on the way up but was perfect on the way down.



Solid dexterity, breathe relatively well and pretty durable Give 'em a go!


Fantastic Cold Weather Gloves
Gender:

Male

Familiarity:

I've put it through the wringer
These gloves are fantastic. They stay dry in wet weather and are a good balance between bulk and warmth. They're bulkier than my neoprene gloves I wear in the 40s, but you have to expect that at temps below freezing. I can ride in temps below thirty with wind for about 1.5 hours before my hands start to feel cold, and I can last another hour before they get uncomfortable. I don't feel I can really expect more than that. The strong Velcro wrist closures are great to go over the cuffs of your jacket to prevent airflow. Couldn't be happier.
Good, but not Extreme. Bulky.
Gender:

Male

Familiarity:

I've used it several times
Disclaimer: I've NEVER found a pair of winter gloves that keep my hands warm. I get cold easily, especially my fingers and toes. After using these a number of times, my search for a dead-of-winter glove continues.

Pros: very well-constructed, good wind and water protection, secure velcro closure at the wrist, long cuff, good grip.

Cons: very bulky (but, strangely, still a good fit), not warm enough for me. On a 35-degree day, my fingertips were numb within the first hour.
My go-to winter glove
Familiarity:

I've put it through the wringer
Well made glove that is great for rides from mid 20's to 40F. I have used these gloves for 2 winters now and find that they really do work even in snow. Despite being a little bulky, they are very comfortable, allow you to shift with ease and keep your hands warm. The strong velcro cuff keeps the glove snug and protects your wrists. Low 20's is probably pushing the glove and I felt the cold. Above the low 40's F your hands begin to sweat and a lighter glove would be a better choice.
Chunky & Strong
Familiarity:

I've used it several times
These certainly tow the line. So far I have gone to 20F and they are still more than adequate. My only complaint is that they are a bit bulky, once they are on... you can't do much with your hands other than ride and shift. I don't mind the extra velcro around the cuff, it is critical on windy days. I have yet to get rained on with these gloves, I'll update the post next rain-shower. If you want Castelli's coldest glove, Estremo is a solid buy.
AMAZING
Familiarity:

I've put it through the wringer
So happy with these gloves. Probably order slightly larger than you normally would. Cuts wind excellent, keeps my hands dry and warm. Best winter gloves i have ever owned. For the folks that say they are not good below freezing, well, probably true, but I don't ride outside beyond a commute to work when the temps drop below freezing so i don't care. they are great in the mid 30's through 50 degrees.
Solid
Familiarity:

I've used it several times

Fit:

Runs small
The fit was a little tight, but they are warm and keep your hands dry.
Decent, but not "extreme"
Familiarity:

I've used it several times

Fit:

True to size
I bought these hoping for a big upgrade over my semi-windproof medium weight $15 Nashbar winter gloves, and for something warmer than my mid weight Garneau and Defeet gloves.These are -- obviously -- way better. That said, they are pretty ineffective below 30 degrees. On a bunch of recent rides in the 20s with winds anywhere from 5-15 mph, my fingers felt pretty cold most of the distance. Above 30, they're great -- and above 40, they'd be way too much. That narrow a band of temperature suitability may restrict how much use I'll get out of them. I used the Castelli size chart, which indicated size L, & the gloves fit snugly (but not too tightly -- and given the padding, I wouldn't want to size up). The long cuff is a nice touch for those of us with long arms (though yes, the Velcro is indeed "aggressive"). A small note, but maybe significant: the nose wipe fabric is very smooth, and ends up feeling way too harsh. Or maybe I just have a delicate schnozz. At $90, I was hoping for more.
Was hoping to find the glove to end all gloves. These aren't it. Let me explain. Took them out in minus 7 degree weather and the gloves didn't cut it. Everything else worked fine. The Castelli WS balaclava and Diluvio 16 shoe covers worked, but these didn't quite cut it. Oh well, the quest continues.
Upper 30's and up
Familiarity:

I've used it several times
Let me start by saying I generally have more problems than many others with cold fingers, so these may work better for others at low temperatures. I use these as my in between gloves - between lightly insulated gloves for upper 40's and up, and Lobster glove temperatures which start at mid 30's. The size chart is wrong for sure, I ordered my first set by the chart which put me in the middle of a medium, had to return for a large size which fits snug. The fingers are small in diameter so I can't see being able to use liners effectively in these to make them more effective at lower temperatures. They are a bit bulky however don't bunch on the bars or restrict movement for shifting etc. My second set (the large size that fit right) had to be returned for a replacement as the velcro that is part of the base of the glove came unstitched after a few rides. The replacements are doing fine. They can be a bit cumbersome getting them loose due to the aggressive velcro. Overall they fit an unfulfilled need for me however I was disappointed they would work for me at lower temperatures.
down to the 20s
Gender:

Female

Familiarity:

I've put it through the wringer
This is a great pair of gloves that have worked extremely well for daily commuting in the Northeast when it gets really cold. I've been using them when it gets into the 20s and my hands have stayed warm for at least 30 minutes. I wish Castelli had not used velcro on the cuffs - it's stiff and awkward, but that's my only complaint. The grip on these (as well as the other Castelli gloves) are great. They out-perform the Assos Fugu gloves by a long shot. One note, I normally wear a small in the Castelli gloves, but had to size up to a medium in these - they have a lot of padding that makes the fit run small.
get 'em!
Familiarity:

I've used it several times
the last couple of years when the temp dips into the 30's or below, i've been using lobster gloves combined with wool gloves. this combination is warm and allows me extra space to put a chemical packet in if needed (necessary with this combination when it's sub-freezing), but dexterity was awful and the lobsters would occasionally slip on the bars/hoods. so i thought i'd try these out, based on all the great reviews. so far, i'm quite pleased! i've ridden with them for a couple hours in temps down to 21F with wind chill taking it down into the low teens; and that's before you factor in the wind chill i was creating myself by moving at about an 18 mph average. in this, they were fine and i basically didn't even think about my hands. and this is with just this one pair of gloves; no other glove liners, covers, or chemical packets! on the flipside, i've ridden with them in ~37F temps and my hands got cold from sweating too much! so they certainly do have a top end to their functional range as well.



grip with them is excellent. i hope it lasts. i've had to remove them a couple of times during rides and haven't had any issues with them wanting to turn themselves inside out or getting my hands back in, etc. dexterity is MUCH better than lobsters (obviously) and drastically improves the bike "feel" (on the bars). you can do small things like zip/unzip jackets as needed, but i'm not sure you could do bike maintenance or change a flat with them on. but that's true with any glove that will get you down below the freezing mark. i've not yet ridden with them in precipitation but honestly for the range these are intended (freezing or below) i usually stay in during snow/ice storms or at least wait until it passes. ice road riding is no fun. construction-wise, i give these top marks. they seem very well made with quality stitching and fabrics all over and the high cuff velcro closure is excellent. i anticipate they will wear quite well and last a while.
Great gloves, kept me warm cycling @ 20F
Familiarity:

I've used it several times
This is my first pair of Castelli cycling gloves (I'm just beginning to get into Castelli gear now). Took them out twice for rides that started in the low 20F (11F with windchill) and ended in the high 20s, maybe hitting 30F. Started out a bit cold, but once I got warmed up, the gloves kept me nice and warm for 30-40 mile rides. Would think they could go below 20 and still keep my hands warm.



My hands measure 7"from base of palm to top of middle finger. That makes me either a small or a medium per Castelli sizing. BC only had the medium so that's what I got. It fit well, a little bit long in the fingers, but not excessively so. It was still easy to change gears, brake, etc. I have tried on the Lightness glove and the small fits great, but the small Chiro Due might be a bit too tight. If they had a small Estremo, I would try those.



The gloves are fairly thick relative to other cycling gloves I have (Gore Xenon), but you feel that as extra warmth when you start out. The palm of the glove feels a little 'fleshy', like there was too much material there, but it didn't interfere with handling the bike at all.



Great glove, bought a second pair as soon as BC had another one in. Highly recommended!
size up and never look back
A quality technical glove with attention to detail. The cuff takes a little effort to get on and off. However, the weathertight seal is worth the effort. It took about a week of daily wear for the lining to conform to my fingers without piling up at the tips. Sub 20F is a bit cold for these gloves. Performed perfect in 20F-35F. Definitly size up.
Quality seemed good, however the sizing appears to be a bit misleading. The 2XXL is an XL in my book. I had to send them back. RealCyclist makes a return so easy I still recommend you try them.