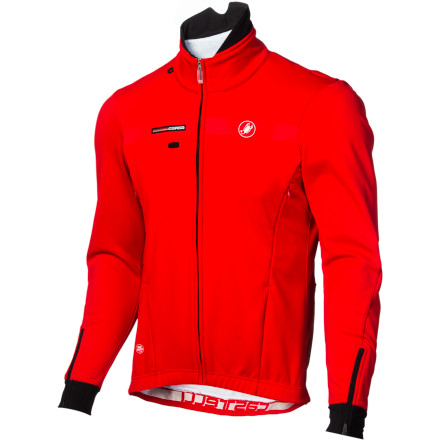 Detail Images

Community Images
If you're looking for luxury and performance in a winter jacket, then the Castelli Espresso Due Jacket is the perfect choice. In designing the Espresso Due, Castelli paid attention to even the smallest details to create the ideal blend of performance, fit, and style.
It all starts with the Windstopper X-Fast fabric used extensively throughout the jacket. Made using high-tech circular interlocking polyester, Windstopper X-Fast provides total wind protection while allowing for excellent breathability. In short, it blocks the wind while letting your sweat evaporate, keeping you dry and warm. A soft, lofty microfleece lining is essential for the insulation it provides, and it adds serious comfort. The Windstopper's natural stretch characteristics and 50 Denier outer coverage make the Espresso Due abrasion resistant and durable.
The Espresso Due's breathability is further enhanced by the addition of two vertical zippers down the front of the jacket. Ever hit the summit of a long climb in cold weather only to freeze going down the other side?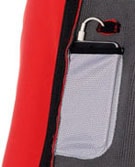 The Espresso's chest vents address this problem: simply unzip them while climbing to allow heat and moisture to escape, then close them while descending to once again block the wind and insulate your torso. As an added bonus, Castelli includes two more zippers extending up along the Espresso Due's wrists, offering yet another ventilation opportunity and allowing you to close the jacket around the cuffs of your gloves to create a tight, heat-protecting seal. Last but not least, a flip-up Thermoflex collar is soft and fleecy on the inside (for warmth and stretch), but treated with silicon on the outside to give the collar slight water repellency. And Thermoflex's natural elasticity enables the collar to form a snug seal around your neck to lock-in warmth while keeping out the elements.
Castelli also spent a lot of time dialing-in the Espresso Due's fit. The Windstopper X-Fast fabric provides 4-way stretch for easy movement, while Castelli's shoulder articulation system means the back of the jacket is separated from the arms around the back of the shoulder to eliminate pull. Here, a stretchy mesh insert provides the freedom you need. Lastly, the back hem of the Espresso Due is cut low, and an elastic band on the back will keep the jacket from riding up while you're bent over the bike.
The Espresso Due comes with three rear pockets for your riding essentials, plus it includes an internal MP3 player/phone pocket and a cable port for your headphones. Castelli's YKK camlock zipper stays flat when the zipper head is down, and rear reflective tabs improve visibility on gloomy, winter training rides.
Designed to keep you warm and comfortable down to 32 degrees Fahrenheit, the Castelli Espresso Due Jacket is available in three colors -- Black, Red, and White. It comes in six sizes from Small through XXX-Large. Like most Castelli clothing, the Espresso Due is designed to be form-fitting as the technical fabrics used to construct the jacket work best when in close contact with your body. Be sure to check the sizing chart to ensure proper fit.
Share your thoughts
What do you think of the
Castelli
Espresso Due Jacket
? Share a...
what I wear on the coldest days
Familiarity:

I've put it through the wringer
I refer to this jacket as a furnace, because that is what it is when you wear it. You really want to not use this above 40 degrees F or you will be uncomfortable. But, for those super cold days, you will appear to be impervious to the cold wearing this.
Espresso Jacket
Familiarity:

I've put it through the wringer
Love this for cold weather riding. Zip vents are great for when you start to warm up. Unfortunately bought white so gets dirty almost every time used. Dirt has come out with a little stain remover and elbow grease before wash, but it is a pain, but keeps jacket looking fresh!
As good as advertised
Familiarity:

I've put it through the wringer

Fit:

Runs small
I'm always skeptical when people rave about a product, but this jacket really lives up to the hype. It is incredibly warm for its weight. I regularly rode this past winter in the 30s with a Craft baselayer on beneath this jacket and was still toasty after several hours of riding. 40 degrees or above and I need to open the vents and partially unzip the front.

It does run small, so keep that in mind. I'm 5'7", 185, muscular. I have wide shoulders and big arms, and usually wear a large. I bought this jacket in an XL. The chest, arms, and shoulders are on the tight side for me, but I wouldn't want to go a size larger than that because the sleeves would be too long. That's more a result of my personal proportions though.

Chest vent is a little awkward to unzip while riding. You need to sit up straight and flatten the jacket out, but that's really my only complaint. My biggest regret is not buying it sooner.
Read the other reviews. This jacket hits the mark. Warm and dry!
If you have one, buy another!
Familiarity:

I've put it through the wringer
I bought my first Due 5 years ago on sale and it got stolen after 3 years of excellent use. It was warm. It breathed like it was alive. I could layer or just go jersey, depending. When it got ripped, I kept waiting and waiting but it never went back on sale. Finally, I just bought it retail this year. The material is even better! Now its at $149! I am a XXL in Castelli at 5'11", 190lb, and of course those aren't around. If they were, I'd buy another. If you don't buy this jacket in any color at this price right now before they are gone, you need serious counseling and possibly medication.
BUT ONE NOW. AMAZING PRICE!
Familiarity:

I've put it through the wringer
I got mine for $249 2 mod ago, marked down from $299 and now they are 149!! Wish I needed another.
This is hands down the best jacket you can get. Stock up before they change the design or discontinue it!
1st bought the white; Now I got the red
Gender:

Male

Familiarity:

I've put it through the wringer

Fit:

True to size
I posted my review of my original purchase (white/anthracite) in Dec. 11, 2013. I loved this jacket so much that 47 days later, I bought my 2nd one in red. Of course, suffice it to say, my review hasn't changed.

I am posting this time to include pics on something a few reviewers had mentioned - that is, it is a little hard at times to zip/unzip the chest vents especially when wearing gloves and the bike moving. I bought some stainless steel cotter pins and 2 different sizes of stainless steel Nite Ize S-Biner dual-gated carabiners to give me a big/large, yet light and unobtrusive hook/pull so that I can zip/unzip with winter gloves even on the fly. These parts are available at your local Home Depot. I used the cotter pins to slide into the original zipper head and use needle nose pliers to fashion a small loop out of it. Then just clip the S-Biners onto it. I liked it so much, I fashioned one for the main zip comprised of a small (#0.5-3lb)and larger (#1-5lb.) S-Biner. They are very smart-looking and being stainless steel, will not rust, though I unclip them when I wash them just so they don't "clank" inside the washing machine.
Great jacket. Made in China.
Application: Castellli rates this for use in 23*-53* weather.

Pros: Great design. Very warm. Yet extremely versatile because of the vents. Very thick Gore "Windstopper X-Fast 2" material works great and won't flap in the wind. You won't need a heavier winter jacket!

There is a lot of attention to detail here. There are two vents in the front chest (with zippers), as well as shoulder vents. There are even vents at the bottom of the rear pockets. With the (great) Castelli Dolomite merino wool LS layer underneath and a jersey, this jacket will -easily- keep you warm down to the low-mid 30s (even with wind).

Yet be useable into the 50s using the vents and a lighter baselayer system. Neat.

Cons: Only one. Made in China (Macau) despite the Italia logo placed conspicuously on center upper back. That's ironic. Come'n Castelli! Can't your gear be made -somewhere- in the EU (like Sidi, Campagnolo, and Assos) if not in Italy like Santini and De Marchi? You are a historic Italian cycle clothing manufacturer, remember? Less one star for outsourcing.

Fit: Size up one or two sizes depending on your BMI -per usual for Castelli. Slim/fit riders: size-up +1 (not +2). I'm 5'10 and 185 lbs. The XL fits with just enough room in the shoulders and with plenty of length in the arms and is just right lengthwise (torso).
Way too small for me.
Familiarity:

I returned this product before using it

Fit:

Runs small
The craftsmanship seems pretty good, but I never really got the chance to try it out. I'm 6"2'', 185 lbs. Certainly not model physique, but generally fit for a working 40's year old who rides a fair amount. Even the XXL in this European model didn't fit. In general, I love Castelli, and have had a good experience with other apparel, but this just didn't (didn't even come close) fit.

PS This is the second Castelli winter jacket I've had to send back. Thank goodness for back county.com's generous return policy.

By Move Press. The Expresso Due is the clear winner in terms of water resistance.
Finally a jacket that fits and works!
Familiarity:

I've used it several times
This jacket is worth every penny. I've tried the Gore Xenon 2.0 SO, and Pearl Izumi Elite and Pro. All of these jackets were too loose in the torso, and generally too tight in shoulder or short in the sleeve in the tighter fitting sizes. I am 157lb, 6' tall with broad shoulders and size large fits perfectly. This jacket functions extremely well - breathes on the climbs and blocks the wind on the descents. It's designed and built like you would expect for a $300 jacket with great attention to detail - good zippers, vents, nice collar, three pockets in the back. Its warm enough to be used on the coldest days (two hour, 17 degree mt bike ride in the snow is the coldest for me so far)...your other gear will give out first (gloves/shoes). It breathes well enough that I will use it into the 40's/50's.
BEST. JACKET. EVER.
Gender:

Male

Familiarity:

I've used it several times
yes, It's spendy... but if you are a serious rider (by serious 100+miles/week) then this is your jacket. I usually ride with my crew at 5am in the foothills of Pasadena CA and it gets down to near freezing. We do 20-30 miles at 20mph average pace. Lately it's been around 40F. I've ridden 3 rides now with only a Craft One long sleeve base and I was toasty warm, even going downhill before warming up. The windchill is GONE! The jacket replaced a second jersey plus arm warmers and a $80 Pearl Izumi wind vest. I wish I could get another one in a different color (white anthracite!) so I could at least change up my look! BUY THIS JACKET! Convince your wife it's an investment! Oh, and get one size larger than you normally would. Castelli runs a little small
Best Winter Jacket I have purchased !
5-STARS ALL THE WAY! The best winter jacket I have purchased (I have Capo Dorato, Giordana Alta Gamma, Hincapie Windtex , Etxeondo Empro, Assos, Campagnolo Raytech Textran). Many superlatives used in previous reviews to describe this jacket, so just DITTO to all the reviews!

There are some things worth repeating - I am amazed at how well it dumps out excess heat and moisture. I am sure Windstopper-X does a great job of it, but I think the strategic venting has a lot to do with it. Today, I rode in 57 degrees with my UnderArmour ColdGear long sleeve base layer. Got a bit warm in the climbs and hard efforts, but unzipping the chest vents took care of it. Didn't even have to unzip the main zipper.

The rear shoulder vents and back pocket vents excel at constantly exhausting excess heat and moisture off the back. At first, I was worried these rear vents would create a problem with cold air infiltration on really cold days, but a few days ago, my ride started at 26 degrees with 14mph north winds. It was not even an issue even when the wind was directly on my back. When I am pushing hard efforts, I could literally feel the excess heat and moisture flowing up near my shoulder area. I am really sold on these vents.

I am 5' 4'', 29.5" waist, 145lbs winter weight, 130lbs summer/racing weight. I have a skinny upper body, not much muscle bulk, kinda typical distance rider or runners build. The Medium fits me like a glove. It is a race cut, athletic fit. So it fits very snug in the shoulder area, but the Windstopper-X has a bit of stretch, so more muscular riders should still be good (unless you have body builder guns or fat flabby arms).

Lastly, this is one HANDSOME jacket. Very understated, no big logos, but elegant (I bought the white/anthracite). I may not be an Italian Pro, but it feels very nice to be riding around in Pro-level gear. Don't let the high price of admission deter you, this jacket is worth every penny.

Comfortable in the low 60s for me
Familiarity:

I've used it once or twice and have initial impressions
I was a little worried that this jacket would be too warm for Southern California Winters (50s - 60s most of the time), but I have the say: This is awesome for me! I have to add, that I'm very skinny and get cold very easily, I usually ride in long sleve jerseys if it is in the 70s, since I'm rather too warm than too cold.

I took this jacket out for a test ride today on a sunny December day with temperature in the high 50s, low 60s (very windy) and was comfortable the entire time. I did have all 4 vents open the entire ride, which shows me, that I can wear this at lower temperatures. I was wearing just a short sleeve base layer, so if I want it warmer, I would go for a long sleeve base layer.

The vents are great, it has two vents at the arms and two vents in the front. It also has two permanent vents at the back of the shoulders, which can't be closed, they ventilate the back which is great. I was a little sweaty at the end of the ride, but not nearly as much as usual when wearing a wind breaker. I used to have a cheap wind breaker which resulted in me being soaked at the end of the ride, not much fun.

Bottom line: This jacket is awesome and worth every penny! It works for me for temperatures in the 40s (I'm assuming) to 60s which is what I'll be using it for. Now I can ride year round, which is great!

One negative is, that it bulges up on the front a bit. I'm usually a medium, but wear large for all my Castelli jerseys/jackets. It is tight enough otherwise, so I don't want to go a size smaller.
Great Jacket For Cold Weather
Familiarity:

I've used it once or twice and have initial impressions
I was looking to put together a kit that would keep me comfortable on those days that drop into the 30's and stay there. I chose the Espresso Due Jacket because of the very good performance I have gotten from Castelli products that use the Wind Stopper material. I have only used the Jacket twice and both times the average temperature was below freezing. Both rides were in the 3 hour range and I felt comfortable the whole time on both rides. The back of the jacket is constructed in a way that leaves a portion of the shoulder seams open. Also, the rear Pockets have mesh vents in them. I assume this is done for ventilation when the jacket is worn in warmer weather than I was riding in. The vents didn't make me cold, but I also wasn't sweating. There are also zippered vents in the front of the jacket. With the right base layer, I am sure this coat would keep you warm into the mid 20's. I paired this Jacket with the Polare Tights and have been very happy so far.
Fantastic winter jacket
Familiarity:

I've used it several times
I've bought a handful of high-end winter jackets over the years. They've sufficed, but this jacket truly excels. Why?:
. Superior fit; on me it's not too tight, not too billowy
. So warm, especially with a base layer/membrane, yet the underarm zippers allow you to selectively emit exhaust, so it's also dryer inside, and no overheating on long ascents
. Very wind resistant, the best I've ever had, while still somehow being breathable
. Zippers to your wrist on both arms are also effective for correcting a typical freezing problem spot
. Pockets are well cut -- nothing gets forced out
. When fully zippered up to your neck, you almost don't need a balaclava in, say, ~32 degree weather
. Looks rather good
. I've used the iPod cable hole once or twice -- seems to do what it's supposed to
. Washes up well enough on the delicate cycle, but make sure you don't wash it alone as when it's saturated with water, it will create a very unbalanced load; also takes quite a bit to drip dry

. I think the only additional thing I'd like on the garment is more/bigger reflectors
. Well, and maybe something that somehow better covers your man parts

Note: I haven't ridden wearing the jacket in the rain/snow/sleet, so I can't comment on that.
Great Jacket
Familiarity:

I've used it several times

Fit:

Runs small
Great Jacket. I've ridden in 29 degree weather with this jacket with only a light base layer. I've always been warm. I normally wear a large but in Castelli I always need an XL. Only complaint I have is that I wish Castelli made the sleeves a bit longer in all their long sleeve products