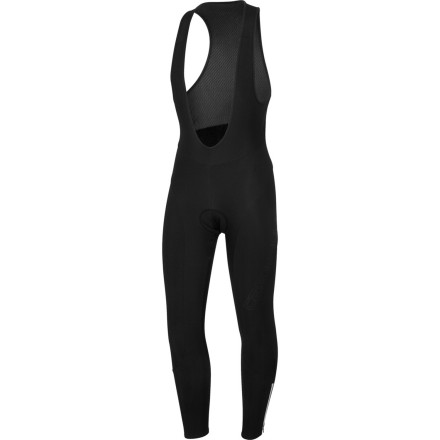 Detail Images
Simplicity is not just understated in its definition, but it's grossly understated in cycling culture. Every now and again a garment comes along that just nails it, and right now that garment is the Castelli Ergo Bib Tights. The Ergo doesn't have crazy color schemes or graphics, it's not a moving Castelli billboard, and it didn't come off of the runway at Milan Fashion Week this year. But the Ergo Bib Tights aren't what they're not, they are only what they are. The Ergos are warm, breathable, wicking, and ergonomically designed to provide comfort on long winter days in the saddle. Who would have guessed that the Ergo Bib Tights come from the same country that produced Cipollini?
The Castelli Ergo Bib Tights place an emphasis on ergonomics. Featuring a design that's principle purpose is a comfortable, barely-there fit; the Ergo is made from Castelli's popular Thermoflex fabric. Thermoflex gives you the benefit of having a lightweight, stretchy bib tight that warms like a light jacket on your legs and fits like you're off to the races. Thermoflex also features a fleecy inner-lining that traps a layer of warm air on your skin while it wicks away moisture to the quick-drying Ergo surface. This process provides a consistent warmth and dryness that you'll appreciate when it's in the 40s. The Ergo adds extra comfort by incorporating breathable mesh bib straps and the Kiss 3 pad. The Kiss chamois uses a seamless construction of brushed microfiber to avoid any chafing, and the pad is anatomically shaped to follow your movements. The Kiss 3 also features a variable density design with more padding where you need it and less where you don't. Other nice features of the Ergo include the flat silicone ankle grippers, and the reflective camlock ankle zippers.
The Castelli Ergo Bib Tights are available in six sizes from Small to XXX-Large, and in the color Black/white stitching.
Couple of Issues
Familiarity:

I've used it once or twice and have initial impressions
Like Eran G. experienced, the tights had a seam that wasn't sewn properly.

The other issue is that the seam goes right over the knee cap. Found this to be irritating as pedaling.
I've just wore the bib totally twice this week as it started raining and noticed the stitch started to torn open.

I never washed it yet and both rides where very short so I can't imagine what could have caused it.
Stellar
Familiarity:

I've put it through the wringer
This just hit the mark so well. They're made from the same fleecy goodness as the Thermoflex line of warmers, but in a more enveloping package. At 6', 175lbs, 32" inseam these fit absolutely perfect in "XL". Living in Wisconsin there are years were these are normal wear for 7 months of the year, so I have a certain appreciation and affection for tights and knickers. On days when it's 40-60's with light wind, this tight is the ticket. When things do get chillier it's wise to grab a pair of Sorpasso's or even better yet the Polare (which unfortunately Comp doesn't carry).

Surprisingly the fit on the Ergo's is the best of all Castelli's tights fits. In a dream world a Windstopper crotch, and a Progetto X2 pad would make this undoubtedly the best tights, period.

I have noticed that Castelli has removed the Ergo from their web site so probably not a bad idea to stock up, especially when they're on an absolute fire sale!
Awesome
Familiarity:

I've used it once or twice and have initial impressions
First pair of bibs I've owned. Had been using leggings on cold days. Using a one piece was great. No more leggings slipping down. The thing that really blows me away is the chamois. It's a completely different feeling from the Pearl Izumi shorts I had been wearing. So different, I'm looking to replace all the shorts I have. Gonna pick up some bib shorts with this Kiss3 chamois for when it warms up. Highly recommend.
Warm, good quality, buy larger
Familiarity:

I've used it once or twice and have initial impressions
This is my first pair of long bibs. Finally bought this pair, and they are very nice. Seem to be of good quality. Warm "fleece" inner surface is nice and soft.
I usually wear a medium to large. Ordered the Large based on the sizing chart (I wear 34Wx32L pants) but had to exchange them (could not zip up the ankle zippers) for an XL, which is still tight but OK. I should have known, as the Castelli bib shorts I bought a few months ago was also an XL and is tight also. I could actually have done with an XXL on the bib shorts, which seems really extreme for me. But aside from the sizing thing, once I got the XL, are great. The seat pad is very comfortable - better than most of my shorts. I was concerned that tights would feel constricting and hard to pedal in, but aside from being warm, I hardly knew I was wearing them.
Very Good Tight
Familiarity:

I've put it through the wringer

Fit:

True to size
I wear Medium in other Castelli shorts and regular bibs and this bibtight in Medium fits exactly the same, as it should. I'm 5'10, 154, 32 waist.



Good for temps down to high 30s, even if windy. I've stretched the envelope down to the mid 30s but at that point my knees and lower thighs become a little colder than I prefer, an hour or two is OK at that temp but longer rides would be a bit much. I also wear tights without a pad (PI) over regular bibs and shorts, and while warmer there is definitely more constriction than using a padded bibtight like the Ergo.



The Kiss3 pad is fine, I've used it on rides up to 60 miles. It's not the sublime comfort of the ProgettoX2, but it's good enough for me to just about never notice it or think about that particular contact point.



A comfortable product for temps from high 30s to about 50 (after which I'd use regular bibs and knee or leg warmers) and rides up to 3 hours and change, and maybe longer.



***Update. I also have the Sorpasso bibtights and in comparison to those I find the Ergo just as warm, despite the fact that Castelli says the Sorpasso is good down to 32 degrees (it's not for me). The Sorpasso has more compression and is more of a race fit, and of course has a much better chamois, but if you're OK with the Kiss3 and are only concerned with warmth save a few bucks and get the Ergo instead.
I am pleased with these bib tights. I particularly like the subdued logos, the compression, and the fit. I'm 6'1", 165', 34"waist, and 34"inseam. The large fits me perfectly.
Nice material and all... but the size?

I am 5' 10", 187 lbs and there was no way a Large was going to fit...especially the legs. BC handled the return well, full marks there.
Normally wear an L but went by the size up instruction. worked out great. nice fleece lining and straps are soft. pad placed nicely.