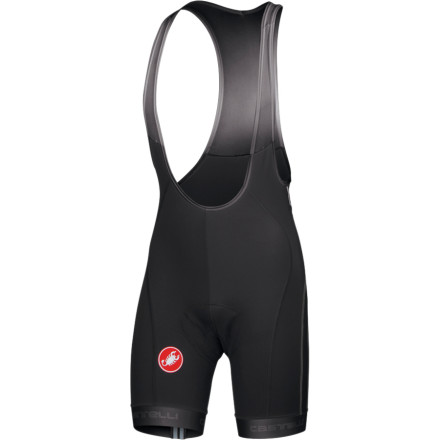 Community Images
Description
It's all in the name.
So much of the superlative terminology in the cycling world gets abused. What is "performance"? What is "pro-level"? Terms become ambiguous, and meanings muddled. A possible exception is the word "endurance", which isn't an adjective, but a concept any cyclist can relate to: the ability to go longer. That name was aptly chosen and applied to the Castelli Endurance Bib Short, because it was designed singularly to help you keep going.
The Endurance bib shares many elements with Castelli's premium Free Aero Bib Short. The Progetto X2 Air chamois used in the Free Aero is nearly duplicated here - the standard Progetto X2 is used, which isn't quite as light and as breathable as the Air version, but is very close, and is just as well padded. It's a three-layer chammy: the top layer is soft and seamless antibacterial polyester fabric that wicks moisture away from your body. Underneath that is a perforated viscous comfort pad located directly under the sit bones and the perineum, to neutralize pressure in those areas. The final layer has variable thicknesses: it's extremely thin at the edges and increases in thickness en route to the thickest areas under your sit bones. The "bottom" line is a fine throne for going all day, any day.
Employing an eight-panel design, the Endurance shorts use tough but breathable Action PowerLycra in the front and rear panels, while the side panels use Energia PowerLycra, which stretches more vertically than horizontally to lend great compression to the bib. The four-needle flatlock stitching is a fancy way of saying not only are the seams virtually undetectable, and thus non-irritating, but its resists excessive stretching and thus further aids compression.
The Endurance bibs also utilize Castelli's Giro (say "giro two") leg grippers, as seen in the Free Aero bibs. Integrated into the fabric itself, the grippers are soft, breathable, and do their job without you even noticing, as opposed to rubberized grippers than can pull and stretch skin at times.
The Castelli Endurance Bib Shorts come in Black, Red, and White, and in sizes from Small to XX-Large.
Stretchy Action fabric wicks moisture ultra-fast thanks to the Castelli Prosecco treatment
Energia side inserts improve the fit and aerodynamics
Giro++ single-layer grippers comfortably hold the short in place
Hard to beat this Comfort and Fit
Familiarity:

I've put it through the wringer
LOVE this bibs. The fit, functionality, looks and quality are a class of its own. I own other "high end" bibs that are not nearly as comfortable for longer rides and do not fit with the finesse this do. The leg grips do not over tighten the thigh and the fit of the bibs molds to your body shape and it's movement while you ride. The pad is not overwhelmingly thick nor slim, it's just the perfect amount of coverage and cushion.Highly recommend the product!
Leg Bands are Poor
Familiarity:

I've put it through the wringer
Love the bib but not the leg bands.....they are curling badly. Look bad and are losing grip. Don't know whether or not Castelli has fixed this issue but it's bad......anyone else having the same issue? Has there been any form of resolution? I like the bibs but this portion of them is really bad..........


Thin Straps
Gender:

Male

Familiarity:

I've used it once or twice and have initial impressions
Overall these Bibs were not bad. Bicycling Magazine rated these as one of the best bibs under $160 and I have to say that the fit and chamois were comfortable, but nothing special. The chamois held up fine under my 60 and 80 mile ride I put it through. The only issue I had, which to me was the deal breaker, were the thin straps. I have broad shoulders and the straps were thin and as a result dug in to my shoulders and made it uncomfortable. If these things had wider straps like the Pearl Izumi Pro bibs or something along those lines, they would have been fine. If strap width isn't a deal breaker for you, then these are a good product at a good price.
Comfortable, great padding, sizing issue
Familiarity:

I've put it through the wringer

Fit:

Runs small
I really enjoy riding with these bibs. The chamois is really comfortable and has held up well throughout a summer/fall of riding. The straps are comfortable and lightweight and durable enough for frequent use.

The only issue which others have also pointed out is the sizing. I have worn Large bibs in the past but for these I had to get the XL size. I am 6'3" 190 lbs with a 33" waist and the XL fits me really well- the Large was far too restricting.
How opaque are the white shorts?
How opaque are the white shorts?
Best Answer
From talking with others that have used these they say that they love the white shorts. More importantly they stay white and you can't see through them.

Confidence and no opacity while riding!
Better than Kiss3, but...
Familiarity:

I've used it once or twice and have initial impressions
If you're thinking of buying these because they are less expensive than the BodyPaint bibs you'll be happy with the Progetto X2 chamois. However, the reviews are correct that point out the difference in sizing. Those who own Castelli bibs feel they'll be safe in ordering the same size, like I did (mine was XL). I own two sets of the team issued bibs with the Kiss3 chamois and expected that the Endurance bibs would fit the same. They felt about 2 sizes too small. Perhaps this is why the Progetto X2 chaffed at a critical point. The front of the chamois is not as expansive as the Kiss3 and I was surprised to find the seam of the bibs and the seams of the pad uniting right in the front. Maybe a larger size would have eliminated this but I'm hesitant to try.



Otherwise, the bib material is heavier than I expected and the shoulder straps are narrower than I expected. Again, a larger size may have been more pleasant to wear. The Progetto pad is better than the Kiss3 from my perspective. Not significantly noticeable on a shorter ride though.
careful when you order - sizing is off
Gender:

Male

Familiarity:

I've used it several times
I returned these Castelli Endurance Bibshorts.



I have 3 other pairs - made in Croatia - they fit perfectly and are awesome bibs. These ones are made in Morocco and are 2-3 sizes too small. Unfortunately this is the second time I've we experienced this with Castelli products coming from your shop - that is the sizes being so totally off - are they outsourcing to manufacturers with shoddy quality control? It would be helpful to note where the products are made because with my beloved Castelli that does seem to be a factor.



Thanks for the quick refund though - always a pleasure to deal with CC!






good bibs / in-between sizing
Familiarity:

I've used it once or twice and have initial impressions

Fit:

Runs large
I'm in between a medium and large in bibs (5'10", 160lbs) and I got the Large. They are a little big, but the mediums were a little small... so whatever, they work fine. I really like the padding, and how they are sort of a mix between an everyday bib and a more race-oriented one. I'm also a fan of the minimal design.
Very nice but only 4 stars...
Familiarity:

I gave it as a gift but have feedback to share

Fit:

True to size
I purchased these for my dad for fathers day this year and he really likes them. He has been on a few rides in them so far and says they are very comfortable and breathable. His only issue with them is the sizing, he owns a few other pairs of Castelli bibs and these are the same size, however he said the straps of the bibs seem to short, they dig into his shoulders too much. They aren't so uncomfortable in the shoulders that he would return them but just something he is trying to work with. Other than the shorter straps they do seem to fit true to size.
Velocissimo shorts with upgraded padding
The basic external material and design of these is virtually identical to the Velocissimo Team shorts that I have . I think the reason why we get the "Endurance" name is because the other shorts have the mid-level KISS3 pad while these have the higher-end Progetto X2 pad. That's why you pay a $20 premium for these. Whether the more advanced pad offers greater comfort on longer rides I haven't yet been able to determine--I wear the Velocissimo shorts on 60+ rides and feel just as good. But then my rear end isn't a connoisseur with highly refined tastes in chamois.



In short, these are good shorts and I've no complaints; however, unless you know that the chamois is absolutely what you need then it might make better sense to get the Velocissimos. You won't go wrong with those, even on longish rides. Plus they have some cooler designs.
I like these shorts, right along the lines of the lesser Velocissimo Due and Equipe shorts, but with a lighter fabric. The big change is in the chamois to the "advanced" Progetto X2, but it doesn't do it for me. It's a very large chamois, not really an improvement on the Kiss3, just a bigger is better and we put gel in it approach. Everything else about the short makes them perfect as the go to bib, but I'll save a little money and keep getting the velocissimo's. True to size, so they run small by compare to most brands, I wear a medium in Capo, Pearli, LG and most everything else but a large in Castelli. The fit is snug, but it's as close to a race product as you can get without being for racing.
sizing not what I expected
Sizing was not what I expected. Normally in Castelli I wear large (medium in other brands). I could have worn Medium in these bibs. Still searching for the leg grippers.
Awesome sauce! 6'4 215 XL. Best purchase decision I have made thus far. Ordering another pair. Cannot overstate how much different good bibs make. Your soft bits will thank you.
I'm training for my first Century. I want...
I'm training for my first Century. I want bib shorts or regular shorts that provide required protection. Whether this or another model, what's your reccommendation? So far my longest ride has been 60 miles. Thanks
Best Answer
Jim - I am very picky about my shorts/chamois and have used these on my latest century ride without any problems. The chamois is very comfortable and I'm 6'3" 195 lbs. I highly recommend the Proteggo X2 chamois by Castelli or the chamois in the Capo Padrone bib shorts for long rides and comfort. Good luck!
initial impressions were ok... After 2 months.... disapointed
I am 6'3" 200 lbs with a 36" waist. The XL fits perfectly. The inseam length is a little short (9"), but they are Euro-shorts, I expected this. The compression is excellent keeping everything in the right place and keeping legs strong.

Now for the down side... The chamois, was initially comfortable, but after 10 miles, I began feeling it right on my sits-bones. This is not supposed to happen. Have an older pair of LG shorts, that are wearing out, that never caused this issue. I tried the PI Pro bibs, the chamois is awesome, the fit not quite as good for my height. I read all the reviews on the Castelli and I have to say that I am surprised at the feel given all the development. The Castelli's have a vicious gel insert and I think it compresses too much and is thicker than almost any other Pro-level chamois I have tried. I do find that it is more bearable in the drops than the hoods. In these shorts, it is quite possible that the bib is rotated a bit to far forward and contributes to the discomfort on the sits-bones.I stuck with these for my last 5 rides, but yesterday the pressure started almost immediately and made for a uncomfortable 2 hours in the saddle.

Update 8/17/2012- After 58 days, one of the seams let go in the back during a ride. This was not cool.. Took some serious ribbing during group ride. So now in order to keep these functional I'll have to put more time or money in to re-sew the seem. Disappointed with the quality. For near $200 this should be better. I have down graded these from 2 stars to 1 star. RC is awesome.. took the shorts back and provided a refund... Great customer service.
Absolutly Loved These Bib Shorts
Until this point I had only ever worn shorts. Been hearing the hype for ever about bibs from a friend so I decided to buy some. I had only every worn Pearl Izumi shorts, but I had been using Castelli jerseys for a few years and loved them so I though I would try their bibs. I bought two pair of the Presto and two pair of the Endurance Bibs. The biggest thing I have to say about these is the chamois is so much better than the Pearl Izumi Elite In-R-Cool shorts I had been using. I had a few sores from my old shorts and as soon as I got on the bike with the Castelli Prestos I did not feel any pain the whole 30 mi ride. Heck after the first 10 minutes I was trying to remember what all colors they had so I could order some more and just what I should say in my review.

The next day I tried out the Endurance and they are just as comfortable. Which I guess says something to how good the Kiss3 chamois is because I thought they both felt great. I do think the Progetto X2 would be better for longer rides though. I rode 55 mi on the Endurance and had no pain. I was sold. I will also say that I really liked the leg grips on these. They stay in place great but there is no feel of the rubber or gel on your leg gripping or pulling hair when you move them. I ended up ordering all three colors in the Endurance 4 pairs of the Preston and one pair of the Velocissimo Equip to go with an Acid Green jersey I had. You seem to get so much more choices in color when you buy bibs compared to regular shorts.
At last, a short that does not hang over my knees!
Comfortable and great fit
This is my first pair of bib shorts (always just wore bike shorts) but I must say these are really, really comfortable. I bought them for my first metric century and picked these on the strength of others' recommendation here. It didn't disapppoint in terms of comfort and fit. Wore them a few weeks before the metric ride to break them in. On the first ride, I could tell, this is the one for me. Got another pair 3 weeks after. After all, it's not often you find the right one for you. I am 6 ft and 200 lbs. I got the XL.
Worth the money spent, these are great!
I spent 50 miles on my first ride with these and I wasn't uncomfortable for a second.

The chamois is soft and kept me comfortable throughout the ride. I thought it was gel at first, but not sure. Must be magic!!!

The fabric is another form of magic, where I thought it wouldn't be as breathable at first, but the snug compression fit felt great and wicked away sweat keeping me dry.

My buddy said "Hey dude, you look Euro-Pro with those bibs on."

"Heck yeah I do! So pro, get pitted, so pitted." I replied.

I don't want to say these bibs made me faster, but I think the reflective tags will keep me visible on my night rides, which will make me feel more confident to ride faster!

The straps are snug, not as wide as some, but didn't bother me at all. Overall, a real snug fit, felt good though.