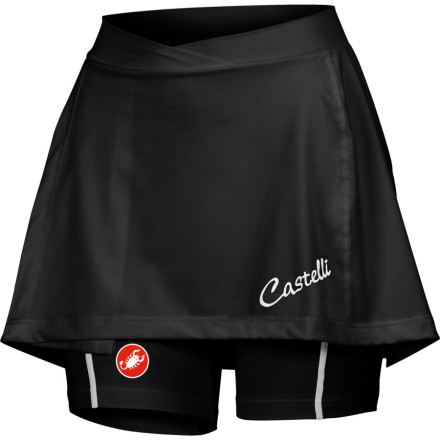 Detail Images
Slide into the Castelli Elle Skort instead of rocking baggy shorts on the road. Baggy shorts are acceptable if you're on the mountain bike but look a bit out of place when you throw a leg over your skinny-tire asphalt roller. With six-panel construction and a KISS3 Donna chamois, you'll enjoy all the creature comforts of traditional cycling shorts, with individual style and extra coverage.
I used this item for my spin class. it was so comfortable and I loved not walking around the gym in bike shorts!
Unanswered Question
cancel
I thought this looked cute and after watching the video I decided against shorts made by Hincapie even though I trust their stuff and got these with my limited funds instead. The small (I wear a small) fits fine once it's on, but there is so little give in the waist band that getting it past the widest part of my hips is a struggle. I wore them on a 5 mile "go get something and come home" test ride and the shorts worked their way up until they were short shorts barely covering more than boy-cut underwear (thank god for the skirt!). Seriously, the shorts rolled up the whole way! They look great (when I pull the legs down from my crotch) and the chamois felt fine, but... I wish I'd gotten something else because they'll never work for more than running errands, I'd never wear them on a 40 mile ride, that's for sure.
Super cute skirt and great functionality. I normally wear a size 4 (116lbs, 5'7") and the medium fit perfectly. This is my first Castelli product and it certainly won't be my last!
So happy with my Castelli skort!
I am really enjoying my White Castelli skort! I ordered a medium (I am a solid size 6) - had to return it for a large because it was too tight on my legs. The large is a perfect fit. The short is a very nice, comfortable compression and stays put quite well without any 'grippers' at the bottom. There is a small reflective piece on the back of each leg on the shorts. The skirt opens on one side and is very flattering (lies flat in the front, some very slight gathering in the back). The waist is a LOW RISE in front, higher in back. The chamois is thick and extremely comfortable...I typically ride ~40 miles/day. The word 'KISS' is imprinted inside the front of the chamois and for whatever reason, I get a kick out of that. The only thing they failed to add to this great skort is a little pocket!
How long is the skirt and shorts?
How long is the skirt and shorts?
The Short has a 6'' inseam and the skirt is 13'' long (top to bottom)
Castelli 2010 fashion show