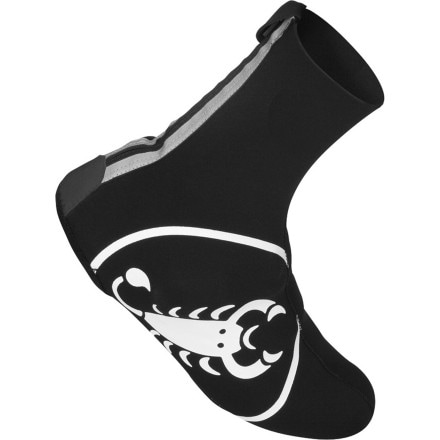 Description
Ride through anything
In the drudgery of winter, the improvisers freeze while the well-prepared flourish -- believe us, at 7000 feet, we know a thing or two about harsh weather. So, if you intend to ride all year, you'll need to make a choice. Hopefully, you chose the latter, and accordingly, you'll need the Castelli Diluvio Shoe Covers 16. With a warming, water-resistant design, the Diluvio covers will keep the chill off of your feet, and help keep you in the saddle with the roads all to yourself.
Castelli's Diluvio ShoeCovers feature a 3mm-thick, neoprene construction. This stretchy, dense material protects against both the cold and moisture. In fact, Castelli estimates the Diluvio's effective temperature-range to be between 23 and 53 degrees Fahrenheit. For water-resistance, Castelli thermosealed all of the seams. This process is devoid of stitching, so even the most minute of apertures have been eliminated to prevent leaking. Further along these lines, the Diluvio has a Velcro closure-system over the 16mm cuff that seals off the foot from any water running down the legs. The Velcro also makes it a breeze to get your shoes in and out of the covers. And for when you're out of the saddle, the covers have been left open around the cleat and heal. So, you never have to worry about tearing up the soles when you're walking from A to B.
The Castelli Diluvio Shoe Covers 16 are available in the color Black and in the sizes Small/Medium, Large/X-Large, and X-Large.
Share your thoughts
What do you think of the
Castelli Diluvio Shoe Covers 16
? Share a...