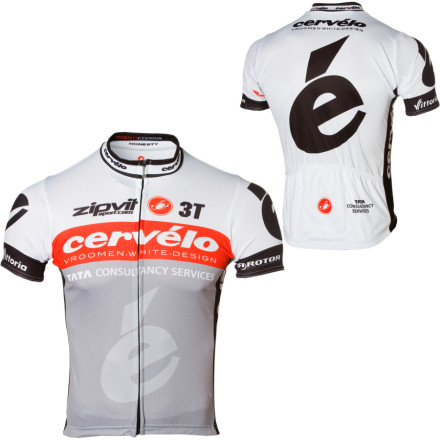 Detail Images
Love the look, but the fit wasn't right. The chest was cut too small, it would only feel comfortable if you were bent over riding on the bike- stand up and it felt constricting. If that's the Euro fit, then I pity the Euro men.
Can I wear this jersey if I don't own a...
Can I wear this jersey if I don't own a Cervelo?
I've asked myself the same thing. I ride a carbon knockoff of a cervelo.
Saved myself over $2,500 off an RS or R3. Cervelo is a snob brand.
But the jerseys are cool. I like the colors. I say go for it
Write your answer here.. of course you can ..
Of course you can. I ride a Cervelo it was less expensive than a Colnago. I also support the concept behind the Team and it's commitment to clean cycling. So put away your T-Mobile jersey and wear this. Also it's a top quality jersey for a great price.
For this you just gotta ask yourself do you want to wear it? Right now I have 4 pro team jerseys, and I'm nowhere close to riding on a pro team. Some people might make comments about me for wearing it, calling me a "fred" or whatever the term is, but who cares. If it looks cool, you like it, rock it!
Love this jersey! I am 6', weigh 175lbs, and have broad shoulders. My chest measurements are 44". The XL fits perfectly as this is definitely a euro fit.