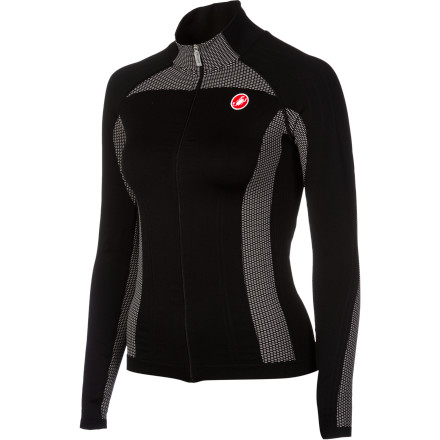 Detail Images
When the weather takes a dip, it doesn't mean that it's freezing. In fact, most of the time, a lightweight, long sleeve jersey will provide ample protection in chilly conditions. Basically, a piece like the Castelli Brillante Women's Long Sleeve Jersey embodies all of the warmth and style that you need to get through a moderate winter, fall, or spring.
Made from the SoftFlex fabric, the Brillante jersey is more than capable of retaining warmth while still being breathable. However, the main function of this jersey is provide a next-to-skin level of comfort. To achieve this, the Brillante features a completely seamless design. This effectively eliminates abrasion and bunching, all while enhancing the general fit.
For either casual wear or ventilation, Castelli gave the Brillante a full-length front zipper. And to house your can't-do-without ride essentials, the jersey also has a zippered side security pocket.
The Castelli Brillante Women's Long Sleeve Jersey is available in five sizes from X-Small to X-Large and in the colors Black and Electric Blue. For maximum effectiveness, Castelli suggests wearing the Brillante between the temperatures of 58 and 68 degrees Fahrenheit.