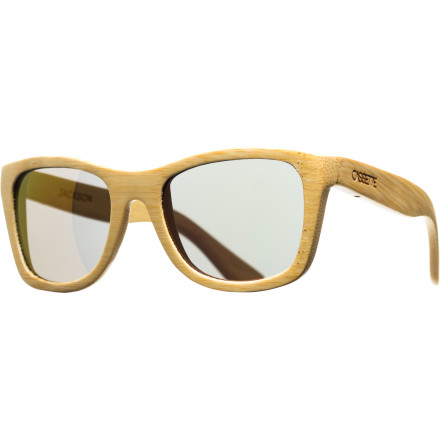 Community Images
The Cassette Jackson Sunglasses gave classic frame materials a radical makeover. Ready? The Cassette's frame is made from pure bamboo. Your hippie buddies and your trend-setting fashion friends with both be down with these shades. Just be wary of your friends who like fire.
Frame uses renewable and biodegradable bamboo so these shades are easier on the planet
Spring hinges give you an easy fit
Impact-resistant lenses won't shatter if you drop them or get punched in the face
UVA 400 protection blocks the sun's more unwelcome side effects
different from picture here
got my Cassetes in fire color, they are SOOO diifferent from this photo here! lens are mirrored and plain violet color, without any transparence in the bottom part! absolutely not what I wanted to have. But anyway looks pretty, though too eyecathing because of the lens. And also, they are quite big and will fit for wide face or for man.
WOW, Half the price of any other wood sunglasses and better quality!
Yeah, you can't beat the price or quality!
"Are those wood?" Holy cool! Happens more with these glasses than any other pair I own. Lightweight bamboo sits really well on my face and won't slip when the sweat surfaces.
Love the bamboo and they have a universal fit that would look nice on most face sizes.
LRG commercial Sumnmer 12
This LRG Commercial features riders wearing Cassette Yo's, with the Bamboo temples.
Ozzy Henning / Kyle Fischer
These are so light and so solid. All bamboo at a great price. amazing.