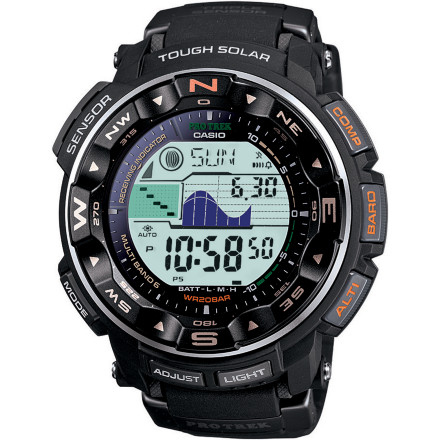 Videos
Wearing the Casio PRW2500R-1 Triple Sensor Altimeter Watch is like having a super-computer wrapped around your wrist. You'll feel like a secret agent as soon as you put it on.
Multi-Band Atomic Timekeeping (US, UK, Germany, Japan, China)
Receives time calibration radio signals which keep the displayed time accurate
Duplex LC Display
Tide Graph (tide level for specific date and time)
Moon Data (moon age of the specific date and moon phase graph)
Digital Compass
Measures and displays direction as one of 16 points
Graphic direction pointer
Bidirectional calibration and northerly calibration function
Magnetic declination correction
Barometer
Atmospheric pressure tendency graph
Atmospheric pressure differential graphic
Barometric change indicator
Thermometer
Full Auto EL Backlight with Afterglow
5 Independent Daily alarms
Hourly time signal
World Time
31 times zones (48 cities + UTC), city code display, daylight saving on/off
1/100 second stopwatch
Battery level indicator
Power saving function
Full auto-calendar
12/24 hour formats
Accuracy: ±15 seconds per month (with no signal calibration)
Is the glass a mineral glass? Is it scratch...
Is the glass a mineral glass? Is it scratch resistant?
Hey Rockisland,

This model does contain Mineral glass.

I could find nothing on Casio's website indicating this glass was scratch resistant.
Really like it. More durable than the Core, with more features, for less coin. If you're into bona fide mountaineering the Core is probably a better choice because of the barometer/altimeter lock, the Casios don't offer that. For general use and anything around water this little gem is hard to beat. Tons of accurate info in a nice package. The band is noticeably more comfortable than other Casio resin bands too. Happy hunting.
Casio PRW2500-1V Triple Sensor Altimeter
Unanswered Question
do you actually have this watch and/or the...
do you actually have this watch and/or the PRW2500-1a currently in stock and ready to ship??? Other websites have you place the order then discovered that both are backordered several weeks? thank you...
how accurate is the altimeter?
how accurate is the altimeter?
Best Answer
It is ok for normal activities but not super accurate.
dose anyone think its worth it?


The altimeter is accurate enough for hiking but not for mountaineering. The altimeter readings will 'drift' a bit as the barometric pressure moves, this is especially noticeable in the mornings b/c the elevation will have changed even though you've been sleeping. The Core's altimeter is more accurate and much better at eliminating the drift. The Core's altimeter logs and graphs are superior as well. If you need an ABC watch for vertical aspirations you'll probably be happier with a Core or Vector or Casio G-Shock Riseman.