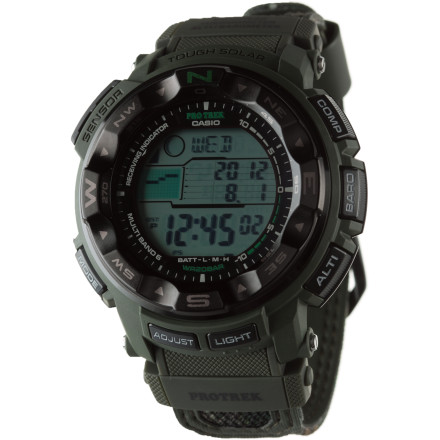 Videos
Receive a constant flow of information about your location and environment without advertising your presence when you wear the Casio Protrek PRW2500B-3 Altimeter Watch on your wrist. This burly but smart mini-computer delivers the same information as its siblings in the Casio PRG2500 line, including a barometer, thermometer, altimeter, and compass powered by Tough Solar Power; the difference is a camo package that is almost completely non-reflective so you don't attract attention as you check the watch for vital information.
Altimeter features automatic memory and records up to 14 logs with high/low/total altitude, date, and time so you can keep track of your ascents and descents
Digital compass's 16 cardinal points, one-degree unit of measurement, and bearing memory keep you on course while its auto declination keeps your readings accurate no matter where you travel
Thermometer displays temperatures between 14F and 140F and the barometer warns of approaching storms with its atmospheric pressure measurements and graphs
Tide level graph and moon data (with moon phase graph) aid your nautical expeditions
Multi-Band Atomic Timekeeping (in US, UK, Germany, Japan, and China) mean that the watch receives radio signals to ensure accurate time while traveling
Sturdy case is 200m water resistant and works down to 14F, while the Duplex LC display's backlight and afterglow illuminates the watch after dark
Tough Solar Power, battery indicator, power saving function, and rechargeable battery means you don't have to worry about battery replacement
A chronograph includes a countdown timer and stopwatch, while its 31 time zones, sunrise-sunset times, and world time keep you informed while traveling
Also functions as a regular watch with 5 alarms, pre-programmed calendar, and standard and military time settings
Unanswered Question
Are the PRW2500B-3 and the PRW2500 - V1...
Are the PRW2500B-3 and the PRW2500 - V1 the same watch except for camouflage coloring on the B-3?


Pro climbers like the CASIO PROTREK 2500
JONATHAN SIEGRIST CASIO PROTREK ADVENTURE VIDEO

http://www.backpacker.com/articles/16265
Casio Protrek PRW2500B-3 Altimeter Watch
What's the band material?
What's the band material?
Hey Mario,

The band is made out of rubber.