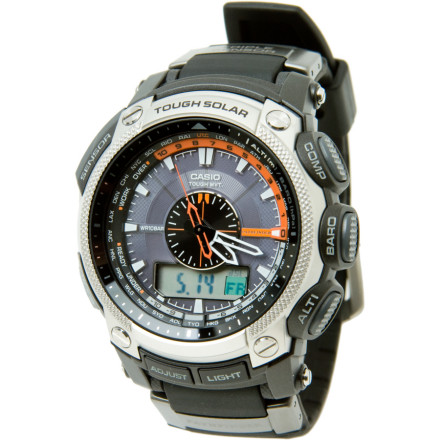 Detail Images
Just like its Pathfinder cousins, the Casio Pathfinder PAW5000 Altimeter Watch packs ABC functions (altimeter, barometer, compass) plus a host of other features into a compact wristwatch. Just consider this the more refined city cousin, sporting an elegant analog style and a big metal bezel that are more at home in formal settings than the 5000's casual digital-readout relatives. And thanks to the Casio Tough Movement, you get digital accuracy under even the roughest conditions.
Altimeter displays current altitude, stores up to 14 records, and tracks total ascent and descent data
Barometer/thermometer displays pressure readings, graphs weather trends for up to 20 hours, and displays current temperature
Compass employs the second hand to display one of sixteen directions at the push of a button, and it includes magnetic declination correction
Multi-band atomic timekeeping receives time calibration from radio signals to ensure utmost accuracy
Solar-powered battery can function for up to five months after a full charge without exposure to light
Countdown timer enables you to get off to a good start in races, and it includes a stopwatch that tracks splits and final times
World time tracker displays the time in 31 time zones and 48 cities
Fully automatic calendar tracks days and dates through 2099; sunrise and sunset data is available for any date
I can now give an update. The sync works perfectly. turns out...human error! There is a function to enable/disable the automatic syncing. Needs to be set up properly.

Buy this watch in total confidence. It works well, it syncs(!), and it's beautiful.
Big Guys Beware: 4th Notch or Bust
I tried to buy this watch as a replacement for a titanium Suunto Observer. I liked the analog look with the digital tech features/compass(which I use exclusively to find my way around while traveling.) Upon arrival, the looks of this Casio Pathfinder did not disappoint. It is a big watch which seems very well built and more "classy" than a straight digital sports watch.
The digital compass didn't seem as user friendly as the one on my Suunto...a trade-off I was willing to make to sport an impressive-looking analog timepiece on trips. The deal-breaker for me was discovered when I tried it on. The band was long enough to wrap around my large wrist. However, I could only clasp it on the 3rd hole, not the 4th. With the catch thing in the 3rd hole, the little plastic band-holder loop couldn't lock the little bit of leftover band down the way it is designed to. In other words, I could have worn the watch but the little nub of band would have constantly needed to get tucked back into the loop.
Unanswered Question
Are any of the Casio Pathfinder watches...
Are any of the Casio Pathfinder watches any good for recording the accumulated vertical for fast-moving sports such as skiing, snowboarding, cycling, or running? It seems that altimeter measurements are taken only every 2 minutes, which might not be frequently enough. Has anyone tried to use a Pathfinder for recording accumulated vertical for any of the above activities? The video reviews posted here mainly focus on how the watch looks, rather than on what it can really do. Please test and review the features.
, ☃bcs_badge_alumni_label☃
Casio PAW-5000 Watch Review