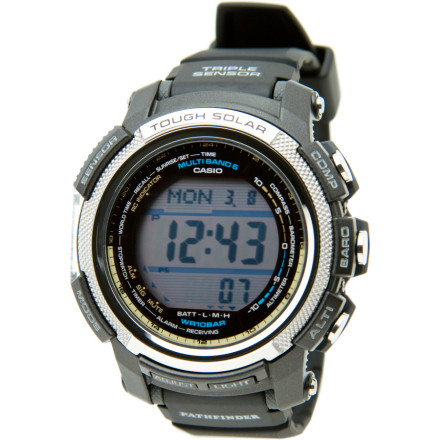 Detail Images

Videos

Community Images
The Casio Pathfinder PAW2000 Altimeter Watch packs Casio's Triple Sensor functions (altimeter, digital compass, and barometer/thermometer) into a slim, lightweight watch. Strap one on and keep critical data at your fingertips on all your outdoor adventures.
Altimeter displays current altitude, stores up to 25 records, and tracks total ascent and descent data
Barometer/thermometer displays pressure readings, and graphs weather trends for up to 20 hours, and displays current temperature
Compass measures and displays one of sixteen directions at the push of a button, and it includes magnetic declination correction
Multi-band atomic timekeeping receives time calibration from radio signals to ensure utmost accuracy
Solar-powered battery can function for up to five months after a full charge without exposure to light
Countdown timer enables you to get off to a good start in races, and it includes a stopwatch that tracks splits and final times
World time tracker displays the time in 31 time zones and 48 cities
Fully automatic calendar tracks days and dates through 2099; sunrise and sunset data is available for any date
Share your thoughts
What do you think of the
Casio
Pathfinder PAW2000 Altimeter Watch
? Share a...
Great watch with bells and whistles!
Familiarity:

I've used it several times

Fit:

True to size
Great watch - I researched several multi-function watches before picking this one up. Strap is comfortable, and watch has slants on the back to help center it on the wrist and keep it comfortable. My only complaint is that the time zones don't automatically change. Small/petty, but otherwise I love having the display of barometric pressure changes right at the face with time showing. Thanks, Casio!
Pro climbers like the CASIO PATHFINDER
http://www.backpacker.com/casio-pathfinder-2/articles/14151
Casio Pathfinder PAW2000 Altimeter Watch
Great Features and Comfortable
It's a great watch. It may not be as accurate as more specialized equipment but for backpacking/mountaineering/kayaking, it's more than enough. All the features are useful once you learn how to use them.

More importantly, it's very comfortable on your wrist despite its rather large size. Also, since it uses a rubbery strap material, it doesn't absorb sweat like other straps, which would usually lead to a smelly wristwatch. No problem here. I'm happy with my purchase.
I bought my pathfinder to have both the barometer, altimeter, thermometer and compass. Worked very well to check updates on low-pressure storms swooping in quickly in winter in the Inside Passage between Alaska and British Columbia. Saved my a** a few times. Even though this behemoth of a watch takes up like half my forearm (being 5'1" 98 lb female) it's worth it. Casio does however get my award for just another company that, in making watches with all of these functionalities only for men versus as well as women, suck.
Look ... Casio wrote the book on ABC watches and the 2000 does it as well as the rest. But ... this one LOOKS the best of all Casio models. You won't look all nerded out if you strap this on in a "business casual" situation. As for the function ... buttons are fairly easy to manipulate and overall operation is pretty intuitive. You still need to read the manual, which is a chore for those of us with older eyes but just deal with it ... you'll be happy you did.
Does this unit display Absolute Barometric...
Does this unit display Absolute Barometric Pressure as well as Sea Level Barometric Pressure. Also, will it display Barometric Pressure in PSI as well as In.Hg & mBar?
Thanks
You can set reference altitudes or pressures but they will only display in In.Hg and mBar units.
Had this watch for about 6 years and wore it everyday. Recently broke it after a 15 foot fall on to a concrete pad and that also fractured my skull and a vertebrae. Loved the feature that that would reset the time every night. Now I'm debating buying another one or trying out a new brand but definitely recommend this watch to everyone.
Are the Pathfinder watches as sturdy and...
Are the Pathfinder watches as sturdy and reslient as the G shock watches?
Best Answer
Pathfinders are not subjected to the impact testing that G-shocks are, so no, technically, they're not as durable. They are very longlasting, however, I have a twin sensor, (the predecessor to pathfinders) that's 11 years old and still running. If you require the toughness and shock resistance, the G-Shock Riseman GW-9200 has the thermometer, altimeter, and barometer functions.
I have had my Pathfinder for almost a year now and it has been very durable. Have knocked it around a bit and zero issues.
I bought it so I could have the ABC features and not have to worry about running out of batteries and so far so good.
There are a lot of features in general so it takes some getting used to everything but becomes fairly intuitive after a while.
I've used the watch on two outings where I wanted to measure altitude and use the compass. I set the altitude to the known elevation start point of my climb and when I got to the top the high point elevation was spot on so that was nice. It also has a feature which will automatically track your total vertical gain and loss and give you high/low points. There are a few involved steps to set up on the watch at first but again once you figure it out it's pretty easy and a very cool feature. You can do some of this manually as well and I compared my manually saved elevations/gain/loss to the auto function and it was pretty darn close.
For the compass, I was able to set the declination and it takes pretty darn accurate readings. Not as good as a mirrored compass but you can be pretty accurate.
The temperature gauge reads too high when you have the watch on your wrist (I think this is true of all watches w/ temp but not positive). But if you leave it off your wrist it seems very accurate. A bit of a trade-off. If you're relying on the altitude the manual says to leave it on your wrist as temperature affects the readings BUT if you want an accurate temp you have to take it off.This seemed like one of the better looking casio's and is slimmer than some of them so that's why I chose this exact model – and the compass w/ the duplex bars is nice – but I think any of the triple sensor casio's probably work just as well.I wish the countdown timer would auto restart but it does not. Some of the other casio's restart automatically.
How well will this work as a dive watch?...
How well will this work as a dive watch? I mountain climb and dive and looking for a watch good for both.
Matt, this would work but you might want to consider a dedicated dive watch if you will be using it primarily in sea water.
Is it true that this watch will only...
Is it true that this watch will only display, in the altitude mode, only four digits? So that if I am over 10,000 feet in elevation the watch will only display the first four digits and the last (or fifth) digit will be off to the side, kind of really small? e.g., if I am at 13,290 feet, the watch will only show 1329 and the last zero will be off to the side?
I do not think that is correct. From reading the instruction manual it shows a 5 digit display.
no that is not true ... you choose meters or feet. Mine came from the factory displaying meters which clearly would be a 4 digit display but it's easy enough to change.
Pathfinder PAW2000 Excellent Watch
I've had my Pathfinder PAW2000 watch for about 2 months now - it has a nice, large face without feeling bulky on my wrist because it is super thin and reasonably light too. The Altimeter and time keeping has been absolutely accurate - I have not needed to recalibrate the Altimeter or Barometer on the PAW2000 like I have had to on other Altimeter watches in this category. I like the intuitive controls, clear digital display and overall looks of this watch. To get a better feel for the PAW2000, check out the video posted on this page. 5 out of 5 stars without question.
Casio PAW-2000 Watch Review