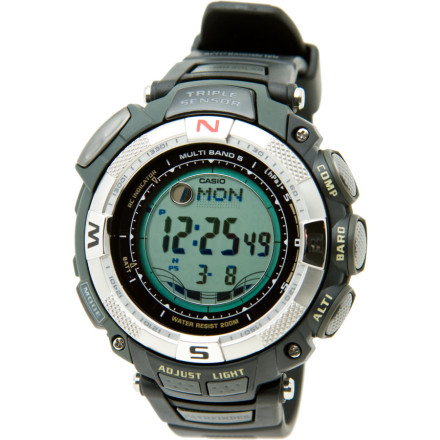 Detail Images

Videos

Community Images
Whether your adventures take place at high altitudes or on the high seas, the Casio Pathfinder PAW1500 Altimeter Watch helps you track critical data. Core Triple Sensor functions—altimeter, digital compass, and barometer/thermometer—plus extras like tide and moon graphing, report on natural phenomena around you.
Altimeter displays current altitude, graphs altitude position, and stores up to 24 records
Barometer/thermometer displays pressure readings, and graphs weather trends for up to 20 hours, and displays current temperature
Compass measures and displays one of sixteen directions at the push of a button, and it includes magnetic declination correction
Multi-band atomic timekeeping receives time calibration from radio signals to ensure utmost accuracy
Solar-powered battery can function for up to five months after a full charge without exposure to light
Tide and moon functions offer critical data in easy-to-read graphs
60-Minute countdown timer keeps you on track for timely starts, and includes a stopwatch that displays splits and final times
World time tracker displays the time in 29 time zones and 33 cities
Fully automatic calendar tracks days and dates through 2099; sunrise and sunset data is available for any date
Three-layer protective structure provides 20-bar water resistance and seals out fine particles that can damage watch mechanism
Pathfinder PAW1500-Life Saver?
Gender:

Male

Familiarity:

I've put it through the wringer
I've had this watch for a good five years now, it has served me well, even maybe saved my life in the most unexpected of ways.

If you keep on top of the calibrations it is pretty accurate, has definitely warned me of bad weather a couple of times.

Built tough, very tough. I've given this thing hell in Patagonia and all around Australia. The watch even taking a fall for me on a climbing trip, the watch got jammed in a crack (while on my wrist) and prevented me from taking a pretty serious dive. Can't fault that really can you?

Couple of minor issues, I forgot how to turn the hour chime on and off, and without the manual I couldn?t work it out. The alarm is also a little quiet if you're a heavy sleeper.

If you're looking for a bullet proof, non GPS watch, this is the guy for you. Who knows, it might save your life one day ;)
Really great watch... with one flaw
Familiarity:

I've put it through the wringer
First off I really love this watch. I got this as a birthday gift almost 5 years ago and wear it just about every day. This thing has taken a beating as I've worn it through everything; deep SCUBA dives (150 ft), hiking, backpacking, snowboarding, climbing, traveling, you name it. Its held up really well, I did have to replace the band last year. That is one pain since you can only use the Casio Pathfinder specific band. The red coloring on the directional marks has long since disappeared. The only "flaw" that I've been having with it is the date numbers on the bottom and the tide markers have been fading. Some days I can barely read the date, some days its ok. Not sure if this is just my watch or if others have had this problem.



Other than that, its awesome. The thermometer works pretty good when its off your wrist (take it off at night while camping), the altimeter is close enough, good for tracking elevation gain/loss. It even records your highest height and the date you were there (pretty cool, mine is 11,040 ft on top of Mammoth Mountain). The barometer seems to work ok, don't really use it that much. The compass works great too. The tide height comes in very useful when I'm by the beach and the moon phase is just good to know. Changing the world time is very easy and super convenient since I travel a lot. Being solar powered and never having to change a battery is one of the best parts. All the other functions are great too and the screen is easy to read compared to Suuntos and other watches.



All around I think this is a super cool watch that I would certainly recommend to someone.
I have the older pathfinder that isn't sold anymore, but this seems to be the one that replaced it. Best upgrades on this watch are the metal components and the solar charging system. Great features, extremely reliable, waterproof, and good sensors. The thermometer takes a good while to reach ambient temperature. I got it as a gift 3 years ago and probably wouldn't spend this much on it myself as there are superior offerings out there at similar price point.
Would not purchase it for myself
Familiarity:

I've put it through the wringer
I got this watch for a graduation gift and was grateful to get such a nice watch. One problem I don't wear a watch. I tried to wear this for a little while and I still wear it when I'm around the relative who was so nice to give me such a gift but just a couple things grinds my gears. You HAVE to use the standard rubber wrist band that comes with it and even Velcro wristbands that you can buy at an uncountable number of places don't work because the strange way they decided to make the pin and attach the wristband to the actual watch, I understand this is a fail safe so you don't just lose a 300 dollar some watch because hardware failure, people wouldn't be too happy. I'm still not satisfied though. Also I worked at a summer camp where I didn't always have access to my phone and didn't feel like purchasing an alarm clock so I set the alarms I needed on this watch. One problem, it beeps X number of times then just stops. Doesn't do what a good alarm does, beep long enough until you become annoyed or WAKE UP to turn it off, sorry I don't wake up at the sound of a pin dropping, especially when I would be up from 7 to sometimes 3 without a nap in most cases. I even resorted to setting all five alarms at about 5 minute increments and at best it would just wake my friends up who were sleeping in surrounding ENOs and then they would make me get up because they wanted me to disable the remaining alarms. A lot of cool other features but this watch is just beyond my lifestyle, I would have been much better suited with a G-Shock with a Velcro watch band and maybe a few of the features but heck while I usually roam around Virginia and surrounding states I don't think I need different times from around the world. Just be a smart shopper.
Casio Pathfinder PAW1500 Altimeter Watch
What is the level of accuracy of the...
What is the level of accuracy of the altimeters on these wrist watches?
Best Answer
They are not super accurate. I have found they vary within a couple hundred feet from the actual reading.
Like Mike said, they're not particularly accurate. They require frequent calibration to known altitudes to be useful. In addition, it measures in 20ft increments, which is a pretty wide variance. That said, it should retain usable accuracy for a backcountry trip, with proper calibration beforehand. To be honest, the most important part of this watch is the barometric trend. Whether or not your watch will match the news or local weather barometric pressure is not relevant, it will mirror the overall trend of the barometer, even if the numbers are high or low. It's the trend that's important, not the numbers. Where this watch shines over some other Casio offerings is the ability to have the baro graph displayed permanently on the face, above the time. Many others have this disappear after a period of two to five minutes, and return to a day/date display.

If altitude accuracy is important to you, the Suunto Core and the Tech4o Trail Leader are at the top of the game.
hello how are you today james , I needs a part of my watch casio pathfinder PAW 1500 and needs the part of metal
howdy everybody!

this is THE watch to get! i've used suunto before but the battery was absolute crap, 2 batteries in one month once!! gah! with this watch you NEVER HAVE to worry about the battery! here are some of the awesome things that i love about this watch!
-solar charged (no more batteries EVER)
-you never have to take this watch off
-waterproof (from the shower to snorkeling in the rock quarry)
-extremely durable (can take a beating)
-looks good, so it can be worn to the office AND the backcountry
-has very good compass function
-non-stop barometer graph on main screen
-has moon phases, sunrise and sunsets, tide, timer, stopwatch, and alarm
-perfect size (not too bulky)
-great for the hairy armed man due to the rubber band
-automatic radio signal received 6 times daily
-can go 6 months with only one solar charge, and up to 20 months in sleep mode

i've posted some pictures to help with the review! five stars and an awesome time piece!! some people pay this much for a watch and it only tells time while mine can do a million other things!