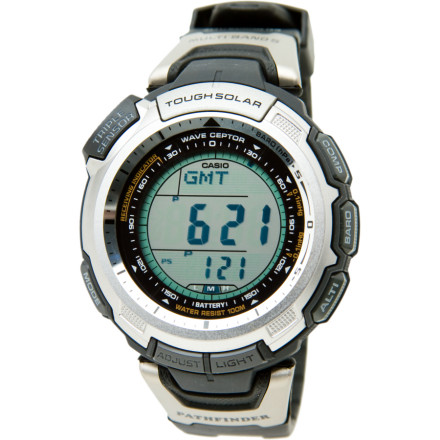 Detail Images

Videos

Community Images
Strap on the Casio Protrek PAW1300 Altimeter Watch, and head out in search of adventure. The Protrek PAW1300's core Triple Sensor functions (altimeter, digital compass, and barometer/thermometer) put critical data at your fingertips.
Altimeter displays current altitude, and graphs altitude position, stores up to 24 records and high altitude memory
Barometer/thermometer displays pressure readings, and graphs weather trends for up to 20 hours, and displays current temperature
Compass measures and displays one of sixteen directions at the push of a button, and it includes bearing memory
Multi-band atomic timekeeping receives time calibration from radio signals to ensure utmost accuracy
Solar-powered battery can function for up to five months after a full charge without exposure to light
Countdown timer, with a countdown range of 1-60 minutes, enables you to get off to a good start in races, and includes a stopwatch that tracks splits and final times
World time tracker displays the time in 29 time zones and 30 cities
Fully automatic calendar tracks days and dates through 2099; sunrise and sunset data is available for any date
Casio Protrek PAW1300 Altimeter Watch
Does this watch measure distance traveled?...
Does this watch measure distance traveled? Thanks for your help!
Natalie, this watch doesn't measure distance. For that you'll need a Tech4o Traileader, a Suunto Ambit, or one of the wearable Garmin units.
everything you could want. easy to use, large buttons that i can use with ski gloves on. not too heavy.
Best altimeter watch on the market
I have had this watch for four or five years now with heavy use and it still works great. I would highly recommend this over any Suunto watch because it is significantly higher quality, looks much better, and is much smaller. The watch is comfortable, and doesn't feel like a dive computer. I live in Colorado and have never had any trouble with the atomic clock. The solar charged battery has never dropped blow fully charged. I like this feature because many functions of the watch such as the compass and altimeter use allot of power, and watches that are not solar use so much power that you end up buying a new battery every 6 months. The sensors are all very accurate and have every feature you could possibly want. This watch dose not frees up in sub zero temperatures. It is extremely durable and has been through quite a bit including getting frozen solid in ice, tumbling down a sand dune, and it has been hit against countless rocks and other stuff. The only thing it can be damaged by easily is chemicals like chlorine, bromine, and other harsh chemicals that could damage the sensors. I would highly recommend this watch over Suunto or Timex.
Bought a 1300T and stored it for 10 month before needing it. Failed completely after 3 months of use and the estimate to repair it was only 20 dollars less than I paid for the watch, as the "Module" had failed and that it what apparently runs the entire watch. This estimate was from the Casio-recommended repair facility. As I technically had the watch for 13 months, Casio would not stand behind it and repair it. I was a pretty local Casio consumer, but no longer.
I have had this watch for about 2 years now and it has served me very well. It is a little banged up but still looks good, and all of the functionality works. I use the alitimeter a lot as I live in Colorado. Sometimes the barometer reading gets funky if I travel to sea level by plane, but it is easy to reset.
All in all I love this watch. A little pricey but worth it if you like gadgets and big, rugged watches.
, ☃bcs_badge_alumni_label☃
Casio Pathfinder PAW1300 Review