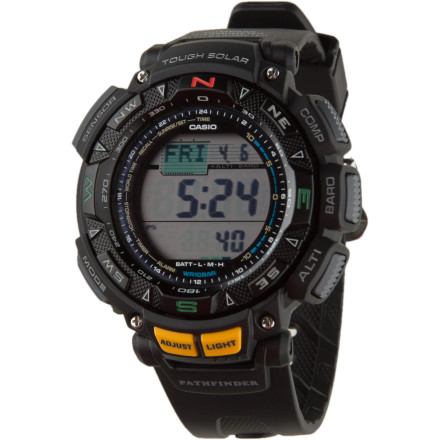 Community Images
Whether you're mountain hopping, canyon-land navigating, or long-trail trekking, strapping a rugged, solar-powered data center like the Casio Protrek PAG240-1 Altimeter Watch to your wrist keeps you up-to-date every step of the way. A digital altimeter, barometer, thermometer, compass, calendar, chronograph, stopwatch, and good 'ole clock give you the clues you need to better assess your backcountry decisions.
Altimeter features automatic memory and records up to 25 logs with high/low/total altitude, date, and time so you can keep track of your ascents and descents
Thermometer displays temperatures between 14F and 140F and the barometer warns of approaching storms with its atmospheric pressure measurements and graphs
Sturdy case is 100m water resistant and works down to 14F, while the LCD display's backlight illuminates the watch after dark
Durable solar power, battery indicator, and rechargeable battery means you don't have to worry about battery replacement
A chronograph includes a countdown timer and stopwatch, while its 31 time zones, sunrise-sunset times, and world time keep you informed while traveling
Also functions as a regular watch with 5 alarms, pre-programmed calendar, and standard and military time settings
3.5 years and still going strong!
Familiarity:

I've put it through the wringer

Fit:

True to size
I work as a backcountry backpacking guide in Yosemite. With only a few exceptions I absolutely beat my stuff to death before I write a review. Of all the reviews I've written this is the one item with which I have not only spent the most time, but its likely received the greatest amount of abuse.



After 3.5 years the watch is still in great shape. There are minor nicks and marks on the dial for the compass, and one very, very small scratch on the face. Suprisingly the band is still in great shape. There is not a single sign of weakness in the band. No cracks or splitting. The rubber is still very pliable and strong.



Keep in mind - this watch is on my wrist every day. I've likely had it on my wrist well over a thousand days now. That includes hundreds of days of backpacking and climbing. This poor thing has had to tolerate heat, cold, direct sunlight, doing dishes in the backcountry and at home, off width cracks, fist and hand jams, and working on my car.



The altimeter is based on barometric pressure... and is surprisingly accurate. Weeks after being calibrated it might be 20 to 40 feet off. I've never seen it further off than 40 feet, and that might be a month after its last calibration.



The compass is generally 10 to 20 degrees off. I wouldn't shoot bearings or plot a course with this compass. Its just for general dead reckoning, and for that its very convenient.



The menu is fairly intuitive after a little familiarity with its nuances. Its not anywhere near as counterintuitive as Suunto's menus.



If I had to find a negative to the watch I would say that the alarm is simply too quiet. It takes a bit to wake me, and on the occasions when I have to have an alarm to wake me I cannot depend on it. Also, changing the altitude from meters to feet took me about an hour to figure out.



Also, the solar face is brilliant. I've never had the battery meter below H for high. I'll never go back to a standard battery watch.
Really tough altimeter watch
Once my Suunto Vector failed me, I was forced to find a new altimeter watch. The Casio PAG240 fit the bill and I have not been disappointed. It is extremely rugged and precise at the same time. The perfect watch.
Casio Pathfinder PAG240-1 Compass Altimeter Watch Review