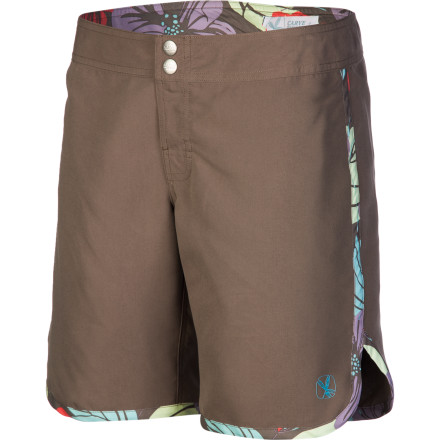 Detail Images

Community Images
Slip into the Carve Designs Women's Pipeline Board Short and tear up the glassy barrels from Rincon to Oahu. These loose-fitting boarding baggies give you all the freedom that the boys enjoy, unlike the butt-hugging hot pants that most companies pass off as women's trunks. Carve Designs applied a durable water-repellant finish to the 100% polyester fabric, so the Pipeline Short will be dry by the time you get to your car. An eight-inch inseam hits right above the knee.
Comfy fit perfect! Not too short but just right!!
I got these in size 2, their smallest size available, and they fit surprisingly well (5'6", 110LB). The fabric is super soft but feels substantial so they should last a while. I like there is no velcro - they always snag my shirt if I'm not careful. The ride is low, but not as low as if it'll expose your butt. Can't wait to take them out on the water.
I really like the fit and color of the Dusk Wildflower board shorts, they are just the right length for my 5' 5" frame, and hit right below mid-thigh.
I don't fit shorts easy (size four waist but larger than your standard size 4 thigh)... These not only fit muscular thighs, they also were way cute. But the real gem about these shorts would be the fabric. It is soft yet durable. Great board short!
These are super comfortable shorts, they fit really well I found they run true to size, a touch on the big side but I kinda like that fit!
These are really flattering and comfortable. I will probably wear them for more than just water sports! Yes, they do run a little large: I am normally a size 4 in shorts, and the size 2 in these fits perfectly.
Super soft fabric. Roomy and comfy. Fit me spot on! Love the length!
Really like these, but with a lot of activity on the water they start riding a little low. Roomy in hips, thighs and good lower thigh length without looking baggy.
I bought these for an active scuba diving vacation in the caribbean warm waters (i normally but guy's board shorts since the girl's tend to not be cut for a women's shape) and they were great. the only thing is that when dry they ride perfectly on your hips (great) but while being active in the water they do feel like they start riding a little to low -- not a big deal since i wear a bikini bottom underneath as well, but just a little annoying.
These are cute but ran a size too large on me.
This is so F'in cute! Love the gym short look! The best part of this short is how soft the fabric is, the generous fit (who wants a snuggy wet board short?), and the "no velcro" in the fly - instead they use a soft stretchy fabric that is "forgiving," especially at that time of month! Don't miss it!
Do you know the measurements for the thigh...
Do you know the measurements for the thigh area? Those of use with meatier thighs have a difficult time finding board shorts that are not too tight in that area!
I just sent mine back because they were too big. I have meaty thighs as well and they were loose. Even if I was able to get a smaller size (they were out) they would have had enough room.
While I wouldn't call these tight, I found them to be more fitted in the thigh, and especially in the hip, than Carve Design's Freestyle and Paddler shorts. I would consider those two instead of this one. The correct size for my waist in these looked terrible in the hip and thigh (though that's often a problem for me in most brands).

http://www.backcountry.com/outdoorgear/Carve-Designs-Freestyle-Board-Short-Womens/CRV0005M.html

http://www.backcountry.com/outdoorgear/Carve-Designs-Paddler-Board-Short-Womens/CRV0004M.html
perfect long board shorts
These are cute board shorts. I got a small and they have a relaxed fit (not loose enough to fall off but they hang off me a bit)and hit me right at the knee (I'm 5'2). I think I will wear these for years.
Do these board shorts have any kind of a...
Do these board shorts have any kind of a panty lining?
, ☃bcs_badge_alumni_label☃
No, these shorts do not have a built in liner.