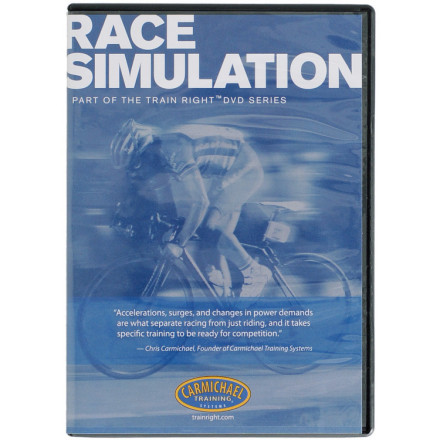 Detail Images
Ask any pro and they'll tell you, nothing hones fitness like racing. But what if you can't race, or even get outside due to inclement weather? You can simulate race conditions by yourself by riding along with the Race Simulation DVD from Carmichael Training Systems (CTS).
CTS makes sure that anyone can benefit from the information and workout regimen set forth in this DVD. But for the fit racing cyclist, you'll get race-specific training designed to help you get the most out of your training time. As you know, real racing situations require repeat, oftentimes high power efforts as the race unfolds. This Race Simulation DVD helps develop your ability to respond to those types of draining efforts and to polish off the base fitness that you've already got. When you develop the ability to produce repeatable bursts you'll feel more confident to follow attacks, or go on your own for that matter. At that point, you'll be ready for your own la Primavera.
Carmichael Training Systems' Race Simulation DVD is part of their Trainright Series. It's a 60 minute workout. To maximize your results while training with this DVD, you'll want to use a heart rate monitor. Of course, a powermeter would give you even more information to keep track of your progress.