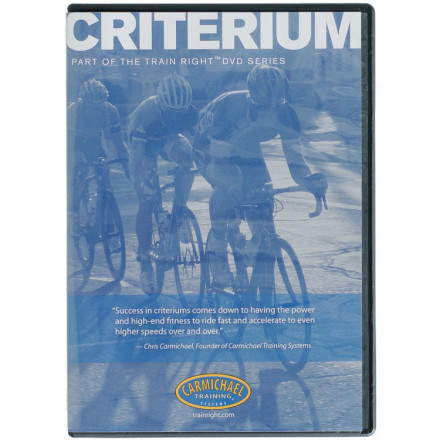 Detail Images
American criterium racing is perhaps just like the fabled Belgian Kermesse races other than the fact that a local legend doesn't always get to win. Oh, and nobody gets paid to show up. These two facts make the standard downtown crit a leg ripping free-for-all that only the demented can truly enjoy as riders duke it out, lap after brutal lap, for a prime or a shred of the prize money. Carmichael Training Systems presents this Criterium DVD to help make it more bearable for the rest of us.
Technically, criterium racing presents a multitude of hurdles for the aspiring racer. First is the challenge of being at ease rubbing elbows while carving 110 degree corners at 25mph. The rest is all physical. And that's where Dean Golich of CTS comes in. A coach with experience guiding Olympians and World Champions, Golich was also awarded USA Cycling's Coach of the Year. He'll show you how to improve your anaerobic power for maximal efforts in crits. Not only that, but you'll learn how to make repeated efforts at this level—just what it takes to cover multiple attacks in a high speed crit and stay in the group, or make it into the right breakaway.
The Carmichael Training Systems Criterium DVD is a 60 minute workout with focused intervals to improve your V0₂ max. You'll want a heart rate monitor while you train along with this Criterium DVD. Of course, a powermeter will allow you to see even more relevant personal data to keep track of your training progress.